By Isabella Rocha
Cardboard boxes full of books were everywhere at the nonprofit Book Fairies in Freeport. Upon my arrival at the group's warehouse recently, I was greeted by friendly volunteers eager to shine a light on the organization's work. That day, the volunteers were holding a collection drive for books.
Book Fairies started in 2012 with one mother, Amy Zaslansky, of Bellmore, who said she saw a hole in the U.S. education system — many children had no access to books at home. Though located in Freeport, the group works across Long Island and throughout the five boroughs. Books are donated, and volunteers sort and ship them out.
Studies have shown that children with books at home have improved reading performance, as the books help teach foundational reading skills, build reading stamina and improve attitudes towards reading and learning in general, according to the RIF, Reading Is Fundamental, the largest nonprofit children's literacy group in the U.S.
"We need people to engage in what we are doing because every kid should have equal access to books," said the current executive director of Book Fairies, Eileen Minogue. "We would not exist if we didn't have support from individuals."
Volunteers range from high school and college students to young adults and families. Volunteering is easy. Just fill out the form on the group's website.
Without books at home, children are more likely to be illiterate. According to the Education and Career News, 64 percent of fourth-graders read at or below the basic level.
"Don't mind the mess. This place usually doesn't look like this," said Patty Bertoline, the Book Fairies logistics coordinator, inside the group's warehouse. "We just had a book drive."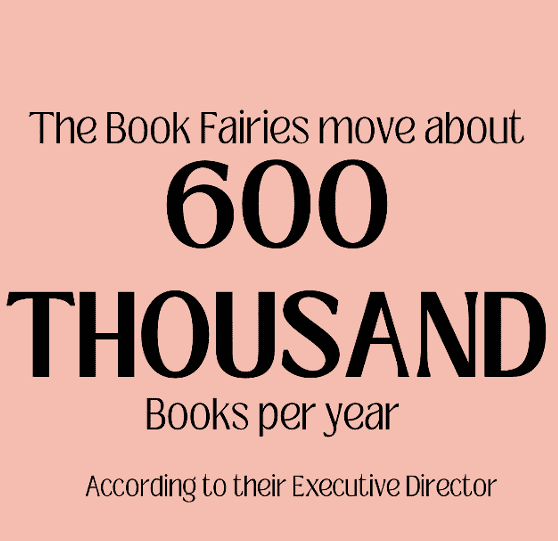 Hundreds of boxes of books were piled high throughout the warehouse during my visit. There were all types of books, from educational math to literary mythology, all with the goal to increase literacy rates. The group accepts new or used books and has become among the largest donation organizations in the tai-state area, according to its website.
"I just can't even imagine not being able to read to my child, to our grandchildren, and that bothers me," Minogue said.
Some 13 million children across the U.S. are enrolled in school districts where less than 10 percent of students have access to high-quality reading materials, including 3.4 million students in poverty and 6.6 million students of color, according to the federal Department of Education.