By Scott Brinton
Sautéing onion scented the air in the ring-shaped main hall of St. Vladimir's Parish Center in Uniondale last Sunday as a frenetic swirl of people moved about carrying trays full of varenyky — potato-and-cheese dumplings.
The event, one part of a three-day fundraiser for Ukraine relief, brought together volunteers from across Long Island's Ukrainian community and beyond. The varenyky (pronounced vah-rEH-nee-key) were sold in small aluminum trays, 12 to a pack, with the goal of raising $10,000, said Halyna Fenchenko, head of the Organization for the Defense of Four Freedoms for Ukraine, 42nd Branch, on Long Island.
"We're going to send every penny to Ukraine . . . We're going to give to the hospitals — wounded people," said Fenchenko, who is originally from Ternopil, a city of 215,000 in Western Ukraine.
Making of the varenyky started on Friday and Saturday with a small group of volunteers who prepared the mashed potato filling that was stuffed on Sunday inside a sturdy dough of water, egg, flour and salt and then shaped into neatly crafted half-moons before cooking. Dozens of volunteers turned out for the final stage of varenyky production March 27.
The half-moons were boiled and smothered with dollops of lightly browned onion in butter before packaging. There was an assembly-line efficiency to it all. Why not? Ukrainian volunteers have come together for years on Long Island to make varenyky and raise money for schools, hospitals and veterans in Ukraine.
"We're always fighting for Ukraine to be free," said Ola Pyszczymuka, of Bellmore, whose parents were among the founders of the ODFFU's 42nd Branch in the mid-1950s.
The organization's freedoms — of speech, of conscience, from fear and from want — are taken from President Franklin D. Roosevelt's celebrated Four Freedoms address before Congress on Jan. 6, 1941, 11 months before Japanese fighter planes bombed Pearl Harbor on Dec. 7 that year.
Long Islanders originally from Latvia, Crimea and Georgia joined in the varenyky making over the weekend. "We're all together," Fenchenko said. "We are all Ukrainian Americans."
It was the first time in two years that the Island's Ukrainian community came together for varenyky making, which was put on hold because of the coronavirus pandemic.
In addition to the dumplings, raisin bread was sold to raise funds for Ukraine. Mary Sydor bakes the bread in large batches each year as a fundraiser for the St. Josaphat Ukrainian Basilian Monastery in Glen Cove. A single batch takes 12 hours to make, Sydor said. Proceeds from this year's sale will be split between St. Jospahat's and the local Ukraine relief effort.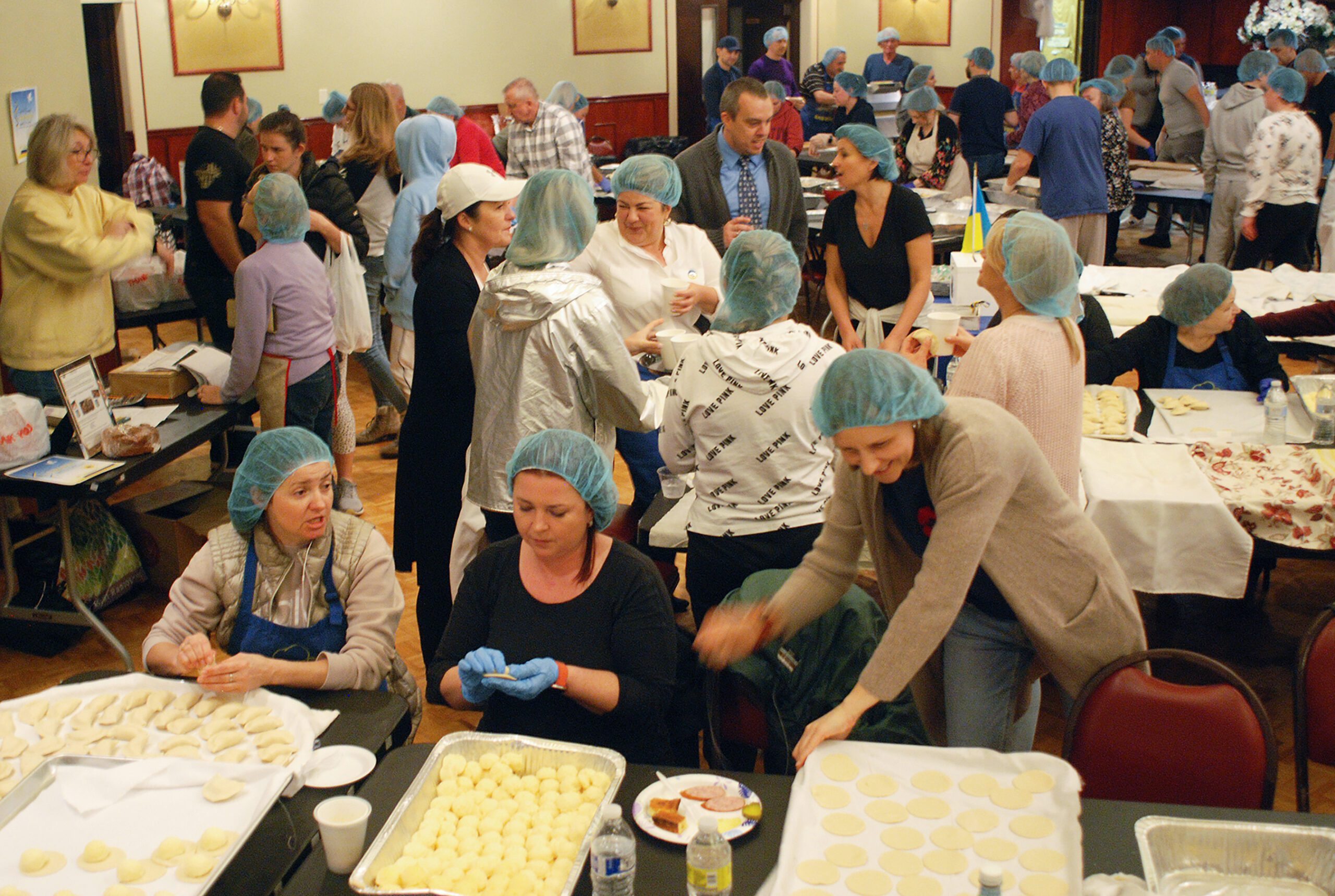 Bohdan Kopystianskyj, 76, was among the volunteers at St. Vladimir's Sunday. A retired architect from Great Neck, he appeared dapper in a blue, long-sleeved sweater, white button-down shirt and slacks, his long silver hair combed back from his distinguished face. There was no hint that he had once fought for the United States in Vietnam in the late 1960s.
Kopystianskyj's father was part of the Ukrainian resistance during World War II, battling both German and Soviet forces. When the war ended, his parents were forced to flee to Bavaria, in southeastern Germany. Kopystianskyj was born on the way and lived his first four years in a displaced persons camp before immigrating with his family to the U.S.
Before Kopystianskyj shipped off to Vietnam, his father gave him the Ukrainian flag to carry with him. He wanted his son, then in his early 20s, to be buried with both the American and Ukrainian flags if he were killed in action.
Kopystianskyj was photographed in a Vietnamese jungle with the Ukrainian flag tied to a tree beside him. It was sent to a Ukrainian publication that was circulated widely in Ukraine, making him well known in his homeland. He only learned of his fame when he returned to Ukraine 30 years later, he said.
Many, Kopystianskyj said, do not understand the sense of pride in their homeland that Ukrainians feel. Ukraine, which sits as a bridge between East and West in the center of Europe, has been invaded by other peoples and nations dating back to the time of Genghis Khan in the early 1200s, when the Mongol Empire laid waste to Kievan Rus, a loose federation of Eastern and Northern European peoples that today includes Belarus, Ukraine and part of Russia.
Against all odds, including the long occupation of Ukraine by the Soviet Union after World War II ended in 1945 through the nation's peaceful transition to an independent democracy in 1991, Ukrainians have maintained a sense of self, a culture and language distinct from the many foreign invaders who have rolled across the state over the centuries, Kopystianskyj said.
"We've been constantly fighting," he said. "That stubbornness allowed us to become resilient."
Many military analysts had predicted Ukraine would not survive the Russian invasion for more than a handful of days. At press time on Wednesday, Ukraine was still battling Russian forces — 34 days later.
Yuriy Koziy, 48, of Massapequa, a home-improvement contractor originally from Ukraine, was on vacation in the Dominican Republic when Russia invaded Feb. 24. He immediately returned to New York and took the earliest possible flight to his homeland, signing up to fight. Without military experience, he was assigned to territorial defense in Ternopil, helping to ferry supplies to the front lines in Eastern Ukraine from Feb. 28 to March 20.
He decided to return to the U.S., he said, because he thought he would be of greater service collecting supplies here for shipment to Ukraine. Now he spends his free time organizing daily collections.
"The biggest problem now is helmets," he said in a quiet corner of St. Vladimir's Sunday. Ukrainian defense forces have sufficient flak jackets because they are fabricated in country, he said. Helmets are not, however, and he noted, "We need a lot" of them.
Inna Dekajlo, 45, a professional violinist from East Meadow who was raised in Lviv, in Western Ukraine, was among the volunteers shaping the mashed potato mix into perfect little balls on Saturday. Wearing a bright pink turtleneck and black pants, she was chatting hurriedly in Ukrainian with the volunteers around her as they worked. She has been in the states for 15 years, after marrying her husband, Oleh Dekajlo, an East Meadow attorney of Ukrainian descent.
Inna's mother was set to return to Ukraine after visiting recently with her daughter. She would not stay here, Inna said.
Inna's father was still in Lviv, and her parents wanted to be together, she emphasized. They also have a business to maintain. They are hosting refugees fleeing the front lines in Eastern Ukraine. And, Inna said, her mother wished to return to her homeland.
According to her daughter, she said, "This is my land, and I'm not going to go anywhere."
For more information on local efforts to aid Ukraine, go to the Ukrainian Americans of Long Island website at UALI.info.
Scott Brinton is a Hofstra University special assistant journalism professor and The Long Island Advocate's faculty editor and adviser.