By Martine Hackett, Ph.D., MPH
Editor's note: Hackett is director of public health programs at Hofstra University and co-founder of Birth Justice Warriors, which advocates for the rights of black and brown mothers who are to give birth or who have recently given birth.
Nassau County has a long history of ignoring the health concerns of its black residents. Structural racism led to racially segregated housing, school districts and environments. These social determinants of health are the fundamental cause of health disparities — from infant mortality to asthma to heart disease.
Across the United States, locations that have published data on COVID-19 fatalities by race and ethnicity, including Nassau, have found a disproportionate number of deaths among black people. President Trump on April 7 acknowledged that the number of African-Americans who are getting sick and dying of COVID-19 is disproportionately high.
The Centers for Disease Control and Prevention, as of April 17, started to publish COVID-19 deaths by race and ethnicity in response to pressure from members of Congress and leading medical associations.
According to County Executive Laura Curran, in Nassau County there are more patients and fatalities here than any other municipality in the nation outside of New York City.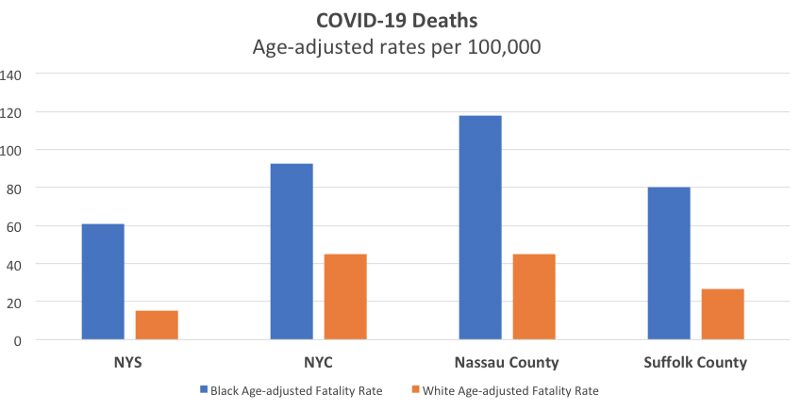 Specifically, the highest numbers of positive COVID-19 cases in Nassau County are in communities of color — Hempstead, Freeport and Elmont. Hempstead has had significantly more cases for three weeks, and hundreds of more cases than other communities.
Nassau also has the highest age-adjusted rate of deaths due to COVID-19 among black residents, higher than in New York City (see chart above), and has 2.5 times more black than white deaths, a bigger ratio than in New York City.
With the dramatic rates of death among blacks in Nassau, and the recognition that Hempstead and other communities of color have significantly higher positive cases than other communities, what is the county doing about it?
In my opinion, the response has been too little and too late.
Timeline:
March 24 : Nassau County started to map and publish cases by community daily on the Department of Health website.
April 6: Village of Hempstead Mayor Don Ryan held a news conference to emphasize the need for stronger enforcement of social distancing. Local police patrolled NICE Bus and Long Island Rail Road stations. There was discussion of $1,000 fines for those who disobey the social distancing order. (Source: Newsday, "Village Hit Hard by Virus Ramps Up Social Distancing Enforcement")
April 8: New York State Assemblywoman Michaelle Solages, a Democrat from Elmont, called on the state to provide rapid testing sites in Nassau communities of color.
April 9: Suffolk County opened hot-spot testing sites at Huntington High School, in Brentwood and Riverhead.
April 14 : Newsday reported in a story about the disproportionate number of deaths among blacks due to COVID-19. David Nemiroff, president and chief executive of the nonprofit Long Island FQHC Inc., which has seven health centers in Nassau, said county officials were "helping to facilitate" the acquisition of more coronavirus test kits to test the health centers' patients, more than 70 percent of whom are black and Latino. He said 65 of the centers' patients had tested positive for the virus.
"We're hoping for 100 kits at five of our largest sites," Nemiroff said, to "ramp up our capacity to test more."
April 17: The Nassau County Office of Minority Affairs hosted a Facebook Live meeting at 8:57 p.m. with Nassau's executive director of minority affairs, executive director of Hispanic affairs and director of health equity. In the presentation, they stated all of the Long Island Federally Qualified Health Centers were available for testing for COVID-19. The flier on the Facebook page noted:
"In efforts in making sure our hardest-hit communities are getting the care they need, Nassau County has partnered up with FQHCs to increase access to health care (including COVID-19 testing), regardless of ability to pay or immigration status. Please call to make an appointment (516) 296–3742."
During the presentation, the director of health equity, Dr. Andrea Ault-Brutus, said, "You can get the test whether you are insured or uninsured."
However, the reality is not so simple. Based on a phone call at 10 a.m on April 20 to the Hempstead Family Health Center:
● There was no testing for the general public, and one could not make an appointment to be tested for COVID-19 alone.
● To be tested one had to be a current patient of FQHC.
● Tests were only available after an appointment and evaluation and recommendation by a primary-care physician.
● New patients had to change from their current PCP to one at Federally Qualified Health Center through their insurance companies.
● For patients without insurance, they had to bring proof of income and a notarized letter that they had lost their jobs.
● Then they had to make an appointment as a new patient.
● There was no new patient appointment availability until May.
As of April 20, there was no mention of COVID-19 testing availability on the Long Island FQHC website, the Nassau County Department of Health website or the county executive's website.
On April 21, Nassau and the Long Island FQHCs sent out attachments via email to "community partners," stating COVID-19 testing was available by appointment only, after a phone screening, to those who exhibited several symptoms at outdoor facilities in Hempstead and Freeport. Test results would become available any time from four days to a week from then.
The American Medical Association has pointed out the need for testing within impacted communities:
"And while testing prioritization of those who are critically ill and hospitalized is the necessary and appropriate protocol, we are further missing the opportunity to test those who may be exposed to coronavirus. This only serves to more deeply challenge the accurate and consistent capture and public release of race and ethnicity data.
"And," the association states, "this is further fueled by the concern that those minoritized and most marginalized, such as communities of color, may not have access to testing equal to others and may harbor distrust for the health care system, preventing them from seeking care. This is an absolute recipe for undercounting and misrepresentation, keeping invisible social and structural harms and actual disease burden."
Not engaging communities of color in Nassau jeopardizes the potential for a successful phased reopening. According to the Johns Hopkins University Center for Health Security:
"The most critical component in communication around reopening is to ensure community engagement in both mitigation measures taken to prevent the spread of disease and plans for reopening. This requires substantial effort to coordinate with community and business stakeholders. Communication must address concerns from those stakeholders and should be conducted with an interest in two-way communication and input from a wide range of voices.
"Without community engagement as a goal of communication efforts," the center states, "there is a risk of distrust, spread of misinformation and lack of compliance. Different states and local communities may weigh differently the competing considerations as to how they stage their reopening, based on local needs, resources, social issues and risk factors. This underscores the importance of leaving these decisions to state and local officials, and for state and local officials to involve interdisciplinary stakeholder groups in reopening discussions."
Here are action points I believe Nassau County should undertake:
● Publish data on COVID-19 deaths by race and ethnicity on the Nassau County Department of Health website.
● Actively promote testing in drive-through and walk-up locations in Hempstead, Elmont and Freeport for residents. Results need to be provided as soon as possible to treat the severity of COVID-19 among black residents.
● Engage community-based organizations and stakeholders from communities of color in Nassau during the planning and communication of phased reopening. Legitimate community engagement is necessary for maximum compliance.
● Conduct contact tracing of those who have tested positive for COVID-19 in Hempstead, Elmont and other communities with high testing counts.
● Direct adequate resources to hot-spot areas in Nassau, including coordination of food distribution, infant and child care needs, cleaning supplies and other necessary items to prevent the spread of the COVID-19 virus.