Coronavirus pandemic takes a toll on L.I. students' learning
By Rachel Fisch
Since Long Island's public schools returned to in-person learning over the past year after months of online classes, many students have struggled to catch up in their studies after falling behind.
"We were supposed to know how to do our multiplication times tables from one to 100, but we don't. We only know from one to 30," said Alix Liebman, a fourth-grader at South Salem Elementary School in Port Washington.
During the pandemic, Alix said, teachers were unable to help her as they did when classes were in person before the pandemic. "On Zoom," she said, "you could raise your hand, but everyone would be able to hear you. If you had a question about something that you didn't want other people to know, you would have to privately message them."
A study by the information services firm McKinsey & Company states, "Our analysis shows that the impact of the pandemic on K–12 student learning was significant, leaving students on average five months behind in mathematics and four months behind in reading by the end" of the 2020–21 school year.
Dr. Michael Hynes, superintendent of the Port Washington School District, said the pandemic put students at all grade levels at an educational disadvantage because they spent so much time learning virtually, at the same time that many were suffering emotionally.
"There is no silver bullet for any of this, but if our kids do not feel safe and aren't in a good head space, they aren't going to learn anything," Hynes said.
Soon after the coronavirus reached the United States in March 2020, schools across New York state went virtual, and remained online for months thereafter. Schools had to quickly adapt to this new virtual environment.
Rachel Fisch interviewed Alex Liebman and her dad, Scott, about what it was like in school during the coronavirus pandemic.
A big concern among parents has been whether their children have fallen behind in their education. But Alix's dad, Scott Liebman, said learning virtually also hurt students' ability to socialize. He and his wife, Rachael, set up what they called "virtual school" in their basement for their children, trying to make the experience as normal as possible for them, including a lunch and an hour-long recess, followed by school work.
The Liebmans also created a pod with four other families so their children could see one another during their own recess. Since there was virtually no socializing online, the parents thought that it was their job to bring their children together. "We created the socialization because we felt that our kids needed it," Scott Liebman said.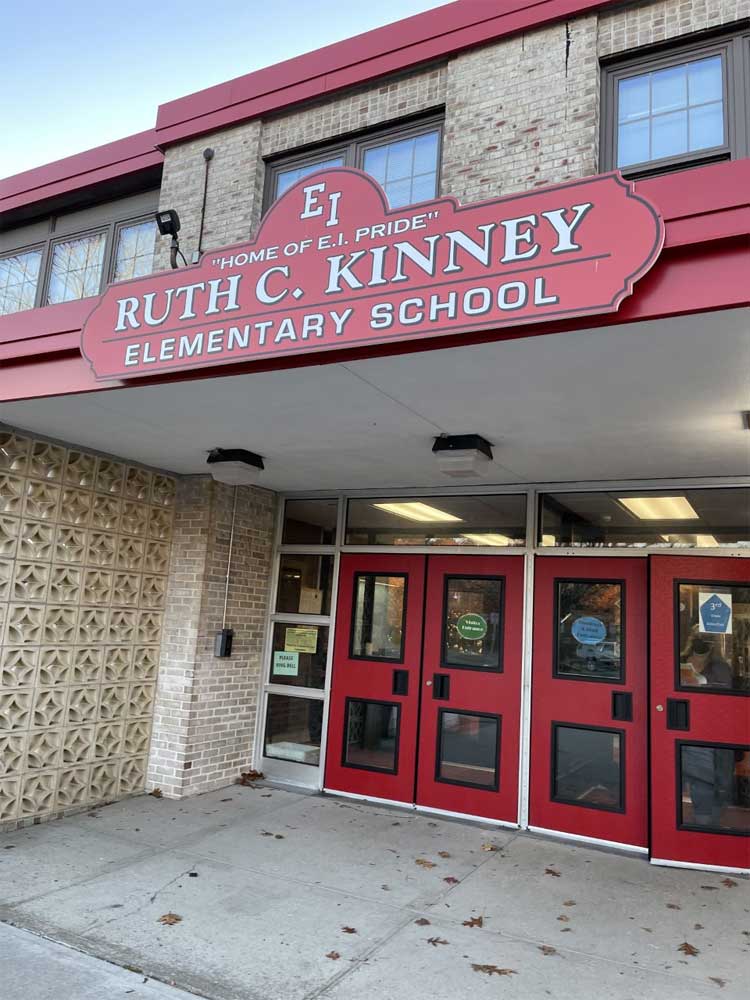 Greg Carotenuto, a fifth-grade teacher at Ruth C. Kinney Elementary School in Islip Terrace, said he believes children learn better when working together in person in groups. At Kinney Elementary, students mainly used ChromeBooks last fall to learn, though they were in person. Carotenuto said students were unable to enjoy the same learning experience as in the past because there was no group work in order to maintain social-distancing requirements.
"It's definitely a challenge for" students, Carotenuto said.
Michael Camardi, 17, who attends Syosset Senior High School, said teachers were less available for students during the pandemic in 2020 and early 2021. "It would be shocking if they joined the Zoom," he said. "The teachers would help more in the classroom rather than over a Zoom call since they could help more. Over the course of early 2021, they stopped with online extra help."
Camardi said he is among the few students who preferred learning remotely because it was less stressful and he was able to relax more. Now back in person, he said the classroom "energy" level isn't the same as it used to be before the pandemic.
Michael's mother, Marianne Camardi, said class sizes should be kept under 25 to foster social skills. "Many students are technologically knowledgeable," she said, "but don't look you in the eye when speaking nor talk on the phone since they'd rather text."