By Griffin Schmoyer
Covid-19 cases have risen dramatically across New York in recent weeks as subvariants of the virus continue to spread. On May 12, the federal Centers for Disease Control classified Nassau and Suffolk counties under the "high" Covid community spread level.
According to the New York Department of Health, Nassau reported 1,018 new positive cases on that day, while Suffolk had 916 new cases. At the beginning of the month, each county had reported 456 and 393 cases, respectively, a concerning rise over the span of less than two weeks.
Since then, the two counties have consistently reported infection rates above 10 percent. As of May 20, the latest date for which information was available, Nassau reported an 11.5% infection rate, while Suffolk's was 10%, according to the DOH's Covid tracker.
According to Dr. Fred Davis, associate chair of emergency medicine at Long Island Jewish Medical Center in New Hyde Park, the variant largely responsible for this most recent wave is known as "BA.2," a subvariant of the Omicron variant, and has spread because of a combination of conditions.
"I think we're coming off of a recent 'perfect storm' where a number of holidays coincided, which allowed a number of families to get together, and as we have lower numbers, lower counted numbers, of incidents of Covid, I think more people felt more comfortable gathering," he said.
"And as they gathered, especially over a meal, there was a higher risk and rate of transmissions during that time," Davis continued. "I think as we have more lax mask mandates, we were expected to see this, and we're still coming off of a subvariant of Omicron with the BA.2, which is more highly transmissible, which I think also allowed for increasing numbers that we are seeing."
Davis also said he believes the numbers are underreported, and that more cases are going uncounted. A number of experts, including Davis, attribute possible underreporting to home testing.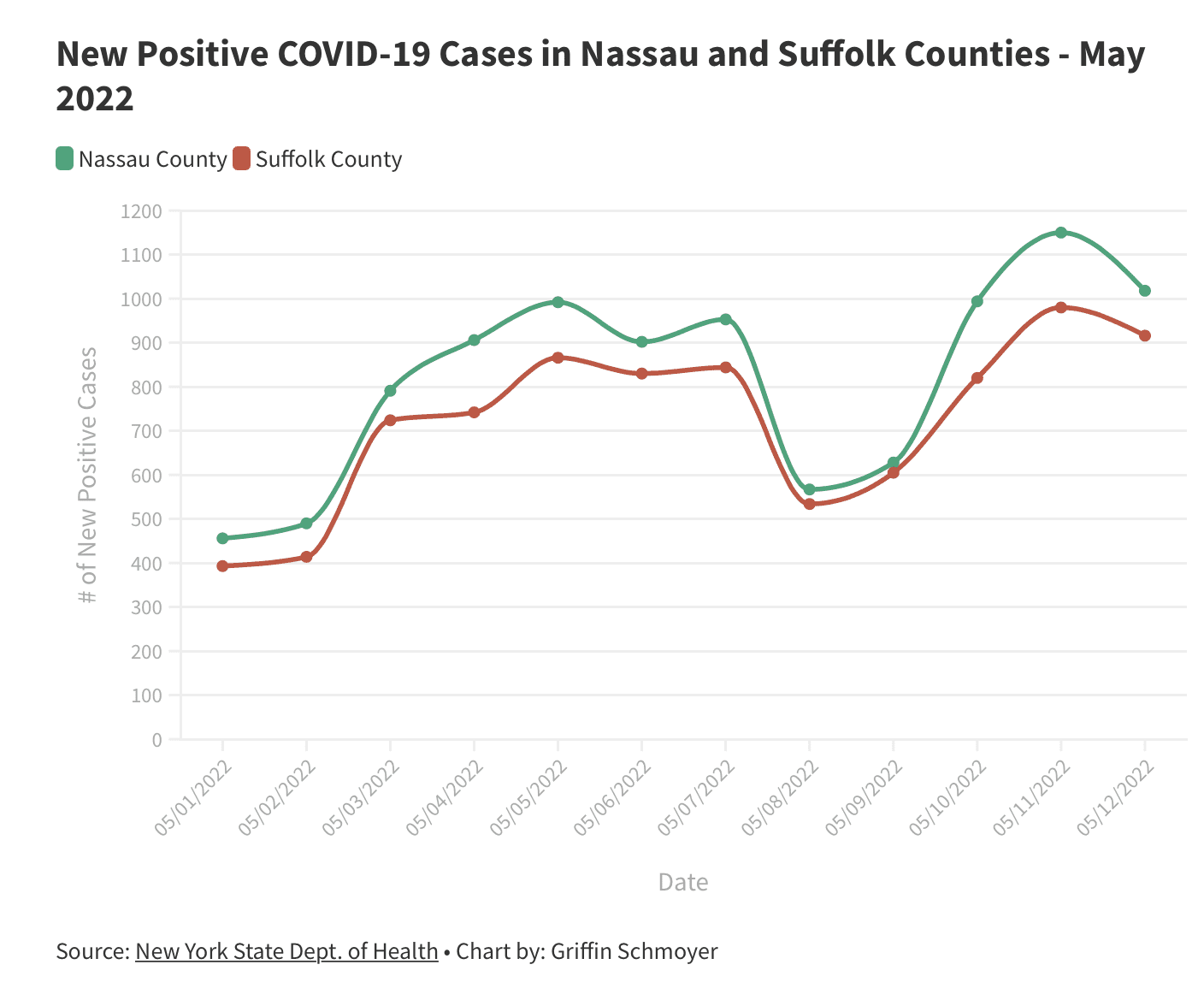 "The fact that we have easy access to at-home testing, I think that also prevents the need to seek out particular medical care to get the testing and get reported…" he said.
The underreporting of cases is a cause for concern for Hofstra University sophomore Beau Dragone, 19. Dragone recently recovered from the BA.2 variant, his second bout with Covid after catching it in December 2020. He said the asymptomatic reaction some have to the virus is a major source of anxiety for many, as they can never really know if someone in the room with them has the illness or not.
"In my case alone, I wouldn't have tested if my roommate didn't have symptoms and tested positive," he said. "…There are so many Covid cases that we don't know about because you don't have symptoms, and there's no reason to test if you don't have symptoms."
Sam Gong, 22, a senior criminology major at Hofstra, believes underreporting stems, in part, from the confusion between symptoms of Covid-19 and the common cold.
"If [people with Covid-19] think they just have a cold, then they won't go get tested, they won't test themselves, and in that sense, there is definitely a fair amount of underreporting that is happening," they said.
While New York has not reinstated a mandatory mask policy, the increase has seen some institutions like Hofstra reinstate mask mandates for indoor spaces recently, including at commencement ceremonies this weekend. Davis recommends continuing to wear masks in public, but he believes because the BA.2 variant isn't as deadly as previous variants, mask mandates will not return in the near term.
"Most viruses don't necessarily mutate to kill off the host; they mutate so that the host can transmit it to other people to continue on its infectivity and be able to infect others," he said. "What we've seen with Covid was a strain that mutated especially as we got to Omicron's later subvariants that weren't as dead deadly as the first few variants we saw.
"While we are seeing increasing numbers, we aren't seeing increased hospitalizations," he noted.
Both Dragone and Gong said they believe it's likely that private businesses could bring back mask policies if cases continue to rise.
"I do believe that private companies will probably start to bring some of it back for their own health and their workers' health, or at least I hope that they will, but on a general level for the public, I do not believe that New York City or Long Island will end up reinstating a mask mandate," Gong said.
CDC Director Dr. Rochelle Walensky told NBC News in March that she believes Covid-19 will become a seasonal virus like the flu, and other experts agree with this assertion. Some members of the public, like Gong, also believe that will be the case and that mask mandates won't be around forever.
"I think that we should have the mask mandate because that prevents so many people from getting sick," they said.
As summer approaches and many people plan to gather, enjoy the weather and go to events, Davis said people should follow the same preventive measures that have been in place nearly since the start of the pandemic, including:
• Handwashing.
• Being extra cautious around others, especially in crowds.
• Staying home when ill.
• Wearing masks, especially when in large groups.
"Remember," he said, "that [Covid-19] hasn't gone away and likely won't go away, but we just want to do what we can to be safe."