By Julia Totaro
Easels lined the room with blank canvases ready to be covered in bright colors of paint on the tables. Children peeked through the door, eagerly awaiting the start of the event to see a dog paint.
On March 26, Dagger DogVinci, the famous and friendly canine artist, visited the West Hempstead Public Library to teach kids how to paint in his "DogVinci" style. Dagger's owner, Yvonne Dagger, lead the event alongside the artistic pooch.
"When I taught Dagger how to paint, I figured that it would be a great way for us to give back," Yvonne Dagger, artist and owner of Dagger, said. "He has painted about 500 works of art, many of which have been for the Canine Companions for Independence fundraiser and others done throughout his workshops."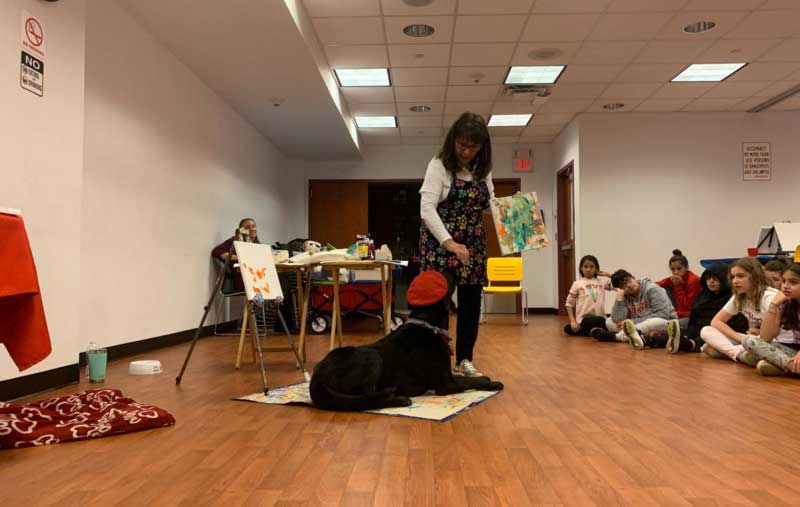 Dagger's community service outreach extends from donating to animal and human-related charities to teaching at over 150 libraries, bringing smiles and creativity to people of all ages.
"I've been working with Yvonne and Dagger for two-and-a-half years now," Ann Barile, close friend of Yvonne's, explained. "Neither of us had any idea the program would grow this big."
Dagger and his team arrived early that Tuesday to prepare for the library's workshop. Yvonne tried her best to set up the room in a way that would make Dagger feel comfortable and ready to work. When the tables were prepped with easels, paintbrushes and paint, it was time to let the kids in.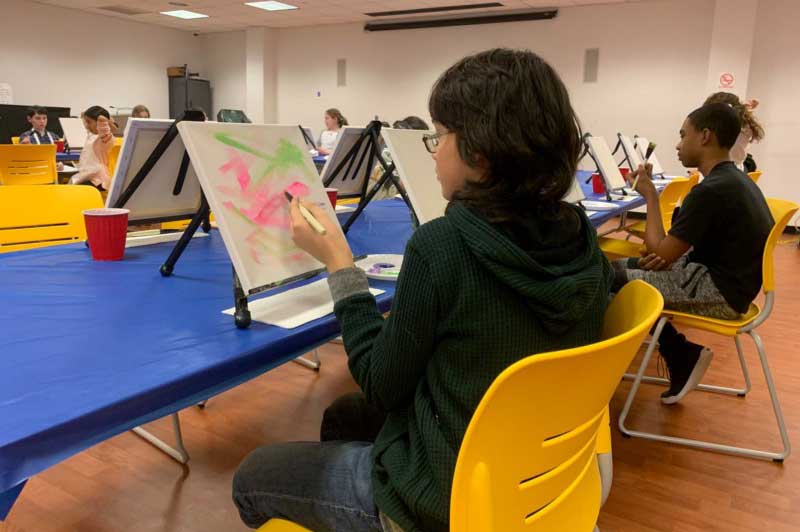 The workshop began with an introduction to the life of Dagger and how he came to be known as "DogVinci". From constant hand-raising with questions and comments for Yvonne, the kids made connections with Dagger and fell in love with the canine artist within the first half-hour.
"I used to be afraid of dogs," 11-year-old Shoshana Eisner, of West Hempstead, said. "Seeing how kind and cool Dagger is made me realize I don't have to be scared anymore."
After Dagger's painting demonstration, the kids headed off to their easels to paint in the new style they had been taught. They eagerly worked until the end of the workshop, showing off their DogVinci-inspired pieces to Yvonne and Ann.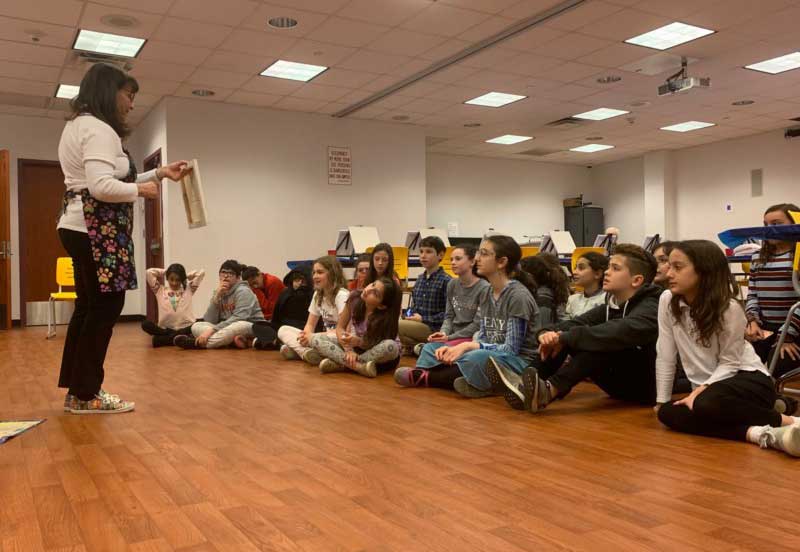 "I became very interested in the program as we try to do a lot of painting with the kids," teen librarian Gina Locurcio said. "It's important to give them an outlet to express themselves."
Until they were picked up, the kids spent time with the pup, who showed them the ropes of his painting style. Dagger was rewarded with lots of treats and attention too, feeling the love from everyone at the West Hempstead Public Library.
To book a Dagger DogVinci Workshop, contact Dagger's owner, Yvonne Dagger, at ypdagger@aol.com or call (516) 297–0048. For more information, click here to visit his website.
Editor's note: This story originally appeared on liherald.com. It appears here with permission.