By Megan Naftali
On the count of three at 1:47 p.m. May 4, two Hofstra University students pulled down a dark cloth covering the brick wall outside the WRHU Radio station at the Lawrence Herbert School of Communication, revealing a sign to mark the new partnership between LHSC and WABC-TV's "Eyewitness News."
The multi-award-winning newscast's Long Island Bureau is now located at WRHU.
"For more than 50 years, 'Eyewitness News' has been the leader in live breaking news and weather coverage," Chad Matthews, president of ABC-owned television stations, told the crowd gathered in LHSC's Studio A for the 1 p.m. ceremony to open the new bureau. "When Al Primo launched the 'Eyewitness News' format, it was revolutionary, bringing the news to the viewers live from where it happened. This partnership allows us to evolve that right here on Long Island."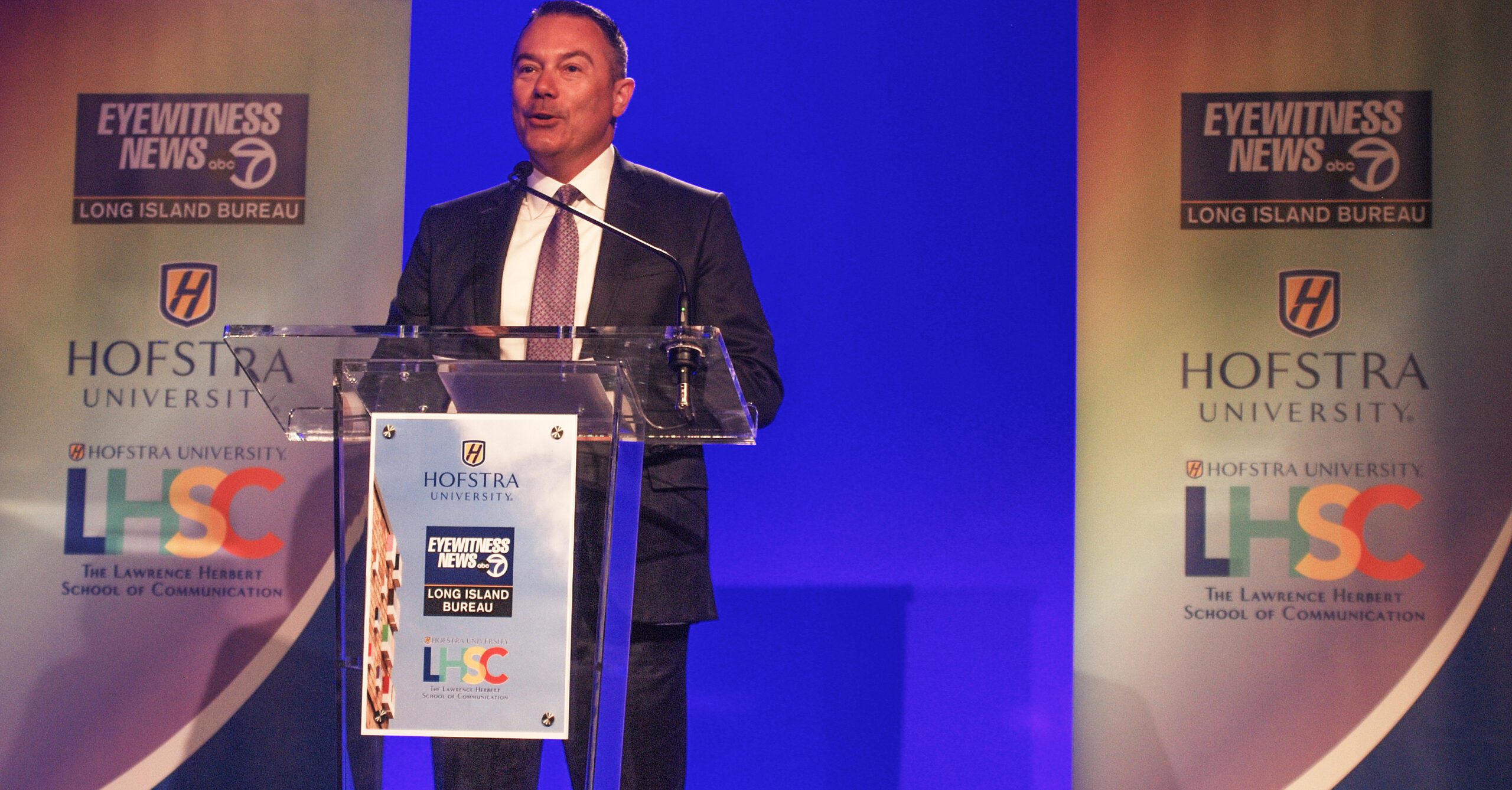 "Nassau and Suffolk counties are a huge part of our market," Matthews continued, "and having a robust operation here in the heart of the Island is vital to our mission to inform and serve our community."
"Eyewitness News" anchor Bill Ritter served as the ceremony's emcee and said he believes the partnership will benefit not only students, but also WABC journalists and the Long Island community.
"We get a different sense of the community through the eyes of the students because they look at it very differently than us old folks who may pay property taxes, go to work and have to be responsible for other people," Ritter said. "The freedom that they have when they're in college I think will help keep our reporters plugged into what may be happening in the communities out here."
The "Eyewitness News" Long Island Bureau will be located within the LHSC building near the WRHU Radio station, and "Eyewitness News" vans will have three designated parking spaces in a lot adjacent to the school, LHSC Dean Mark Lukasiewicz said.
"The truck is always out," said Kristin Thorne, an "Eyewitness News" investigative reporter. "People know, they see us, but this, it's a home now. We're putting a name on it. We have the signs, people know that we're here, and they know that Long Island is very important to us at Channel Seven, and it has been for a very long time. We're always trying to increase our coverage, so this is a really great way for people to see that we're making a commitment to Long Island."
Chantee Lans is the new "Eyewitness News" Long Island Bureau reporter. "The crazy thing is I already stay out here. Now I just have a 15-minute commute," Lans said. "That's awesome compared to the city."
Lans said she believes the new partnership will help advance the skills of future journalists coming out of Hofstra, as well as benefit the surrounding community.
"First and foremost, we're at a place where students and younger people want to learn and grow," Lans said. "I think having WABC side by side with the students will help them just from the wealth of knowledge, from the internships that will eventually come out of this, from the shadowing, speaking in the classrooms and interacting with the professors. It will help grow this campus community."
With the new partnership, students will have increased opportunities to learn from and potentially work for WABC, according to Shirleen Allicot, a "Eyewitness News" morning and noon anchor who graduated from Hofstra in 2004.
"We're hoping to nurture and find the newest talent that's going to be coming out of Hofstra," Allicot said. "So we really need some bright new journalists, and we're going to be able to recruit right from here."
Returning to her alma mater was exciting for Allicot, she said. "It's a phenomenal feeling. It's truly a full-circle moment. You get all the feelings when you come back to this place where you once stood and were a young, up-and-coming journalist," she said. "The fact that I'm here at my alma mater, working for my dream station, and this collaboration is happening between the two, you can't even describe it — it's incredible."
Among the other attendees at the ceremony were Hofstra President Susan Poser, who approved the partnership between LHSC and WABC; Dorothy Goosby, the Town of Hempstead's senior councilwoman and a Hofstra alumna; Anthony D'Esposito, a Town of Hempstead councilman and Hofstra alumnus; Bruce Blakeman, the Nassau County executive; and Dr. Sedgwick Easley, executive assistant and publicity director for the Village of Hempstead mayor.