By Marianys Marte
"When I got here, I worked in a factory and I would tell my coworkers that one day I would have a house, a business and a family, and they all laughed at me. Look at me now."
Those are the words of a woman who knows how to hustle, a striver seeking the "American dream."
Long Islander Aurora Pichardo, a single mother, left her family in the Dominican Republic and came to the United States at 17 in search of a better life. Once on American soil, her goals were clear: work hard, own a business, start a family.
"I was a waitress for 23 years and ended up liking the business, so I learned everything about it," Pichardo said. "From the food to the maintenance to the sanitation, I learned it all."
More than 30 years later, she is the proud owner of Dominican Restaurant 4 in Farmingdale. "I dreamed of owning my own business, but I had to work hard and fight to put my son through college first," she said.
In the beginning, Pichardo worked three jobs, including that factory job where her future started to take shape. Then she met an American restaurateur who took a chance on her, giving her a job as a waitress at one of his restaurants. For more than two decades, she learned everything there was to know about owning a restaurant and decided that was the path for her, she said.
Pichardo's former boss died, but not before signing a document stating that if one of the owners of his many restaurants wanted to sell, it had to be to her. That document became her golden ticket. "I'm the owner of Dominican Restaurant 4 on Main Street in Farmingdale," she said.
The restaurant is now a family affair. Pichardo's son and nephew help out at the eatery. "I want people to feel at home when they come here. I treat everyone like family," she said.
And like family is exactly how people feel. "Eating there made me feel like I was back home in the Dominican Republic enjoying my grandmother's or my aunt's cooking. So delicious," said Mercedes, a patron who did not wish to give her last name.
Pichardo, now in her early 50s, said she has not taken off a weekend in the 34 years that she has been in the U.S., working constantly toward her dreams. She learned English by watching TV and reading books, learned about the restaurant business, got to know the community and saved any spare cash. "If we dream, we can reach our goals, and if I did it without knowing English, anyone can do it," she said. "I left my family behind in the Dominican Republic to come here and work hard to achieve my dreams."
After working so hard for so many years and making many sacrifices to become a business owner, Pichardo does not take her success for granted. When the coronavirus pandemic broke out in March 2020, all she felt was fear. "You work so hard, and you establish your clientele, then this happens, and I was scared," she said. "What if this is it? I achieved my dreams, and they were over?"
When the world started to shut down, Dominican Restaurant 4 was forced to close for a month and a half. Pichardo said she was devastated. "I cried every day that we were closed because I was scared of losing it all," she said. But the health and safety of her staff, clients and family came first, and closing was the right thing to do, she said.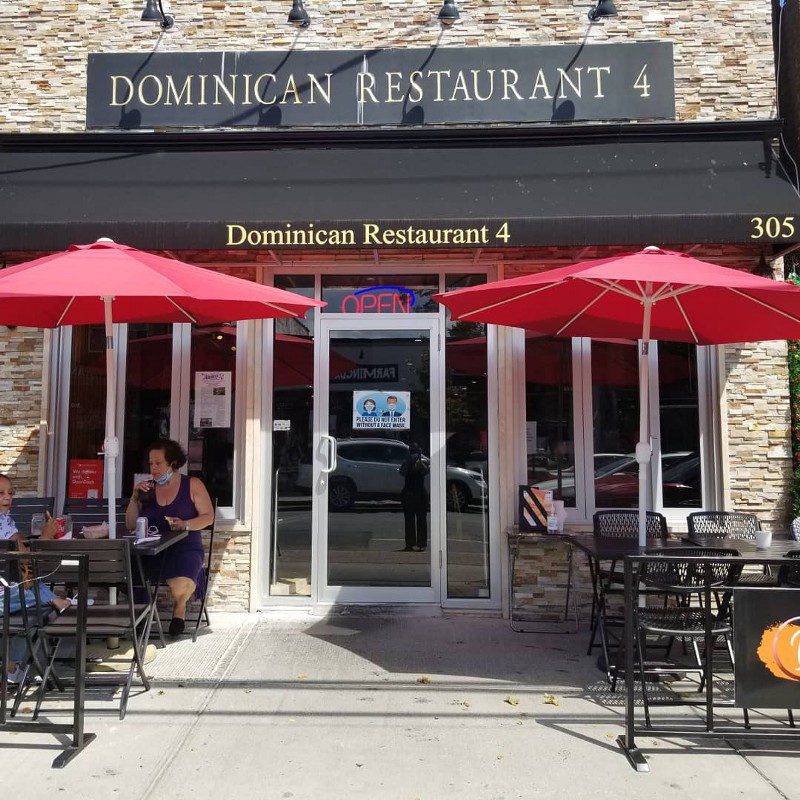 Once she got the greenlight to reopen, it was just for take-out orders, but she said she was happy to be back in business. "When we reopened, the clients supported us a lot and the town helped us a lot too," she said. "They encouraged us to do outdoor dining, and that helped tremendously."
Relieved that her sacrifices continue to pay off, Pichardo said she learned a valuable lesson during the pandemic. "I learned that we can't overwork ourselves so much," she said. "I've worked every weekend in the 34 years that I've lived here. Then I was practically forced to take time off because of the pandemic. So yes, you have to fight and work hard for your dreams, but you have to make time for yourself."
Soon after, Pichardo was able to reopen the restaurant for limited indoor dining while adhering to social-distancing requirements. Fast forward to 2021, the restaurant is still going strong, and everyone who enters must wear a face covering. "It's very important to us to continue wearing masks because we never know when things can get worse, so if I have to wear a mask to get into a delicious restaurant like this one, I'll do it," said Daniel, another patron who did not wish to give his last name.
"I lost an aunt and two cousins in the Dominican Republic. This virus is no joke. I think getting vaccinated is so important," Pichardo said. With the pandemic throwing the world for a loop and causing so much stress, she said all she wanted to do was give people a pleasant dining experience. "I like to give people sincere kindness, so I welcome everyone and make them feel like family," she said.
So, what comes next? Continuing to work hard to run her business, but also taking time to travel. "I have no nationality because I belong to the world," she said. "I love to travel, and I want to go everywhere. At 15, I was riding around on a donkey in the Dominican Republic. If I could go from that to where I am today, you can do anything."
By LIAdvocate on September 10, 2021.