By George Zain and Joseph Kallan
Nearly a hundred local residents gathered Oct. 12 at Garden City High School to hear expert volunteers discuss the potential repurposing of the long-vacant former St. Paul's School in Garden City into a state-of-the-art community center. This "adaptive reuse" would allow the creation of new programs for young people and older adults alike, as well as add space for existing programs, the volunteers said.
Possible uses for the building, which the Village of Garden City now owns, include a performing arts center for off-Broadway plays and musicals, a children's center and/or an athletic facility, they noted.
A combination of New York State grants, philanthropic donations and/or village taxes could be used to fund any renovation project, though no funds have been raised to date.
"This conversation has been around over 30 years," said J. Peter Coll, head of the legal and zoning subcommittee of the Mayor's Committee on St. Paul's. "More recently, there has been a conversation involving many new residents and the decision again… to try and bring the St. Paul's issue to a resolution."
The imposing 500-room red-brick structure, which sits on 48 acres, was constructed in 1879, and since 2010, it has laid dormant. The school closed in 1991 when the Episcopal Diocese of Long Island declared bankruptcy. In 1993, the building was sold to the village.
---
Did you know?
St. Paul's School was built in 1871 in memory of Alexander Turney Stewart, the founder of Garden City, by his wife, Cornelia, after his death.
---
After years of indecision surrounding the structure, Garden City Mayor Cosmo Veneziale gathered a group of expert resident volunteers in late 2021 to offer recommendations on exactly what to do with it. Some key findings of the Mayor's Committee on St. Paul's include:
● The village should conduct historic research and assess the potential effect of any repurposing project on residential home values. The village must find an affordable public purpose to benefit the community.
● The village should provide a budget and cost analysis of any potential reuse.
● The village should ensure that the structure complies with all code requirements.
● The village should ensure that the building is structurally sound.
● The village should prepare a referendum on the building's future use, giving Garden City residents final say over its future.
Frank McDonough, chairman of the program and use analysis subcommittee, ran the October meeting. Other speakers included the heads of the architectural, engineering and legal subcommittees, as well as Veneziale.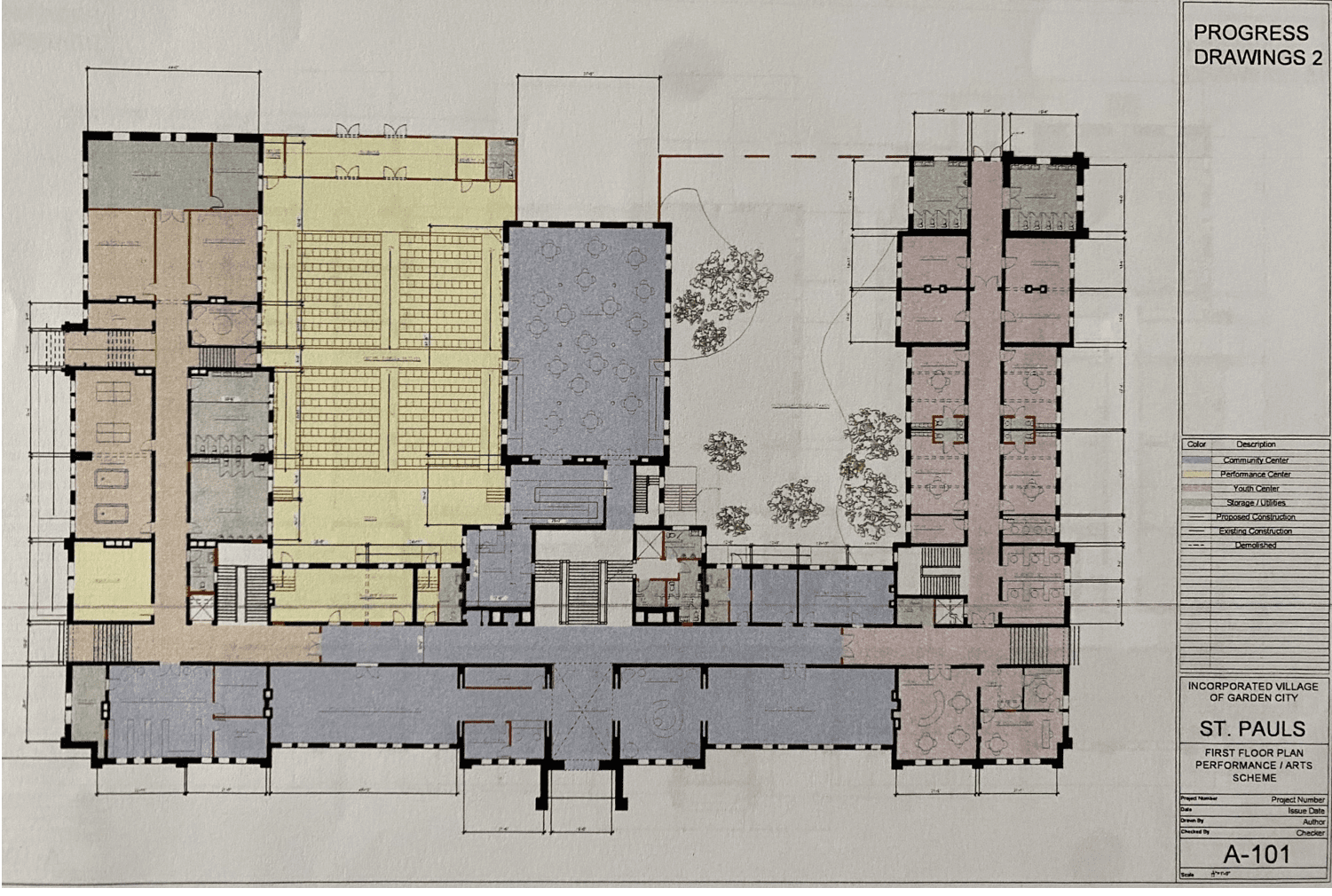 There has been an initial assessment of the structural integrity of the building. "Primary and structural systems are intact and can be used," said William Alisse, chair of the design and engineering subcommittee. "We have found no signs of asbestos, but there is lead paint."
The subcommittee's findings, along with those of the New York City-based structural engineering firm Thornton Tomasetti, confirm that St. Paul's is in "good condition for redevelopment."
Redevelopment, however, is a process. "The land was restricted to parkland use, which creates an issue because parkland use is much more limited than public municipal use . . . Exceptions require you to go to Albany, require you to get legislation," Coll said.
He noted, however, that none of the uses outlined by Alisse would require a legal exemption. "All those uses have been reviewed by our committee, and we believe they are possible without getting legislation from Albany," he said.
"The commonality of all these buildings is old construction architecture," said Brian Gemmell, the construction manager, when refuting reservations that people might have about the integrity of the structure. "Go in your backyard and stack two-foot-wide by two-foot-wide by two-foot-tall brick and try to move it. It is one of the most solid building methods. Basically, they built castles this way, but they used stone instead of brick. St. Paul's, in other words, is a modern-day castle."
"The building has many positives when it comes to renovating," Gemmell added. "There is a difference between structural and physical. This building, from the outside, is in great shape."
Following the subcommittee reports, the floor was opened to the audience.
"We're very excited about this project because we have been following for the last 30 years," said Andrew Tarmin, head of the St. Paul's Alumni Association. "I like how [the village's plan] is so inclusive. It doesn't just represent one thing; it includes all the people of this town and serves everybody. I love that."
"I'm a big fan of these plans that are hopefully going into effect for St. Paul's," added Tarmin, who graduated from the school in 1988.
The structure could be ready for reuse within 18 months if all were to go well during construction, officials said.