By Damali Ramirez and Hunter Spears
Gov. Kathy Hochul landed at Kennedy Memorial Park in Hempstead April 19 to promote a $1 billion plan to repair New York's broken roads as part of what she is calling "Operation Pave Our Potholes," along with a host of other initiatives passed recently in the state's $221 billion budget for 2023.
In her speech, Hochul, who faces a Democratic primary June 28, highlighted how the spending plan would improve infrastructure and education in Nassau and Suffolk counties, saying the budget was larger than usual because it was bolstered by one-time federal coronavirus pandemic relief funds. She said the state's increased spending would help usher in a "new era for New York."
Assemblywoman Taylor Darling, a Democrat who represents the 18th District, which includes Hempstead, has advocated strongly for pothole repair, the governor said. Darling joked that her lobbying has earned her the nickname "Pothole Princess."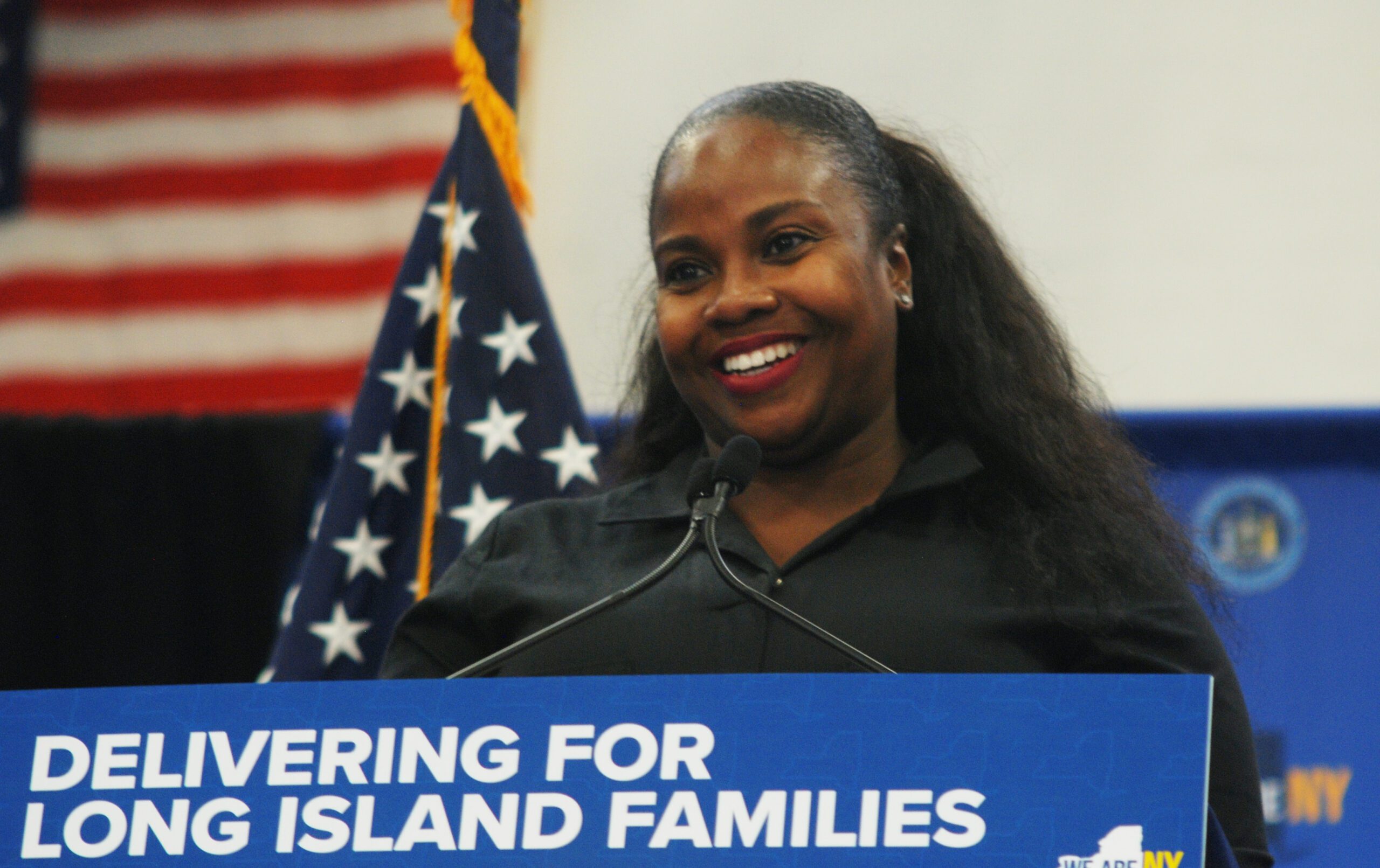 State Sen. Kevin Thomas, whose district includes Hempstead, Village of Hempstead Mayor Waylyn Hobbs, Town of Hempstead Senior Councilwoman Dorothy Goosby and Hofstra University President Susan Poser were also among the attendees Tuesday.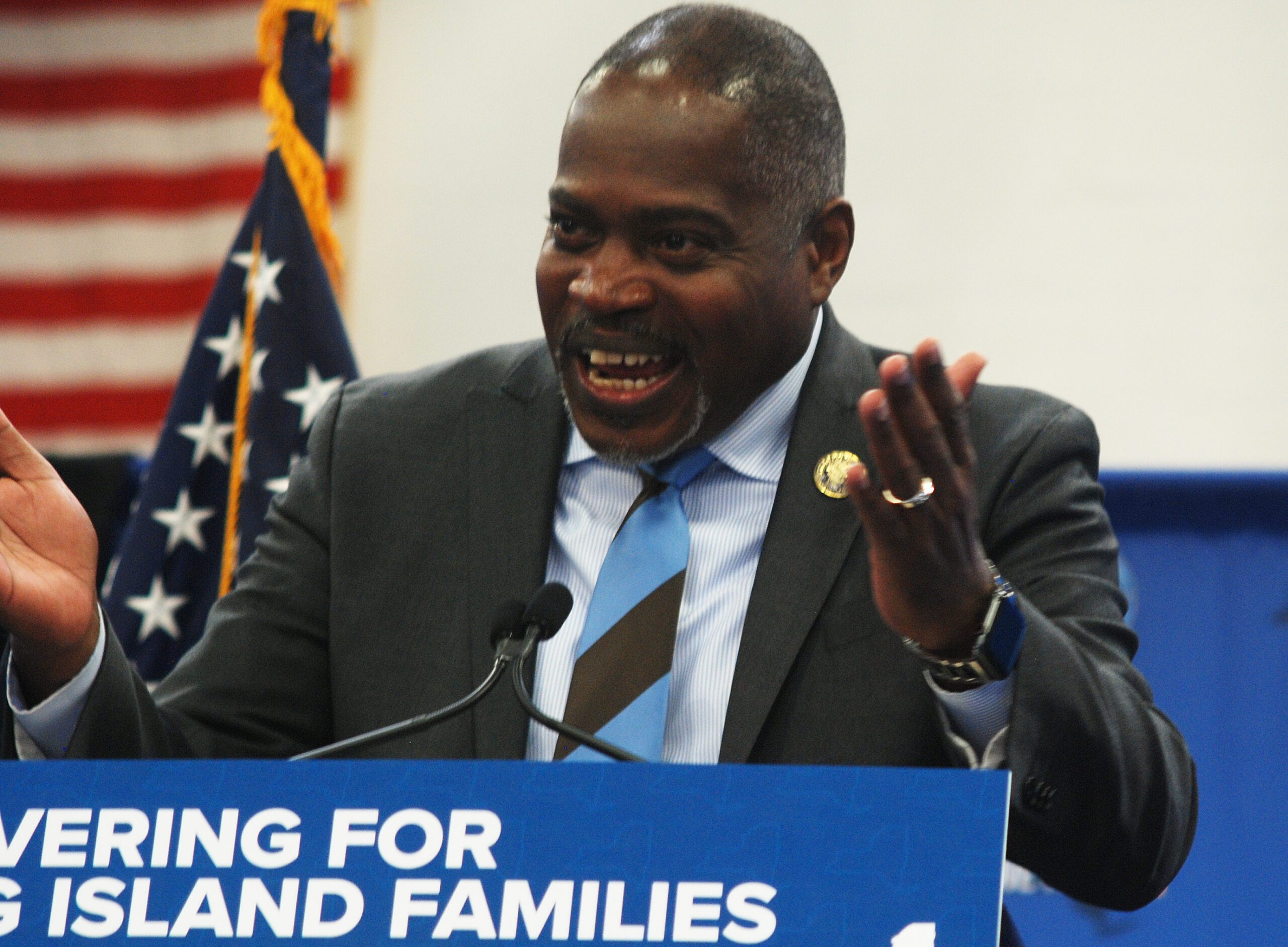 Starting this spring, $157 million will go to repair 480 miles of lanes in Nassau and Suffolk counties. Among the thoroughfares to be repaired are the Meadowbrook State, Southern State and Ocean parkways.
Hochul joked that, having traveled 372,000 by road across the state, no one knows potholes better than her.
Plans are also in the works to upgrade the Long Island Rail Road. Along with the long-anticipated Third Track expansion project between Floral Park and Hicksville, set for completion by the end of the year, the budget allocates funds to connect MacArthur Airport in Ronkonkoma with the LIRR.
"We're changing infrastructure, not just the mode of transportation, not just to get you here from there," Hochul said. "It's about the opportunity to lift people's spirits, and that's what I want to do in places like Penn Station."
While infrastructure was the largest single category of spending in this year's budget, at $32.8 billion, education was a close second, with spending totaling $31.3 billion — the highest level in state history. State universities and colleges are to receive a windfall of funding, some of which will go to ensure there is child care at all SUNY and CUNY campuses. Additionally, Stony Brook University is slated to receive a new $100 million engineering building.
"It took a while, but the New York 2023 budget had some great wins for Long Island," Darling said, "and the budget lines I am most proud of are the $457.6 million increases to school aid for our Long Island students."
Hochul also applauded the efforts of Hempstead Superintendent Regina Armstrong, who helped bring the Hempstead High School graduation rate from 37 to 81 percent. She reminded the audience that school funding is crucial to support teachers and students in all districts.
Goosby, a Democrat, said, "I think the budget was fantastic, and I'm happy about the money that is being given to the schools in Hempstead so they can do as well as they have been doing."
The councilwoman did say she wished there was money to replace temporary classrooms in the Hempstead School District, but she expressed confidence that Hochul would work with her to make that happen.
Last, Hochul called on voters to support the $4.2 billion Clean Water, Clean Air, and Green Jobs Environmental Bond Act, which will appear on the ballot this November.
In addition to the above, here is how some of the state budget is being spent:
Housing
$585 million to tackle high gas prices and suspend the sales tax on gas.
$7 billion for child care over the next four years.
$6.1 million for tax relief for New York homeowners and small businesses.
$2.2 billion in middle-class property tax reductions.
Small Business
$250 million to help small businesses offset Covid-related expenses.
Education
$500 million for SUNY and CUNY operations.
$150 million for tuition assistance for part-time students.
$125 million for pre-K.
Energy and the Environment
$500 million for offshore wind.