By Daniel Gall
Village of Hempstead Mayor Waylyn Hobbs Jr. delivered his first State of the Village address earlier this week, discussing major issues facing the village, including education, pandemic recovery and downtown revitalization.
The speech, which was delivered at the John C. Adams Playhouse at Hofstra University, came at the close of Hobbs' first year in office. In his address, he portrayed himself as not only a mayor looking to reform policy, but also as a community member aiming to effect positive change.
"I'm not a politician, I'm a public servant," Hobbs said. "I know it has been a long time coming, but I'm here to let you know a change is coming."
The speech, delivered April 4, was held on the 54th anniversary of Dr. Martin Luther King's assassination. The event began with an excerpt from King's speech after the civil rights leader had received an honorary degree from Hofstra in 1965.
Hobbs alluded to the importance of this day in his speech. "They thought that by killing the dreamer, the dream would die," Hobbs said. "But the dream lives on in the Village of Hempstead. Together, we rise."
The mayor focused on education in his speech, noting the "Hempstead for Hofstra, Hofstra for Hempstead" program, which is now in its 48th year and awards scholarships to admitted students from Hempstead. The program committee was to hold a fundraiser April 7.
"The success of our village depends on the success of our school district," Hobbs said.
The mayor said the village was disproportionally affected by the coronavirus pandemic. "Hempstead was one of the hardest hit villages on Long Island by the pandemic," Hobbs said. "As we move back to normal, we must always move forward. We cannot let others keep writing our story. It takes a village to move a village."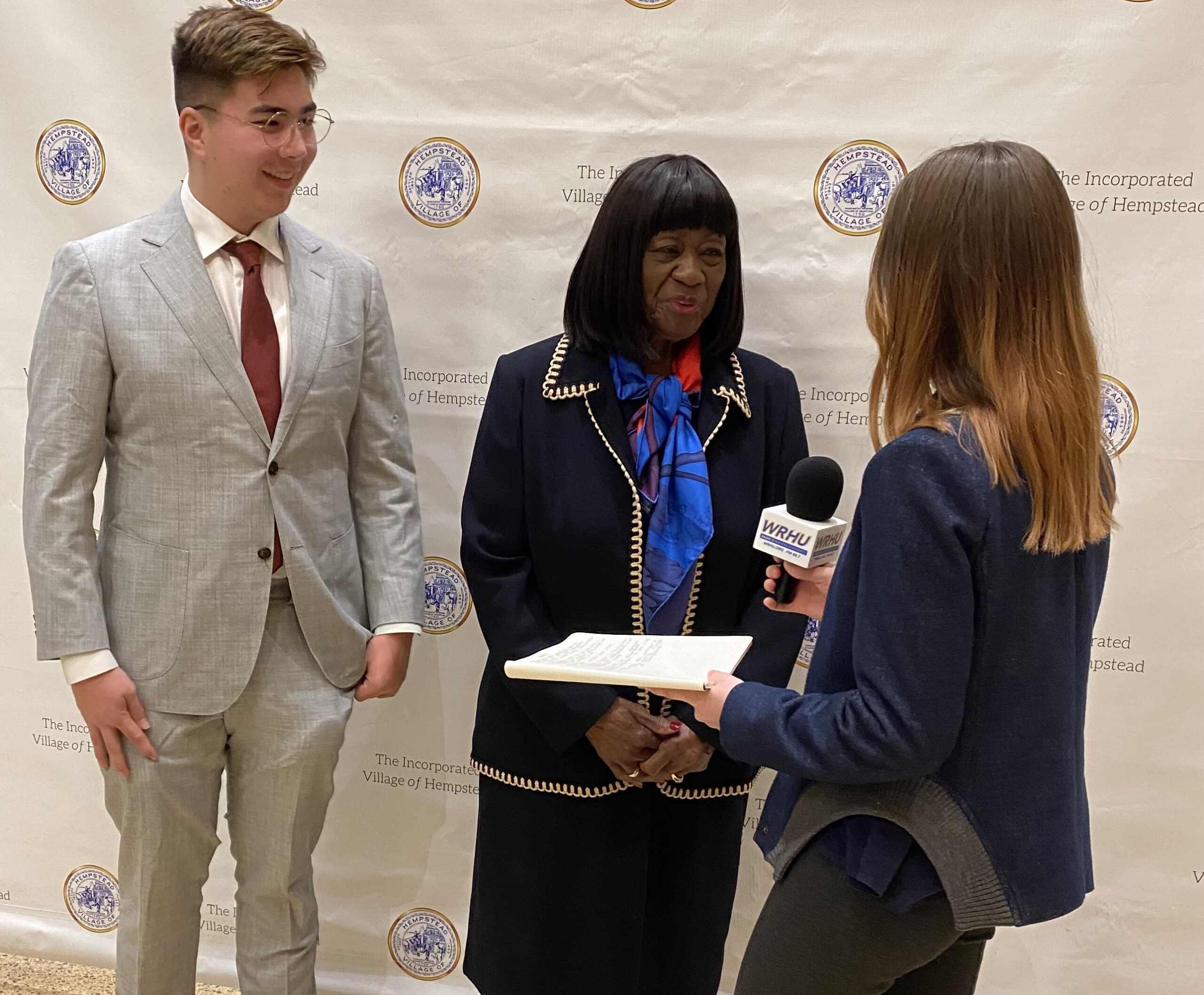 In attendance were multiple village leaders, Hempstead Town Councilwoman Dorothy Goosby and former elected leaders from within the village. The village's first lady, Donna Hobbs, came to support her husband at the address.
"I'm just elated that it happened," Goosby said in reaction to Hobbs' speech. "It leaves room for people who look like me to be able to continue to move so that we become one nation, together."
Laura Gillen, a former Hempstead Town supervisor who is now running as a Democrat for the 4th Congressional District seat, also came to hear the mayor's address.
"The heart of the Town of Hempstead is in the Village of Hempstead," Gillen said. "It's really important to see the village moving forward with new plans to thrive, see economic development and take up plans to revitalize the village."
The Hempstead Police Department color guard presented the colors. The Pledge of Allegiance was read by Kyree Redd, a Boy Scout who is the Troop 300 committee chair. The national anthem was delivered by high school student Leslie Lord-Penny. Finally, Village Clerk Patricia Perez offered remarks in English and Spanish.
Dr. Sedgwick Easley, executive assistant to the mayor, said, "It sure is a great day in the Village of Hempstead."