Local advocates are asking the State Transportation Department for a fix
By Osheen Yadav
Editor's note: This is part nine in a long-term series on Uniondale by Hofstra University graduate journalism students enrolled in Community Journalism this past fall. 
Many Nassau residents are familiar with Hempstead Turnpike, otherwise known as New York State Route 24, which runs west to east across the center of the county, bisecting Hempstead and Uniondale, where Hofstra University is located. What they may not realize is that it's one of the state's deadliest roads.
Hempstead Turnpike begins in eastern Queens, on the outskirts of New York City, close to a ball field surrounded by an on-ramp. From there, it passes through Elmont, Franklin Square, West Hempstead, Hempstead, Uniondale, Salisbury, East Meadow, Levittown, Plainedge and Farmingdale, stretching 16 miles across Long Island.
Advocates say safety changes are desperately needed. Route 24 had 19 fatalities, including eight pedestrians and two cyclists, between 2016 and 2020 alone, according to Newsday. 
Diana Alati, the mother of a 13-year-old boy who was killed in a hit-and-run on Hempstead Turnpike in Levittown in 2019, regularly reaches out to authorities seeking improved safety measures along the thoroughfare. "We don't have time to waste there," Alati told The Advocate.
Alati's son, Andrew, was riding his bicycle on Hempstead Turnpike on his way home when he was hit by a car and died.
"There are no cameras on the site," Alati said. Nassau County police "didn't do a reconstruction of the crash, and there is no traffic light nearby that area."
Alati is a part of a non-profit organization, Long Island Families for Safe Streets. She is fighting to add rumble strips on the road. "I believe even rumble strips on Hempstead Turnpike would help drivers that are distracted," she said.
Rumble strips are patches of grooved pavement that alert drivers when they have veered off course, over the center median or into a shoulder.
"Safety is always a top priority of the New York State Department of Transportation," said Stephen Canzoneri, a State DOT public information officer. "In recent years, NYSDOT has implemented hundreds of pedestrian and bicyclist safety enhancements along Hempstead Turnpike in both Nassau and Suffolk counties."
"A speed reduction was also implemented in Elmont, Franklin Square and West Hempstead in Nassau County from 35 mph to 30 mph," he noted. "Recognizing that this is one of the most heavily utilized corridors on Long Island, motorists are urged to obey posted speeds, avoid distractions, and be mindful of bicyclists and pedestrians along this route."
Most parts of Route 24 have a speed limit of 30 to 40 mph, but when there is no traffic, drivers often disregard the posted limits. During off-peak hours, the average speed is between 50 and 55 mph as motorists cross through crowded business districts and surrounding residential neighborhoods. Some go as fast as 65 mph. At night, drag racing is common.
Alati said she has inspected Hempstead Turnpike with State Sen. Kevin Thomas, a Democrat representing the 6th District, which includes parts of Route 24. "He walked the turnpike and said the turnpike is ridiculously dangerous," Alati said. "They know it's dangerous."
According to National Highway Traffic Safety Administration data, Nassau and Suffolk are two of the state's deadliest counties for traffic fatalities. Suffolk had the most road deaths of any county in the state from 2016 to 2020. From 2016 to 2019, Nassau was second, and in 2020, it was third. In 2020, Long Island was the scene of almost 18.5 percent of all road deaths in New York.
The sidewalks are a battleground where drivers of automobiles and trucks often collide with locals using skateboards, scooters, bikes and wheelchairs, or just walking. Where medians do exist, they are typically low to the ground or are simply yellow paint on the road.
Data from the Nassau County and Hempstead Village police departments show that between 2011 and 2021, cars on the Hempstead Turnpike struck more than 320 pedestrians and cyclists, killing 13 of them.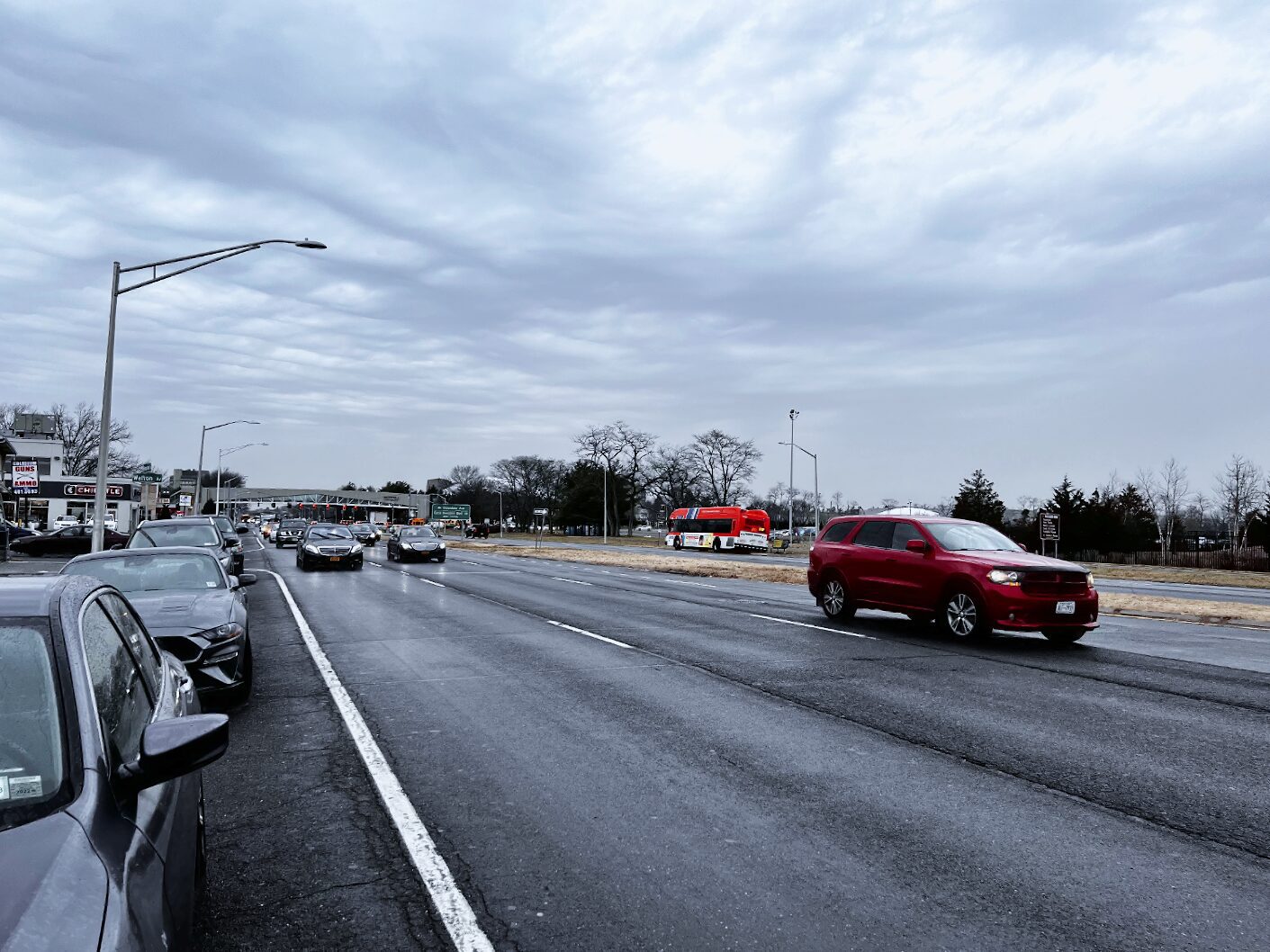 A number of schools are located on or near Hempstead Turnpike, including George Washington Elementary School in West Hempstead, Sacred Heart Academy in Hempstead and Kellenberg Memorial High School in Uniondale, along with Hofstra.  
Sacred Heart is an all-girls high school at 47 Cathedral Ave., just down the block from Hempstead Turnpike, which in this section of the Village of Hempstead is known as Fulton Avenue. A crossing guard monitors the intersection with Route 24 near the school, helping students to navigate the road, but more is needed to guarantee the safety of students, officials say. "The number of times that I have watched things that were . . . minutes away from being a very different ending raises great concern for me about the safety of our school and our student safety," said Kristin Lynch Graham, the Sacred Heart president.