By Fatima Moien
In Hofstra University's Sondra and David S. Mack Student Center, a crowd of students and faculty members huddled in a semicircle on Tuesday around Shirleen Allicot, a WABC "Eyewitness News" anchor and Hofstra alumna, as she broadcast live for WABC and ABC's "Good Morning America" to raise awareness about bone marrow and blood diseases — and potentially find a donor for two little girls, Kayla and Nora Superina, of Lake Grove.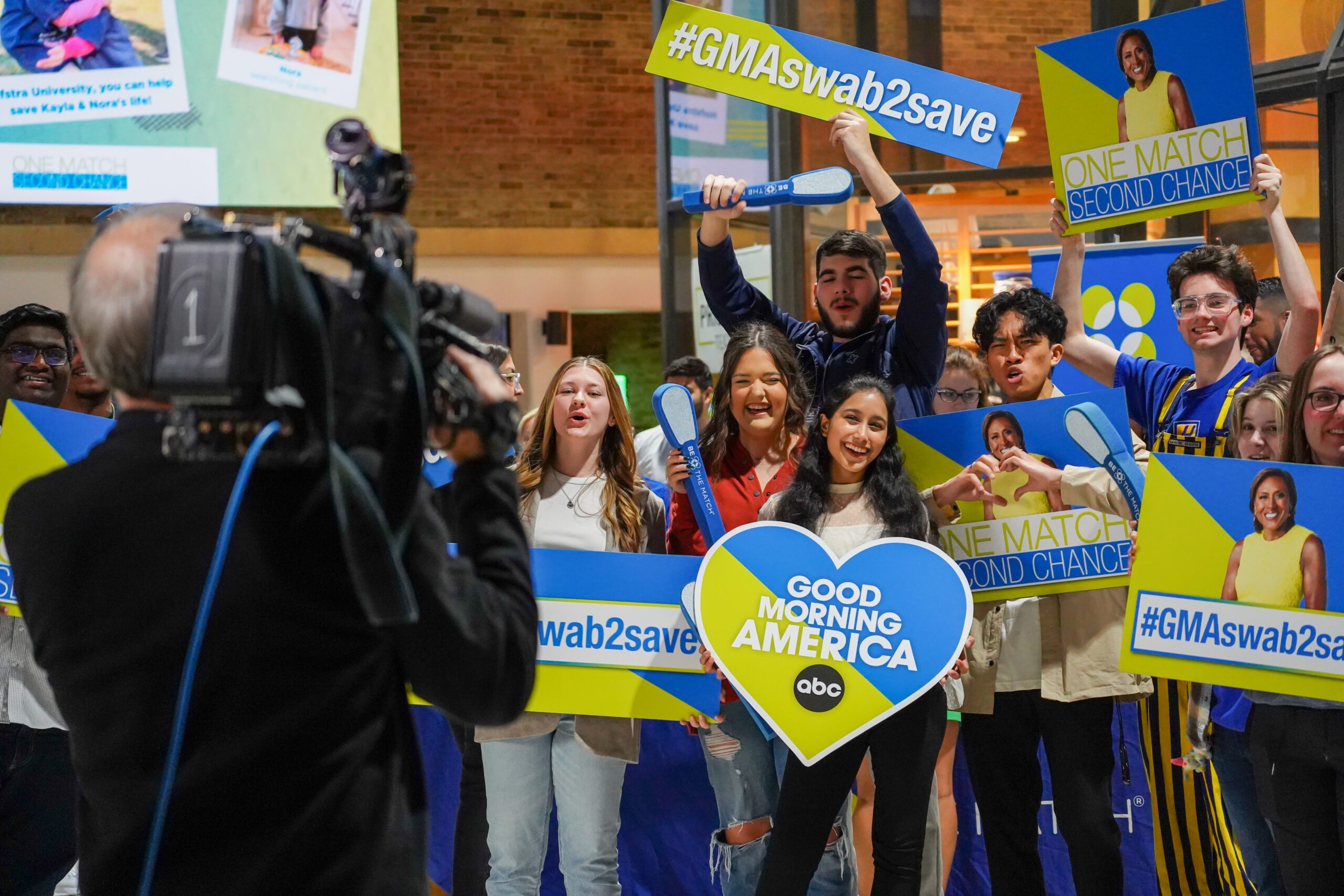 The nonprofit Be The Match, which runs the National Bone Marrow Donor Program, handled the marrow drive. Students started lining up to sign up for the marrow registry as early as 5 a.m., filling out a set of forms and then swabbing each side of their mouths for 10 seconds. The collected samples will be sent to labs to determine their human leukocyte antigen (HLA) tissue types. The process takes six to eight weeks, and there is no guarantee that a match will be found.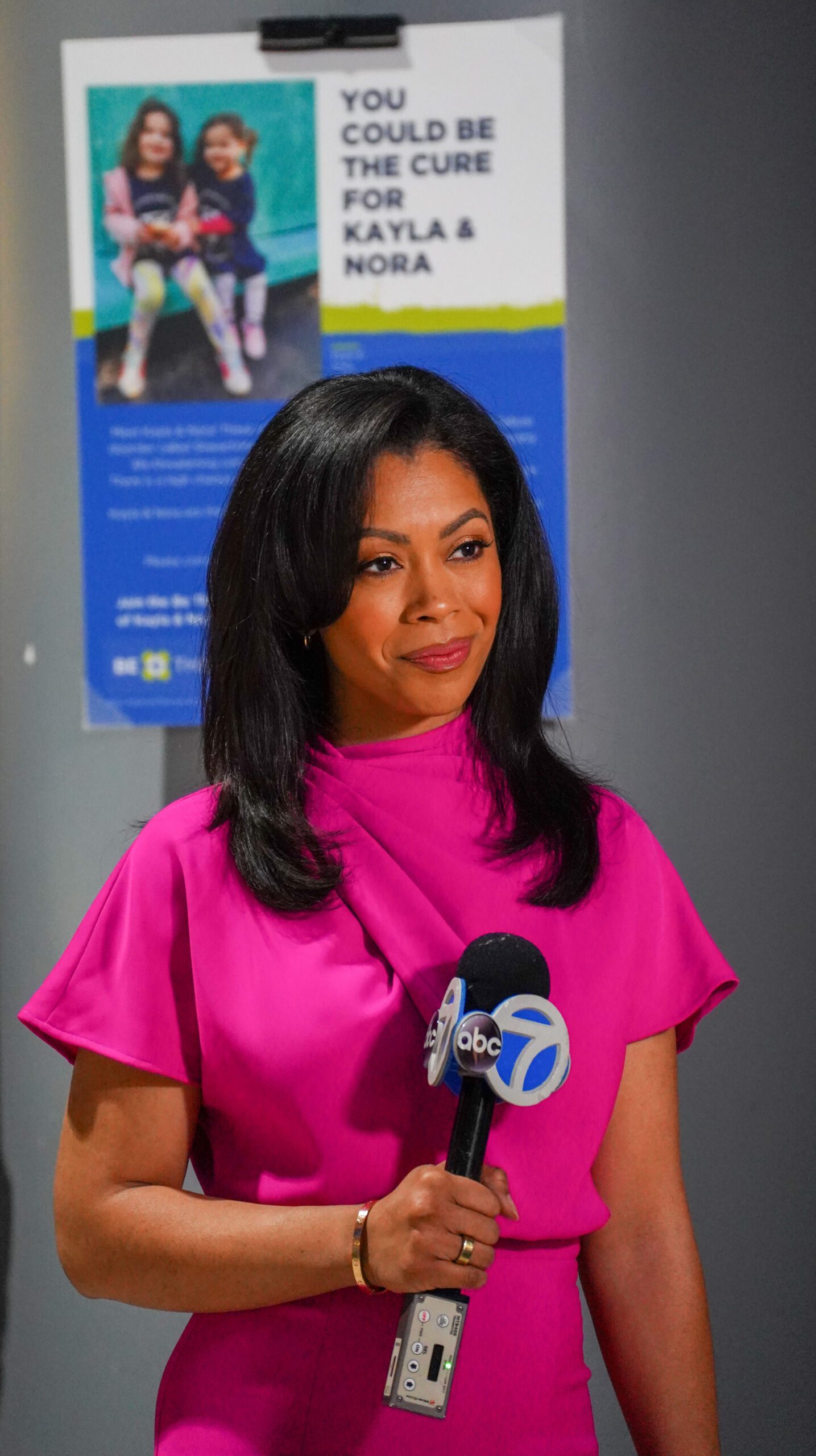 Roshan Varughese, a sophomore and active member of Hofstra's South Asian Students Association, spent his birthday, Feb. 21, helping organize the drive. Varughese said he was passionate about the cause because he grew up watching "GMA" anchor Robin Roberts, who received a bone marrow transplant. Varughese was a regular viewer of the morning show, along with his mom. He recalled Roberts' return to "GMA" on Feb. 20, 2013, after her successful marrow transplant. Varughese was in fourth grade at the time. Now turning 20, he commemorated the 10th anniversary of Roberts' return to "GMA" by giving his time to the cause.

"I'm saving lives on my birthday," Varughese said. "Just remember that you could be a match and possibly save a life."

Hofstra students, alumni and other volunteers, most dressed in the school's colors of blue and gold, gave energy to the marrow drive, cheering and waving signs in front for the ABC news cameras. In the crowd were student-athletes, sorority and fraternity members, and undergraduate nursing students in their program scrubs, many of whom lined up for the registry.

"Our vision is to drive equal outcomes for all," said Erica Jensen, senior vice president of marketing and member experience and engagement at Be The Match. "Being here helps us raise awareness, and getting as many people involved in the mission as possible helps drive us towards making that goal a reality."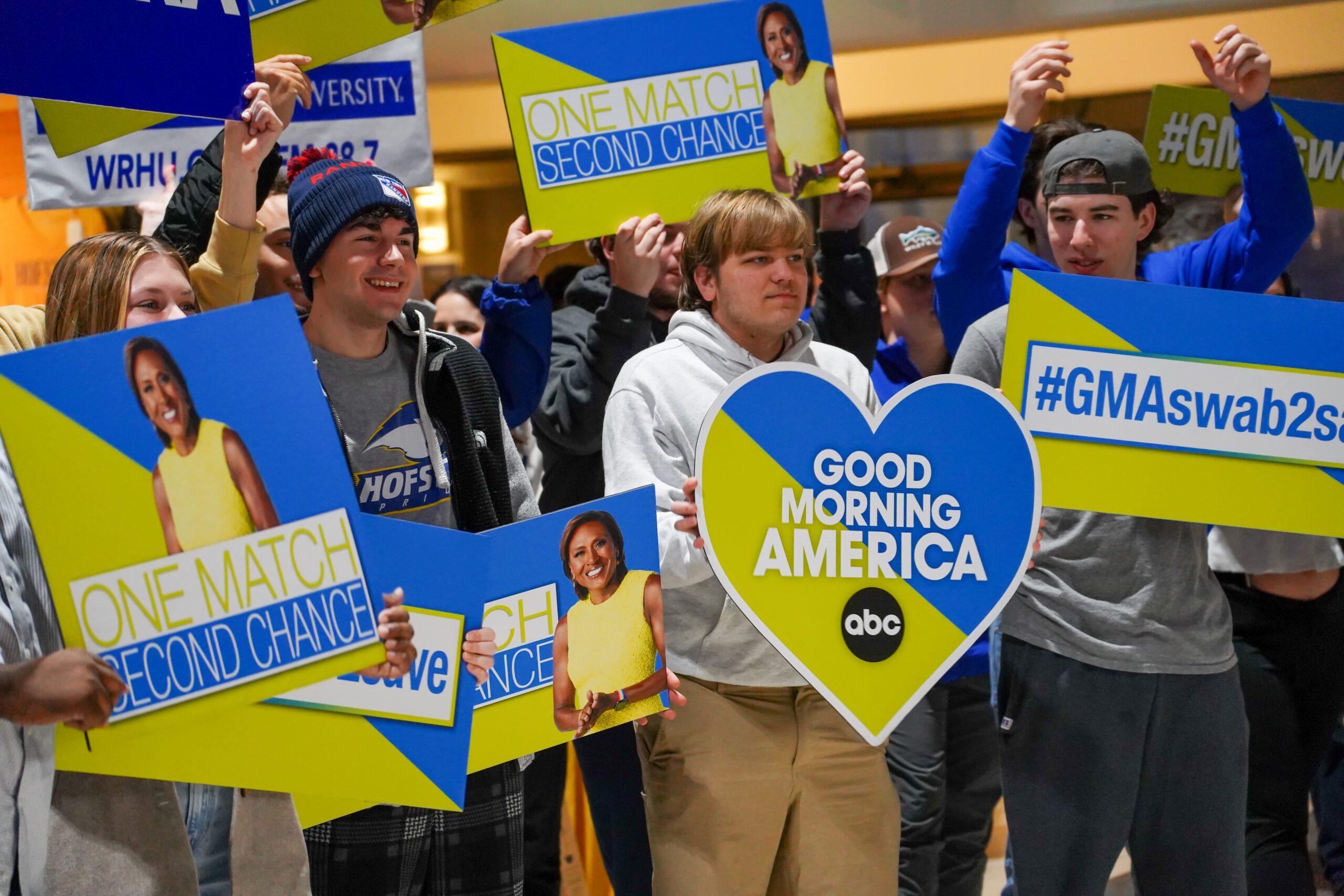 According to Be The Match, 85% of marrow donations are non-surgical. In fact, most donors give peripheral blood stem cells, a process similar to donating plasma. Those who do undergo a surgery to donate marrow do so under anesthesia and feel no pain. Marrow donations help treat patients with blood cancers like leukemia and lymphoma, as well as other life-threatening diseases. Depending on ethnic background, the chance of finding a match is between 29% and 79%.
Patricia DeAngelis Fife was diagnosed with acute myeloid leukemia (AML) in April 2019. She was advised to begin chemotherapy, recover into remission and undergo a follow-up marrow transplant. She was told she had three weeks left to live. She is grateful, she said, that her match was her very own sister, recalling the successful bone marrow transplant that saved her life.

"It was pretty scary. I wrote letters to my children and my husband," Fife told The Advocate. "I cried when I found out she matched."