By Stephanie Banat
After a yearlong journey full of Covid-19 shutdowns and restrictions, the Hofstra men's basketball team reached the Colonial Athletic Association Tournament this year, before losing to Elon University, 76–58, in the semifinal contest at the Atlantic Union Bank Center in Harrisonburg, Va., March 8.
Hofstra ended the conference season with an 8–6 record.
Drexel went on to defeat Elon in the final, 63–56, to take the CAA crown this year.
Hofstra's team did all in its power to remain healthy throughout the season in order to compete in the most number of games possible, players said, including a 10-day quarantine from Feb. 15 to 25, after someone in the program tested positive for Covid-19.
"We were put into the C-Square dorms and ordered not to leave for 10 days," senior Stafford Trueheart said. "We [were] brought three meals a day by the school's wellness center, and we [went] to the gym to get Covid tested three times a week. As soon as we [were] done getting tested, we [had] to go right back to our dorms. We also [did] workouts on Zoom for about an hour and a half every day."
A little more than a year has passed since the coronavirus pandemic broke out in Nassau County. Since then, the Hofstra's men's basketball team has endured a rollercoaster of changes when it comes to playing ball.
Just after Hofstra's victory in the 2020 CAA Tournament, the team was confident and ready to play in the annual National Collegiate Athletic Association Tournament, scheduled to begin last March 17 and end April 6. It was the first time in 19 years that the Pride had earned a spot in the NCAA tournament.
Only days before the team was set to play in college basketball's biggest showcase, however, players received devastating news — the tournament was canceled because of the pandemic.
Around this time, Hofstra students had to clear off campus and switch to remote-only learning for the spring. For the next month, the Hofstra men's basketball team stopped all activity, and during this time, Trueheart said, he "forgot about basketball" for a while.
It wasn't until late April that the team's coaches announced the squad would begin meeting on Zoom twice a month to discuss updates, as they came in, on what would happen next season.
In May, the team's strength and conditioning coach, Jimmy Prendergast, sent players a list of workouts to perform at home to stay in shape. Above all else, he stressed that players work out every day.
"It doesn't take long for the body to start to deteriorate," Trueheart explained. "Our strength coach reminded us of the time that the NBA went into lockdown in 2011, and there was a record number of injuries in the following season…due to players being out of shape. He warned us to stay on top of our workouts during the summer in order to prevent this from happening to us."
Before the pandemic, every summer, the Hofstra's men's basketball team worked out on campus, doing strength training three times a week and lifting weights four times a week.
Trueheart said the summer is especially important because it allows players to get to know the incoming freshman players.
Last August, the Hofstra's men's basketball team was finally allowed to return to campus, although workouts and practices did not resume until the middle of September.
Players were required to quarantine for two weeks before returning to campus. Some who live out of state stayed at coaches' houses during this time.
Trueheart described how the basketball team found a way to get to know one another before the season, which was not easy, as players were not permitted to practice in Hofstra's gym.
"In August, we began driving off campus and playing pickup basketball at a local gym," he said. "It was about 30 minutes away…which the guys who were driving weren't so happy about…but it was nice to be able to play together."
By mid-September, the team was cleared to start training, with new restrictions in place. Players were split into two groups during lifting sessions to avoid using the same weights. Coaches, managers and athletic trainers were required to wear masks at all times.
When the season began Nov. 25, fans and spectators were not allowed at home games. The university placed cardboard cutouts of people in the bleachers to fill the empty spaces.
Players were required to keep their masks on for the entirety of games, except when they were on the court playing. They also practiced social distancing, remaining six feet apart on the benches while waiting to play.
At the end of games, instead of shaking hands with opponents like usual, players fist-pumped each other from across the court to maintain social distance.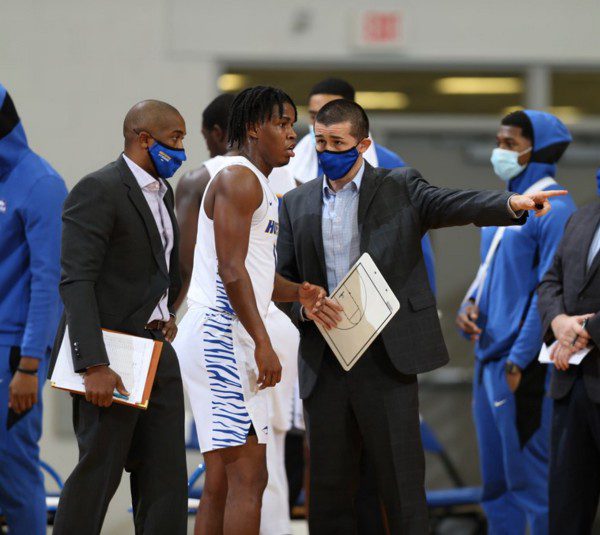 Sophomore Caleb Burgess talked about what it was like not having the fans at games."It [was] a lot harder this year without the fans," Burgess said. "They're the ones that get our energy going. Without them, it's like we have nothing to play for, and we're just out there playing pickup basketball….When you play sports in college, you want to play in front of as many people as possible."
Burgess also commented on the restrictions that Hofstra's team had in place versus those of other teams. "When we went to play at James Madison, they had their fans there, they had a band, their cheerleaders…everything. We [didn't] have any of that; it was just us," he said.
Although Hofstra's new rules for the men's basketball team were strict, they proved to be effective. Hofstra was the only conference member that did not have a conference game called off because of Covid-19, and the squad played the most conference games of all 10 CAA teams — 14 games in all.
Trueheart said Hofstra has done a good job of keeping the team safe.
When asked if they thought the team's performance was affected by the time off because of the pandemic, players said "no."
"We lost a couple of our last games, but it didn't have anything to do with Covid," senior Jalen Ray said. "Losses are a part of playing."
Trueheart agreed, adding that the team is "just learning how to win together with the new, younger players. We still have good veteran leadership and a strong foundation."
When asked if they thought that this year's Covid-19 setback would have a long-term effect on the men's basketball program, players maintained a positive attitude, saying that it would not.
Burgess predicted the team would continue to win next year.
Trueheart agreed. "I think that overall this will make us stronger as a team and will teach us not to take things for granted," he said.
By LIAdvocate on March 25, 2021.