By Joshua Lisenberg
Hofstra University has had four anti-Semitic hate crimes on campus since 2019. All are still active and ongoing investigations.
Two swastikas were identified last Oct.18 drawn in dirt on one of the walls of a Hofstra dormitory. In 2020, two swastikas were carved into the elevator walls at Constitution Hall after the Jewish High Holidays. Three years ago, another swastika was spray-painted at Nassau Suffolk Hall.
"It's certainly something that we take seriously, and we're going to make sure we use all the resources that we need to get this solved," Hofstra Public Safety Director Geraldine Hart told The Advocate. 2021–22 is Hart's first year with the Pride. Hart was previously with the FBI for 22 years before becoming the Suffolk County Police Department commissioner from 2018 to April last year. She was the first woman to be Suffolk's police commissioner.
Hart said education is needed to confront anti-Semitism. "I've connected with the Jewish Community Relations Council on Long Island, and they've been great serving as a liaison to college campuses such as Hofstra," she said. Hart was to meet with the JCRC and Hofstra Hillel Rabbi David Siegel.
"Director Hart has been a wonderful partner, and it really has been a pleasure getting to know her and working with her," Siegel said.
JCRC Programming Director Robyn Berman emphasized Hart's message of education, which is among the organization's missions, she said. "We provide information and resources. We've done mission trips to Israel with public officials in the past," Berman said.
Since the coronavirus pandemic erupted two years ago, the mission trip program has been suspended, but Berman and JCRC officials said they hope to restart it soon. "We are eager to partner with them on doing anything we can to educate our community, training our officers, and I have a plethora of things I'd like to discuss with" JCRC, Hart said.
Hart also said the work would not stop there. The highest-ranking safety official at Hofstra said she would attend a Homeland Security conference geared toward college campuses on Long Island. "It's called Tackle, and the purpose of it is to identify acts of domestic violence that happen on campuses and to really understand what that means, the resources available and educational opportunities," Hart said.
Hofstra undergraduate student Ally Heyman, who is Jewish, said she has never felt unsafe at Hofstra because of her religion. "I personally have never had any issues with my religion here at Hofstra. Everyone is very welcoming, and if something were to happen, there are lots of resources available here on campus," Heyman said.
According to Hillel International, Hofstra has 850 undergrad students who identify as Jewish, making up 13 percent of the undergraduate student body, while there are 1,000 Jewish graduate students, who comprise 23 percent of the graduate population. "It's important to make sure we have community year-round, and I would love to find ways to increase the interfaith community of not just Judaism but all religions around campus," David said.
The recent acts of anti-Semitism were not the first time that the Jewish community has had issues on campus. In 1972, according to the Jewish Telegraphic Agency, David Kerr, then a 21-year-old Hofstra student, flew a Nazi flag from his campus dorm room. Kerr was a member of the Anti-Semitic National Renaissance Party of James Madole and was also affiliated with the National Socialist White People's Party of Arlington, Va., which was formerly the American Nazi Party.
Rabbi Leo Wolf, director of the B'nai B'rith Hillel Foundation at Hofstra at the time, rallied the Jewish community in protest of Kerr and the flag. The issue eventually made its way to the Hofstra Board of Trustees, half of whom were Jewish. The trustees voted that Kerr could keep the flag up and refused to allow university officials to remove it, saying he had a right to freedom of expression.
Things have changed since 1972. Hofstra President Susan Posner quickly released a statement following the most recent hate crime on campus. "Hofstra denounces anti-Semitism and all forms of discrimination and hate, and we stand with our Jewish community members," Posner said last fall, when she was in her first semester at the university after the retirement of President Stuart Rabinowitz.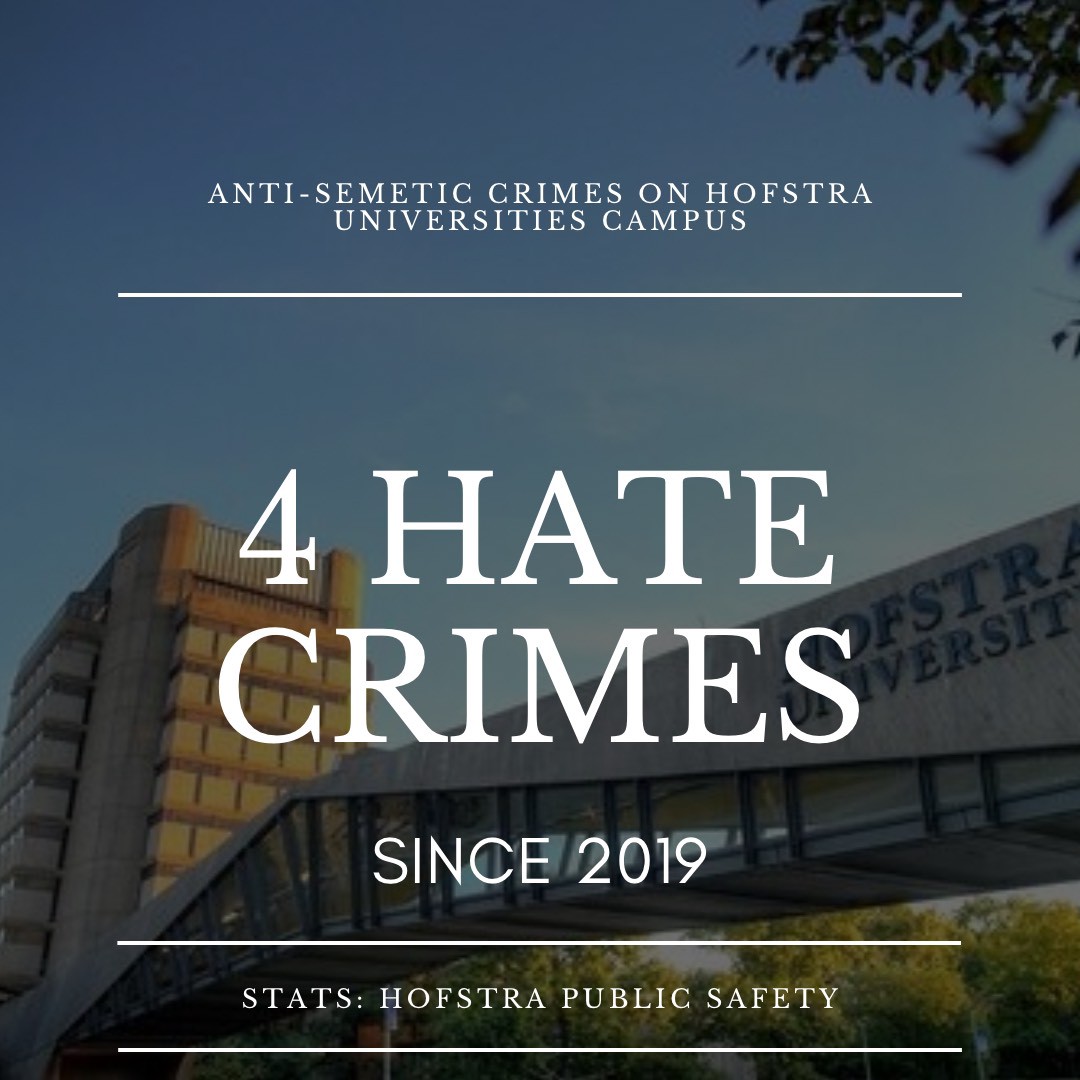 During Hart's tenure at the Suffolk County Police Department, she helped form its Hate Crimes Unit. Within it was a squad of detectives dedicated to hate crimes. Hart said she had the unit perform a great deal of outreach, which she would like to do at Hofstra as well. "I'd like to see some outreach done here where public safety can outreach and connect with students in different forms… I'd like to connect with Rabbi David on that," she said.
Public Safety has been a trending topic on campus over the past decade, and Hart said she wants the Hofstra community to think positively about her department. "We've seen through our history that police can play a positive role or negative role, and obviously we want to make sure that we are at the forefront of being a positive department," Hart said.
Hart declined to comment on the recent hate crimes investigations, as they are ongoing. The Advocate also reached out to the Nassau County Police Department, which declined to comment as well.
Anyone with information on the anti-Semitic hate crimes at Hofstra should call the university's non-emergency number at (516) 463–6606 or the NCPD's non-emergency number at (516) 573–8800.