By Brendan Yerkes
Part four in a series on the planned Las Vegas Sands Casino at the Nassau County Hub.
Outside of residents in communities surrounding the proposed Las Vegas Sands Casino Resort at the Nassau Hub, no one would be more affected by the $4 billion project, if it were to come to fruition, than the students and faculties of area colleges and universities.
Two of those institutions — Hofstra University and Nassau Community College — would be located practically across the street from the casino resort.
"Hofstra's proximity to the casino certainly raises concerns about our on-campus community but also our students and staff that live off campus in the surrounding area," said Geraldine Hart, associate vice president of public safety and community engagement at Hofstra, and formerly a supervising FBI agent and the Suffolk County police commissioner.
Many in the Hofstra community, including President Susan Poser, said they worry about the effect that the planned casino might have on the university. Nassau Community College officials, on the other hand, welcomed the news of a possible casino resort, saying it would provide internships for students and jobs for graduates.
"The creation of a new industry with thousands of jobs in multiple sectors is a tremendous opportunity not only for our students but for the diverse populations we serve as a community college," Maria Conzatti, acting NCC president, said in the statement in January, according to Long Island Business News.
Meanwhile, Poser said, "Casinos are sold as sources of revenue for municipalities and local organizations, and job creation for an underserved local workforce. Yet, the result is often not promised revenue, but further strain on already overburdened social service and law enforcement institutions. According to a 2014 study by the Research Institute on Addictions at the University of Buffalo, siting a casino is particularly dangerous in historically disadvantaged communities with stressed socio-economic conditions."
The Las Vegas Sands Casino group recently signed a 99-year lease with Nassau County recently that would allow for construction of the casino, if approved by the Town of Hempstead and the State of New York.
"Nearly 40,000 students, ranging from preschoolers to graduate students, attend school either contiguous or in proximity to the Nassau Hub," according to Poser.
Las Vegas Sands officials, who insist they have received support from local communities, said the casino would be one part of an "integrated" resort in the Nassau Hub that would also include a hotel, restaurants and an entertainment venue.
They also said the resort's strategic partnerships with local colleges would benefit students. "We are extraordinarily proud to be working with Long Island University and Nassau Community College to build a world-class hospitality program, creating new pathways to success for Long Islanders," Ron Reese, Las Vegas Sands senior vice president of global communications and corporate affairs, said in a statement.
Nassau Community College officials said they believe the casino could enhance their school's stature. "Actually, I think that our reputation could be enhanced because of the opportunities a project like this will bring, not only for the college but for the surrounding community," said Jerry Kornbluth, the college's vice president for community and governmental relations.
Kornbluth said he hopes Hofstra officials might rethink their position on the casino. "I would hope Hofstra reconsiders and thinks about how it will impact their community. We haven't had any conversations with them," he said.
Kornbluth said the casino project would put a largely vacant tract of property — the 72 acres surrounding Veterans Memorial Coliseum — to use. "The area that it's on is something that needs to be developed," he said. "It's a barren piece of property with a lot of acres that is sitting there with nothing on it. I think we need that economic stimulus."
Without a casino license, Sands would move ahead with plans to develop the site with a hotel, restaurants and shops, according to Newsday. The project would bring a $54 million lump-sum payment to Nassau County to assume the lease on the property and $25 million for the surrounding school districts of Uniondale, East Meadow and Hempstead, in addition to future payments, according to Newsday TV.
Still, a number of Hofstra students expressed concern over the project. Hofstra sports management major Alexis Panagatos, a junior, said she worries about her school's reputation if a casino were built next door. "It definitely will" hurt Hofstra's stature, she said. "I think [it would] bring down the value of the university as a whole, as well as the area."
Panagatos said she would worry about safety in the community surrounding Hofstra University if a casino were built. "I'd be a little bit nervous to go off campus," Panagatos said. "Even being on campus would still concern me."
Hart echoed that sentiment, saying, "There are a number of public safety concerns tied to placing a casino in the immediate vicinity of three educational institutions. Research has shown a direct link between casinos and a range of health and safety outcomes."
Regardless of whether a casino were built, Hart said, Hofstra would remain a safe campus. "We will take the steps necessary to ensure that Hofstra remains a safe place to live and learn should approval be granted to site a casino at the Nassau Nassau Hub." The public safety department, she said, would evaluate risks and act to mitigate them.
"Hofstra alumni are also opposed to the [casino] project. I think the space could be better utilized to support a college campus," said Zack Kerzner, a recent Hofstra graduate who majored in geographic information systems. "A casino in such close proximity to the school can give the school a bad reputation and invite problems to the campus."
Panagatos suggested that the Lighthouse Project, which was proposed by developer Charles Wang in 2007 and cancled two years later, would have been a more appropriate option at the Nassau Hub. The proposal called for a mixed-use development that would have included two 30-story apartment complexes, shops and restaurants, along with an arena for the Islanders.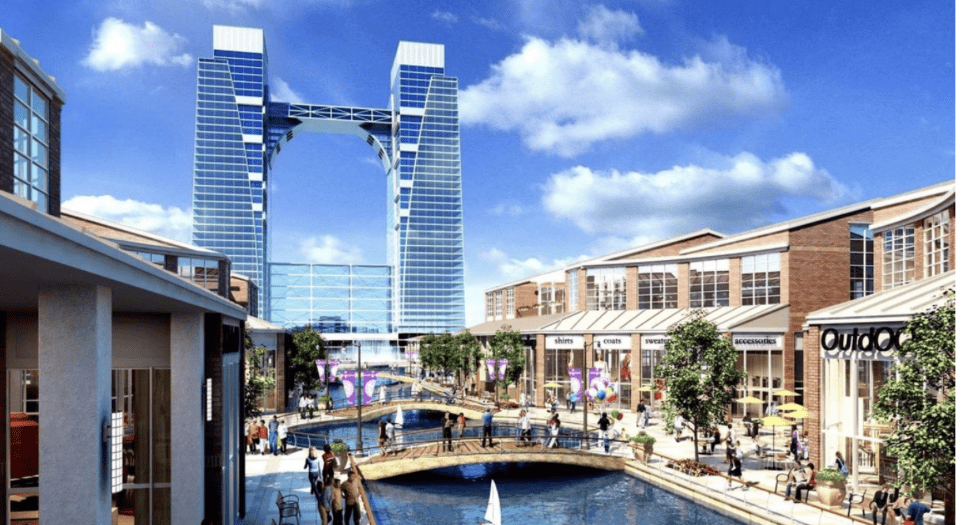 The Lighthouse Project "would have been a lot better for the area and it could have given opportunities to college students with jobs or for entertainment purposes," Panagatos said. "I don't understand why they would ruin the area by putting a casino there over doing something good for the community."