By Taylor Nicioli
Fish weren't the only creatures lurking at the Long Island Aquarium Oct. 29 as people of all ages dressed up in Halloween garb to explore the exhibits. Donning costumes from sharks to dinosaurs and hot dogs, Riverhead kids no doubt enjoyed a special All Hallows' Eve this year.
Held annually, except during the coronavirus pandemic, the "Bats, Barnacles and Broomsticks" event offers children a safe space to have a blast on Halloween alongside the aquarium's tanks holding all manner of sea creatures. The aquarium also offers its space to vendors and nonprofits to help get their messages out to the public.
"It's so much fun to see the kids coming to enjoy the aquarium and having such a good time," said Nicole Valenti, an apprentice sea lion trainer with the LIA. "It's a really great way to get them here to see the animals and to learn more about them, and it helps us to conserve these animals."
Not only were the children in the Halloween spirit, with the aquarium offering half-priced admission for those under 12 in costume, but also the sea creatures had a few tricks and treats of their own. Within the tanks, carved pumpkins floated beside fish while they nibbled on the insides.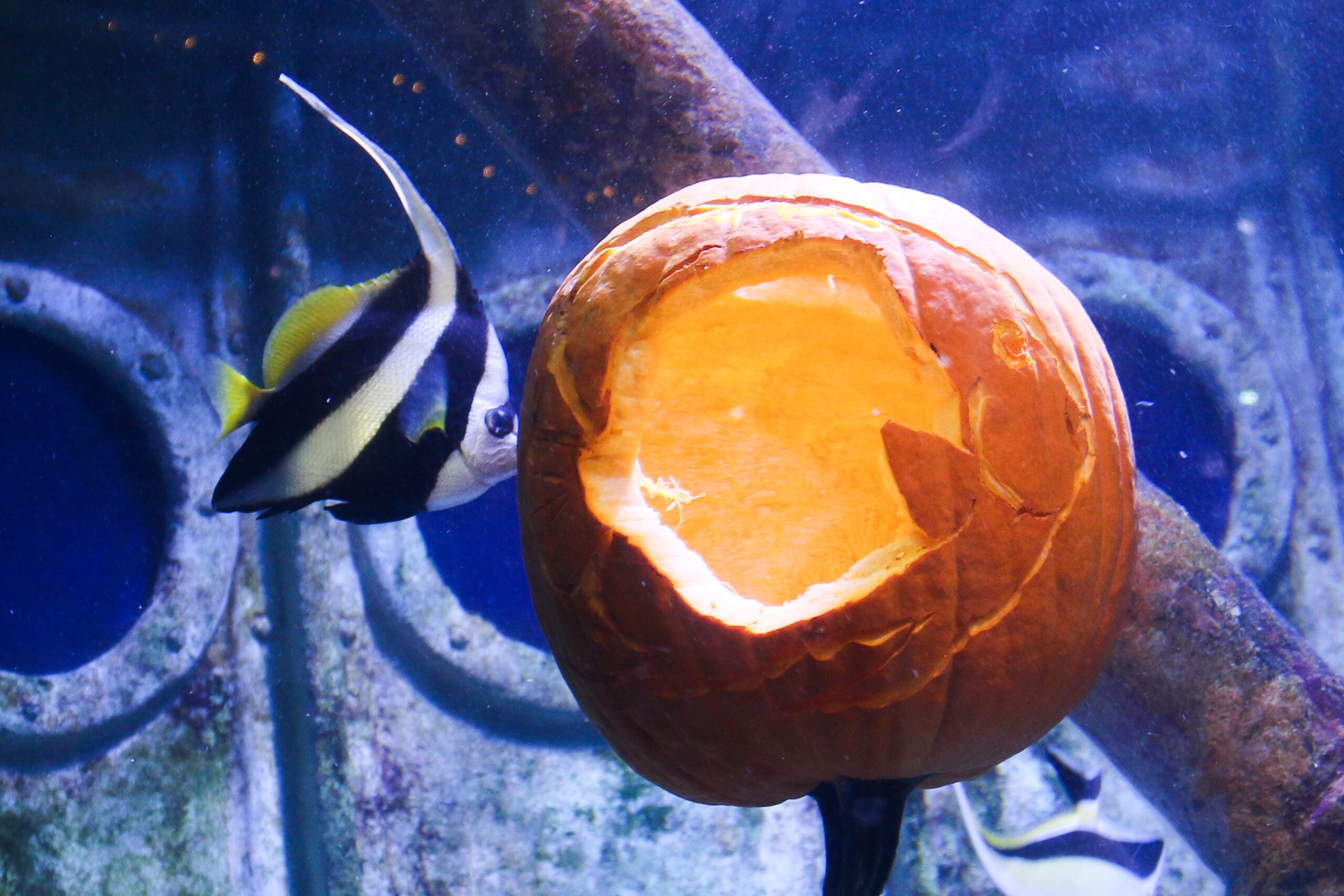 As for the sea lions and the river otters, while their diets did not allow them to eat the raw squash treat, they performed their usual tricks to the beat of Halloween music, encouraging families to gather around and learn more about the rescued mammals. Occasionally, they were offered frozen fish popsicles as a holiday treat, Valenti said. 
Jack Dennehy, 12, and his brother Christopher, 8, come to the aquarium often, and enjoy this event every year. This time, they dressed in matching hot dog costumes, and especially appreciated the shark exhibit, which Jack said was his favorite.
"It's a lot of fun. We've been coming since I was a little child," Jack said. "I like seeing all of the sea creatures. I like that you get free candy, and it's cool seeing the enclosures have all of the different Halloween decorations in them."
Normally the penguins are dressed up for the event, wandering around in costume and posing for photos by passersby. This year, however, they were kept safely inside their enclosures because of a bird flu outbreak.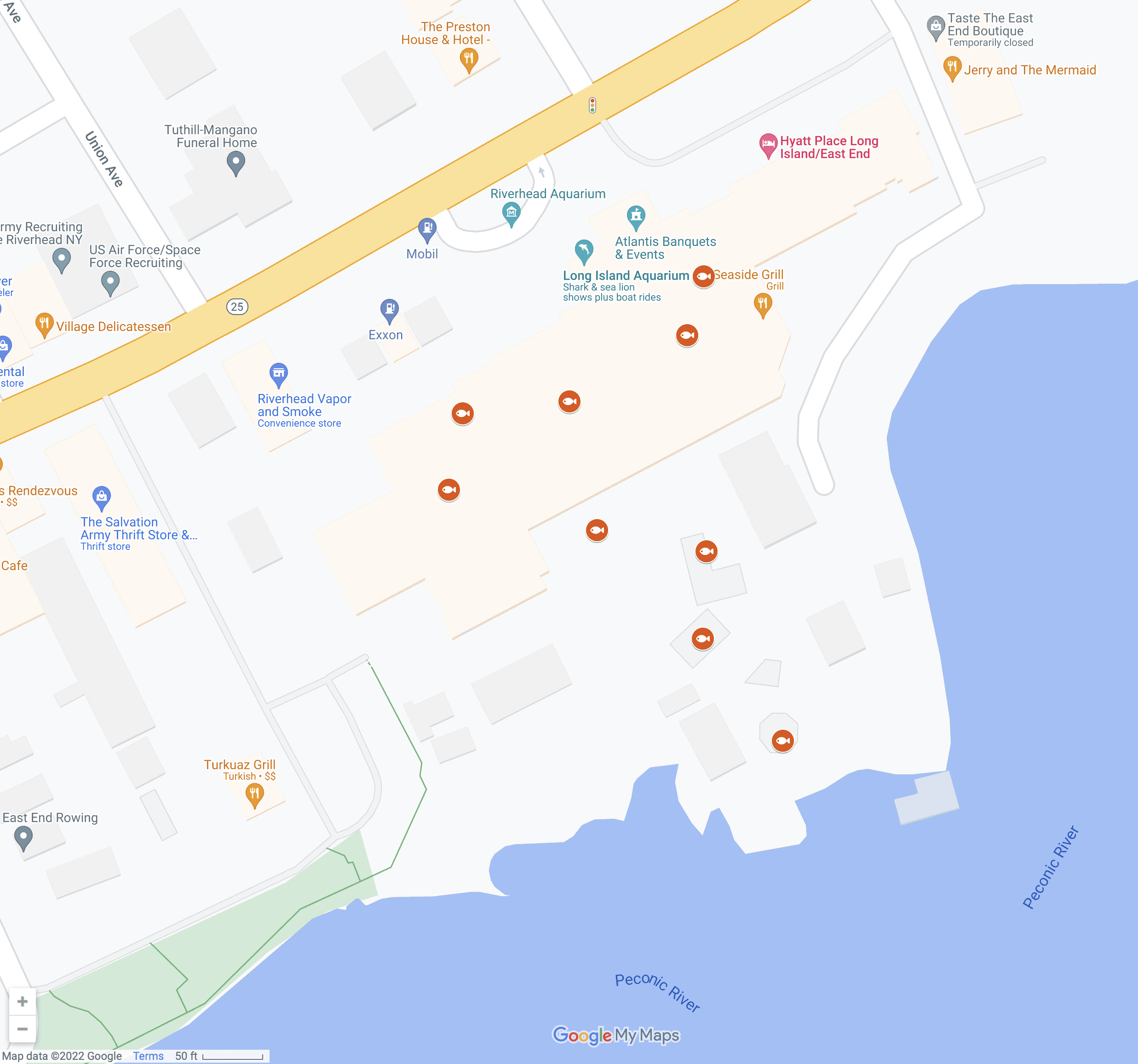 Spread throughout the exhibits, local exhibitors from artists to marine life advocates set up booths to raise awareness about their businesses and organizations, while also handing out candy to the trick-or-treaters. Saf-T-Swim, a Long Island swim school and aquarium sponsor, even brought along its mascot Splash, a water-safety seal, to greet the kids and pose for pictures.
"Everybody comes together for one common cause and that is to get out into the community and offer some fun and education," said Lisa Hazen, a Saf-T-Swim staffer. "This event is really wonderful for all of the kids and all of the vendors that come out, too. It helps us to interact with all of the parents and let them know about the water-safety skills that we offer year-round in our pools."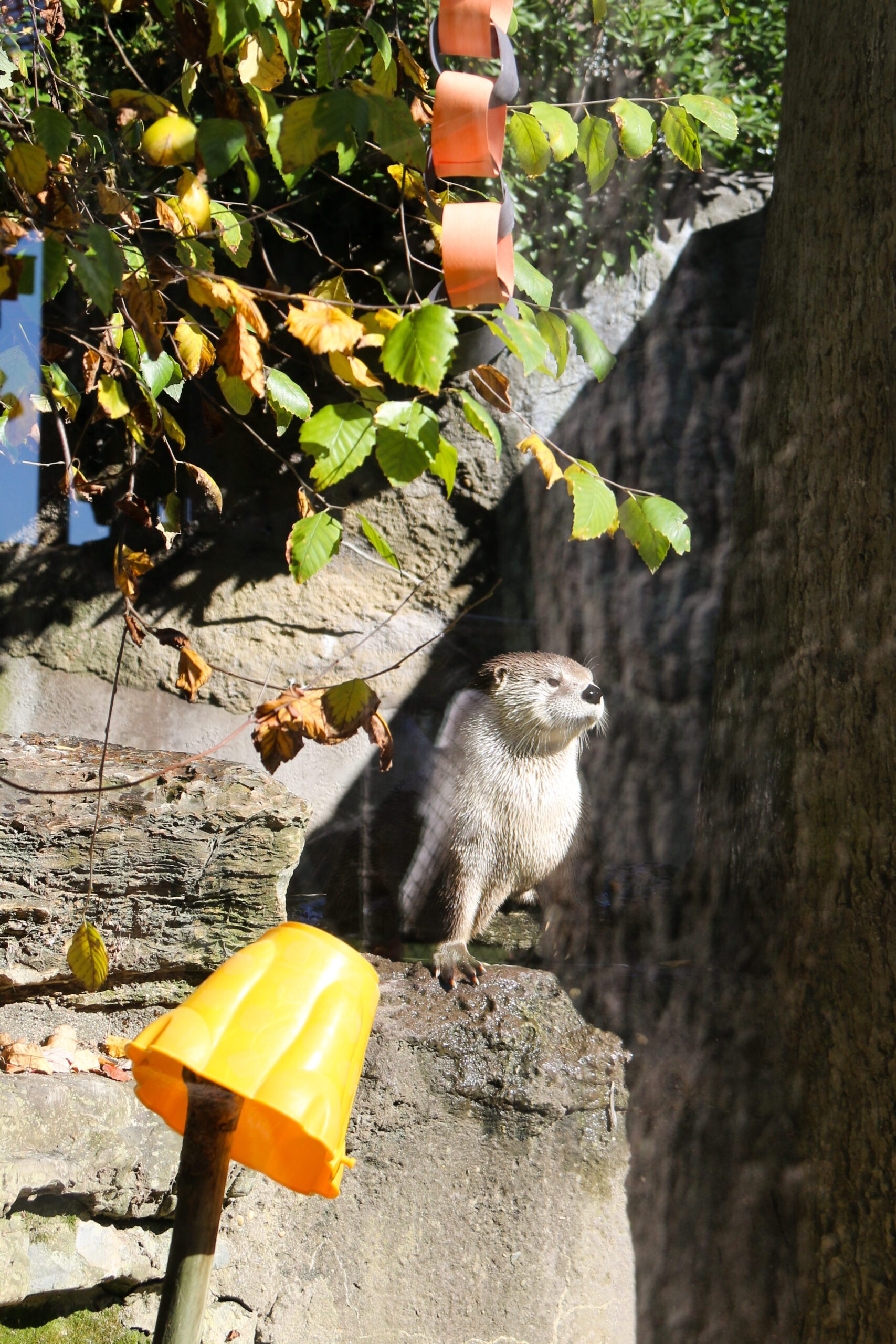 Darlene Siracusano and Kim Perry, volunteers with the NY Marine Rescue Center, set up shop in the back, catching families on the tail end of their visits. While allowing kids to decorate and press their own pins, they also raised awareness about the non-profit, and Chestnut, a rescued sea turtle that has become a permanent resident at the aquarium. 
"I've done Halloween here for about three years, and it's a great way for families to learn about what the rescue center does and to also enjoy their day in the aquarium," Siracusano said. 
Chestnut, a young Atlantic green sea-turtle, a threatened species, was caught in a boat strike in 2010, causing a bubble to form in her shell and making her float on her side. Siracusano called the turtle "a great advocate for teaching the public about how to preserve our marine life."
"It's a great way to get [the children] excited about keeping the beaches clean and helping our marine life," Perry said.