By Fatima Moien
Nearly two dozen representatives of Long Island-based nonprofits, all members of the #FundExcludedWorkers coalition, spent Monday lobbying at the State Capitol in Albany for the Unemployment Bridge Program, which would provide unemployment benefits to freelancers, undocumented immigrant workers and others who have traditionally been ineligible for government benefits.
The program, if enacted by the State Legislature and signed by Gov. Kathy Hochul, a Democrat, would provide up to $500 million in benefits in its first year.
Coalition representatives split into groups and fanned out around the State Capitol to meet with as many Assembly members and senators as possible to seek their support for legislation to create the program.
Assembly Deputy Speaker Phil Ramos, a Democrat from the 6th District in Suffolk County, is an executive board member of the Assembly's Puerto Rican/Hispanic Task Force, and a member of the Ways and Means, Aging, Education, Labor and Local Governments committees. In his role as the first Latino deputy speaker, he said, he represents the interests of excluded workers.
By supporting the Unemployment Bridge Program, he said, "we're not just helping the immigrant community. We're helping everyone else, whether they're documented or not."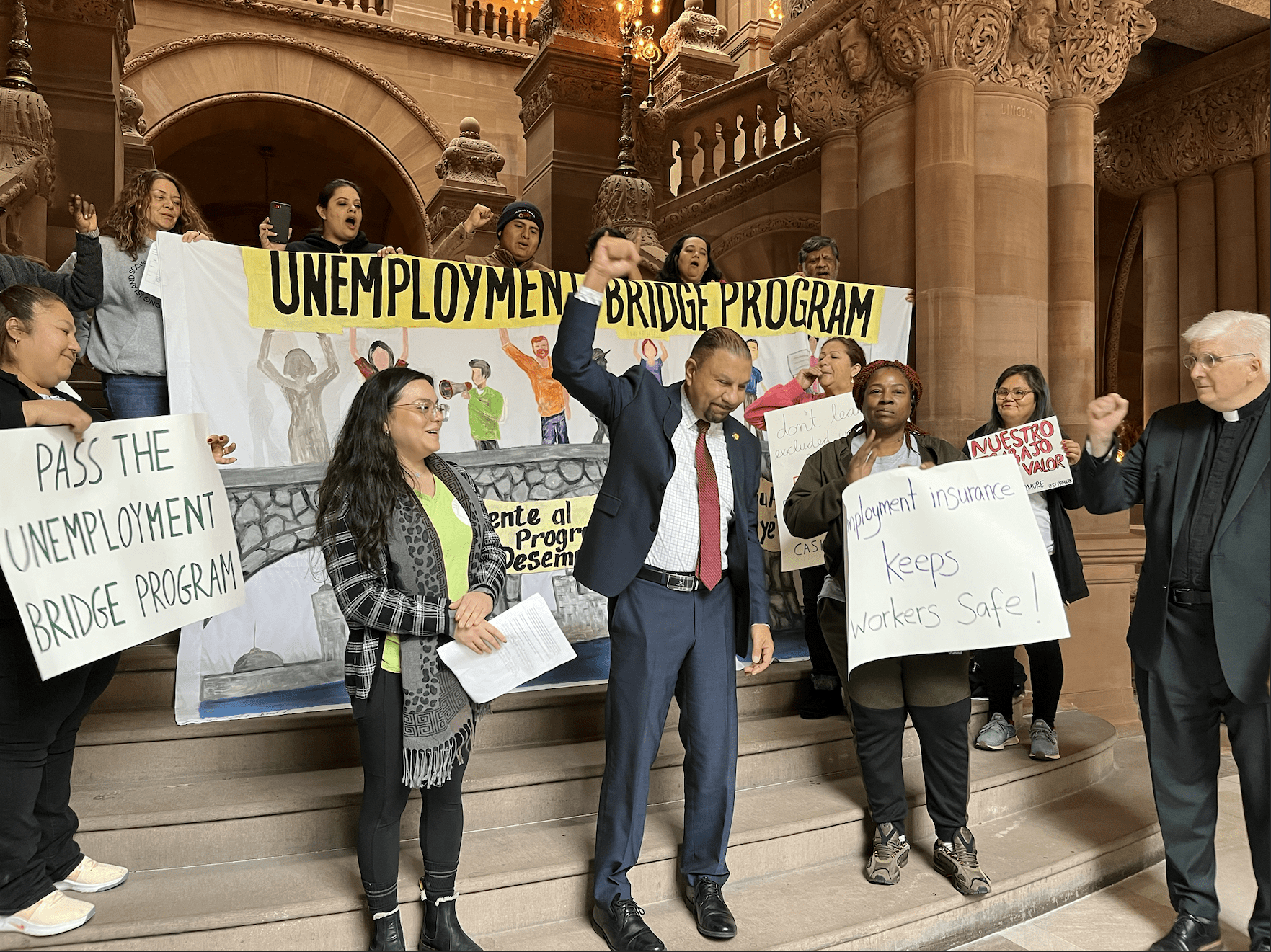 Coalition members chanted demands up the stairs into the halls of the Capitol before breaking up and walking door to door to lobby lawmakers in their offices, dropping off informational folders along the way.
The program proposal, if passed, would provide $1,200 monthly payments to 30,000 unemployed freelancers, self-employed workers, individuals in re-entry after imprisonment or recently incarcerated individuals, and undocumented workers.
Tyqua Sumpter, better known as Ty, was incarcerated at age 16 and returned home at 22. She recalled her younger years leading up to her time in prison, when she was full of anger and resentment toward her community, which lacked resources and stability. Now 29, she is pursuing her bachelor's in urban and community studies at the City University of New York. A Black woman and member of the LGBTQ community, she is in crisis management as a "violence interrupter," which requires street-level interventions to prevent violence before it breaks out.
"I want to see this program get passed so we don't continue to see the lack of support for people coming home" after incarceration, Sumpter said.
According to the Vera Institute of Justice, women's incarceration has grown more rapidly than it has for men. Based on 2017 incarceration trends, in New York, Black people constituted 15% of state residents, but 43% of people in jail and 48% of people in prison.
At a news conference at the Capitol, organization representatives took turns voicing their support for the Unemployment Bridge Program, with many speaking of their lived experiences and ongoing struggles.
"We say to all of our legislators and our governor, be grateful for all the blessings you have received, and in response to those blessings, pass this bill," said the Rev. Peter Cook, executive director of the New York State Council of Churches.