By Casey Clark
Jenna Rose, the 22-year-old pop singer from Dix Hills, who is also Hofstra graduate, released her first-ever EP "Infatuation" on Feb. 24 to the latest digital streaming platforms.
Rose started her career in the entertainment industry in community theater and regional productions, including "Annie," "The Miracle Worker" and "The Odella Williams Show." Her parents believed she needed an outlet to let her creative juices flow, and theater helped her with that.
As she transitioned from musical theater to mainstream pop music, that is when Rose's career took off.
When Rose was 9 years old, she did a showcase in the city for her first single called "Sweet Melody." There, Rose was approached by a producer who said he had a song that he thought would be perfect for her. The producer, father of rapper "Baby Triggy," who now goes by "I Am Trigg," thought his son and Rose could team up on a song that would be a fun, creative project for the duo.
"The next week we went to the city, recorded 'My Jeans,' and we didn't really think anything was going to happen with it," Rose said. "It took about a year for it to blow up, and it started with a few thousand, and that same week it got up to a million."
Rose garnered lots of media attention during the year of the video's release and appeared on several television programs, including PIX11 News and Fox News.
While successful, Rose was only a middle school student at the time and had to deal with the online harassment from strangers and peers that developed in response to the song. While the hate was difficult to deal with, Rose was able to stay confident with the support of friends and family.
"I've always supported Jenna in everything she does. When things got rough, Jenna was very young and didn't understand the meanness and trolling that was all over her video," Debbie Swerdlow, Rose's mom, said. "I always told Jenna to be the best you can be and that these are people that are behind their computers [are] cowards."
This year marks the 10th anniversary of "My Jeans," and Rose has stayed busy working on her craft and doing what she loves most: singing.
Rose diligently works to keep fans entertained with her YouTube covers of popular songs such as Iggy Azalea's "Fancy" and Ariana Grande's "Love Me Harder." She even had a song "Do or Die," written by AJR's Jack and Ryan Metzger.
The two brothers reached out to Rose on Instagram via direct message to notify her about the opportunity, and she started "freaking out."
Rose's passion for music has remained strong over the years and led to the release of her debut EP, "Infatuation." Since its debut, the record has garnered nearly 34,000 views on YouTube.
"Since the beginning of quarantine, I started writing and 'Infatuation' happened," Rose said.
Before this EP, Rose had written songs, but many were handed to her by producers and other songwriters. This was the first time Rose had full creative liberty, both musically and vocally.
The EP features three songs, "Dolce & Gabbana," "Monopoly" and "Weakness", all of which were written and produced by Rose.
"With 'Weakness,' I had lyrics written down in notes on my phone from two years ago," Rose said. "However, when I was looking through my notes during quarantine, I decided to make it into a song."
Rose said she first writes her lyrics on her phone, finds a melody and mashes them together. The whole EP was recorded from her bedroom, and she even designed the cover artwork.
With more than 75,000 followers on TikTok, Rose has used the platform to share her new music with fans and gain more exposure. Rose has received a lot of positive feedback from fans, friends and family members, both in person and on social media, in response to her EP.
"Her EP came out amazing," said Jared Brown, a longtime friend of Rose and former classmate from Hofstra University. "My favorite song is definitely 'Monopoly.'"
Over the past year, Brown was one of the people Jenna bounced musical ideas off.
"She would FaceTime me and sing lyrics and send rough versions to see if I liked them," Brown said. "She loved feedback, even if it was constructive."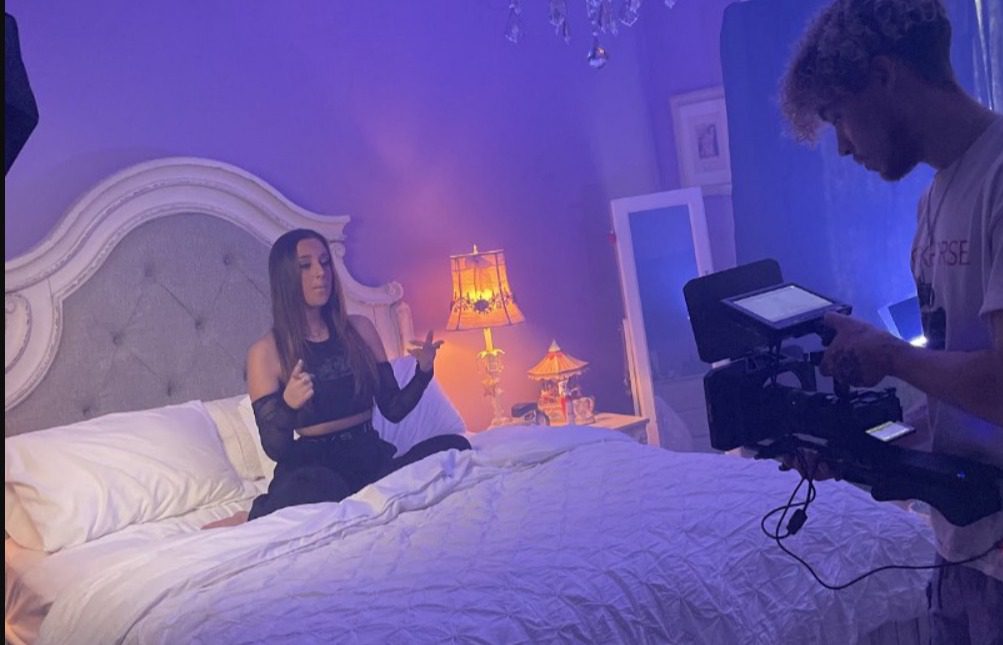 Following the success of the EP, Rose decided to bring her music to life with conceptual videos. Directed by David Suarez, a Los Angeles-based visual director, Rose's most recent video for "Weakness," released March 30, was filmed in her childhood bedroom and used lots of special effects, including a fan, smoke and hallucinations.
"Filming this time around for 'Weakness' was my favorite because we got to incorporate a lot of new effects," Suarez said. "We worked with new lighting, new lens filters and used a smoke machine to add texture to the image, such as the 'hallucinations' Jenna is having in the video due to her weakness for his love. The outcome of the project was really cinematic, and I was happy to see Jenna and her family excited about the project."
Rose plans to release another music video for "Monopoly" later in the spring, which is slated to be an even larger production.
When asked about what she plans on doing with music in the future, Rose had an exciting answer. "I have something crazy that I think I'm going to do. I'm going to do a remix of 'My Jeans,' and I already posted about it on Instagram," Rose said. "Everyone comments on my videos do 'My Jeans' again every single day, so I think I'm actually going to do it this spring."
Rose said she plans on writing more songs for herself and other up-and-coming artists and resuming live performances once it is safe.
"Infatuation" is available for streaming on Spotify, Apple Music, YouTubeand other popular platforms.