By Caitlin O'Brien
Long Island is in the midst of a blood shortage because of the coronavirus pandemic. To combat the deficit, local blood centers and doctors are calling for new and veteran donors to meet the need.
Social-distancing requirements have closed many schools and workplaces to in-person work, causing blood banks to lose a reliable supply of donations from pop-up drives. New York State's largest supplier of blood, the New York Blood Center, now primarily relies on physical donation centers to meet the need for nearly 2,000 donations per day.
"The need for blood has not decreased, but the convenience and people's willingness to donate did," said Andrea Cefarelli, NYBC's senior executive director.
NYBC relied on about 30,000 blood donations per month before the pandemic, according to Cefarelli. Now the center receives around 22,500, which she said cannot fulfill the day-to-day and emergency needs of hospital patients. As the number of medical procedures returns to normal levels, the situation is becoming more dire.
Dr. Alexander Indrikovs, senior director of transfusion medicine at Northwell Health, said Northwell primarily relies on NYBC for blood for transfusions. He said, however, that the amount of blood NYBC has on hand has dropped from a seven-day supply to a one- to two-day supply.
Indrikovs said the blood shortage has not reached crisis level yet. He, though, urges people to donate now if they are able. "Even if it is more challenging for them to do [so] during the pandemic, we still need them," Indrikovs said.
Giving blood is Covid-safe
Youth donors are the foundation of the blood supply. Nearly 500 schools on Long Island and in the surrounding New York area hold multiple drives that provide around 75,000 donations per year. "They could get out of chemistry class and go donate in the gym with their friends," Cefarelli said.
Workplaces fulfilled a similar role until remote work changed that. "It may be more difficult for an individual that is working from home now to drive to a location on Long Island or in New York to give a blood donation when before they could give it at their work site," Indrikovs said.
NYBC said it is able to host Covid-safe blood drives, but it is struggling to find organizations that are willing to hold them. Cefarelli added a common response from organizations is that they are waiting until more people are vaccinated to ensure safety.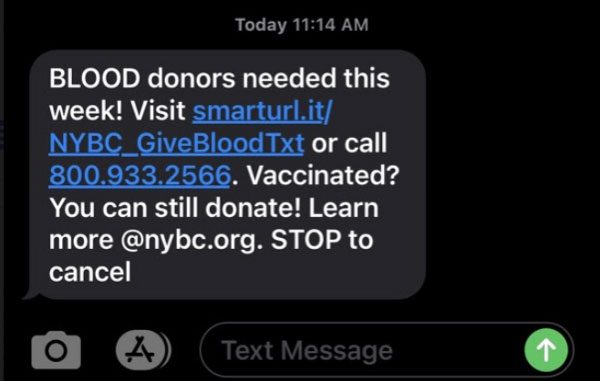 "We're trying to show them how safe we can be," said Cefarelli. "We're setting up blood drives in bigger spaces, the beds are further apart, the staff is further apart, and when they let us, we're really quite successful with them."
To motivate people to give at their permanent donation centers, NYBC is using phone, mail and social media campaigns, as well as partnerships with hospitals and government agencies. Cefarelli said NYBC is working to vary the channel and message to appeal to a larger audience.
Many NYBC sites are now open seven days a week. Donors must have an appointment, wear a mask while at the site and follow social-distancing guidelines. NYBC staff clean equipment and limit the number of donors inside to ensure coronavirus safety.
Importance of blood donations today
In the early days of the pandemic, convalescent plasma was touted as a potential treatment for all coronavirus patients. This blood collected from a recovered patient is a typical treatment for many illnesses and has been used for ailments before the coronavirus.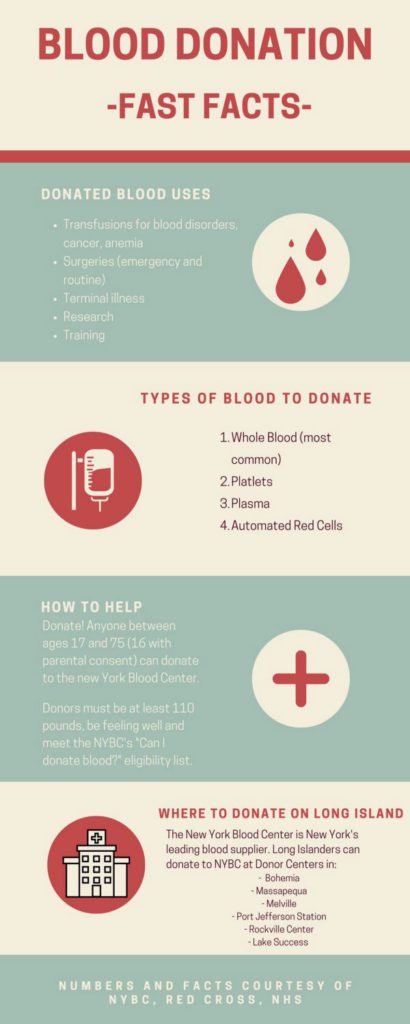 Earlier this month, the National Institutes of Health stopped clinical trials that used convalescent plasma for emergency department patients with mild to moderate Covid-19 after the NIH determined the treatment was not significantly effective for them. However, this has not stopped NYBC's collection of the plasma, as it can save lives in more serious Covid-19 cases.
"It's really limited right now, which is appropriate because we don't have a lot of it," said Judith Brenner, the associate dean for educational data and analytics at the Donald and Barbara Zucker School of Medicine at Hofstra/Northwell. "It would do us no good for us to have widespread indications [that it worked] and then not have enough.
Doctors agree that blood donations are important regardless of the pandemic.
Blood donation "becomes part of the therapeutic part of what we have as far as treating patients," Brenner said. Whole blood, plasma, red blood cells and platelets are crucial in treating both chronic illnesses like cancer or providing care in traumatic incidents that involve transfusions and transplants.
Indrikovs encourages people to donate as often as they can. "It is only with their donations that we can maintain the treatment for patients that need these therapies," he said. "They count on the community to make those donations."
Journalist & Broadcaster | News Director at 88.7 FM WRHU | Political Science & Journalism Major at Hofstra University
Final graphic by Caitlin O'Brien