By Urvi Gandhi
The usually empty auditorium at Hofstra University in Hempstead was packed with rows of colorful clothing with intricately embroidered designs. People hurried past one another to glimpse the shiny gold and silver jewelry on top of folding tables. An aura of community filled the air, as people laughed, bargained and conversed in Urdu and English.
Hofstra hosted an Eid bazaar from April 23 to 24 and April 30 to May 1 in the Hofstra USA building, but the university did not organize the event.
The three-day celebration of Eid al-Fitr is one of the most important times of the year for Muslims. It commemorates the end of the month of Ramadan, when Muslims fast from sunrise to sunset. This year, Ramadan started on April 2 and ended on May 2 in the United States. Ramadan is the ninth month in the Islamic calendar, and is a commemoration of when the teachings of the Quran were revealed to the prophet Muhammad. Observance of the month is one of the five pillars of Islam. Muslims observe Ramadan with fasting, prayer, reflection, charity and abstinence from sin.
In recent years, several Long Island school districts have recognized Eid as a holiday.
"People are coming to prepare for Eid and celebrate it together," said Ayesha Samra, who organized the bazaar. "We celebrate Eid by getting together with family and friends. We exchange gifts, which is why a lot of people come [to the bazaar], to buy presents. It's similar to Christmas, and it's very significant to us."
The bazaar, which means market in Urdu, hosted more than 40 vendors each day. A wide range of South Asian and Muslim products were available, including bangles, anklets, earrings and salwar kameez, a traditional outfit worn by women. Some vendors also sold household items that could be used during Ramadan. After sunset, there was food for attendees to break their fast.
The second weekend also included stalls where people could get henna tattoos, known on the Indian Subcontinent as mehndi. The tattoos are commonly done for celebrations and special occasions, but at other times as well.
"I went with all my friends to get my henna done. I haven't been to an event like this in a long time. It felt almost nostalgic," said Maryam Hoque, a freshman neuroscience major at Hofstra.
Muslim students at Hofstra expressed their appreciation for the event. The Advocate spoke with Sidrah Nadeem, a junior psychology major who is also the matriculating vice president of Hofstra's Muslim Student Association.
"I think it was absolutely amazing. I've seen markets like this in [Manhattan] and Jackson Heights, but having one at the university I attend was great," said Nadeem, of Valley Stream, noting she hopes the event will be a regular occurrence. "We have a very heavy population of Muslims in the area, so it's important we cater to their needs for Eid."
Long Island is home to over 80,000 Muslims and more than 30 Mosques, making Islam the third largest religion in the area, behind Catholicism and Judaism.
Samra expressed the importance of a multicultural event in fostering diversity and learning. "[This event] is a great way to teach people about our culture," said Samra, who is originally from Pakistan and now lives in Wantagh. "We had people from other ethnicities stop by, not only because they wanted to purchase something, but because they wanted to learn about our culture."
"There were many non-Muslims at the event, and they looked very intrigued by everything being sold there. I feel like an event like this brings people together," said Suraiyah Mohammed, a freshman health science major and the incoming event coordinator for the MSA.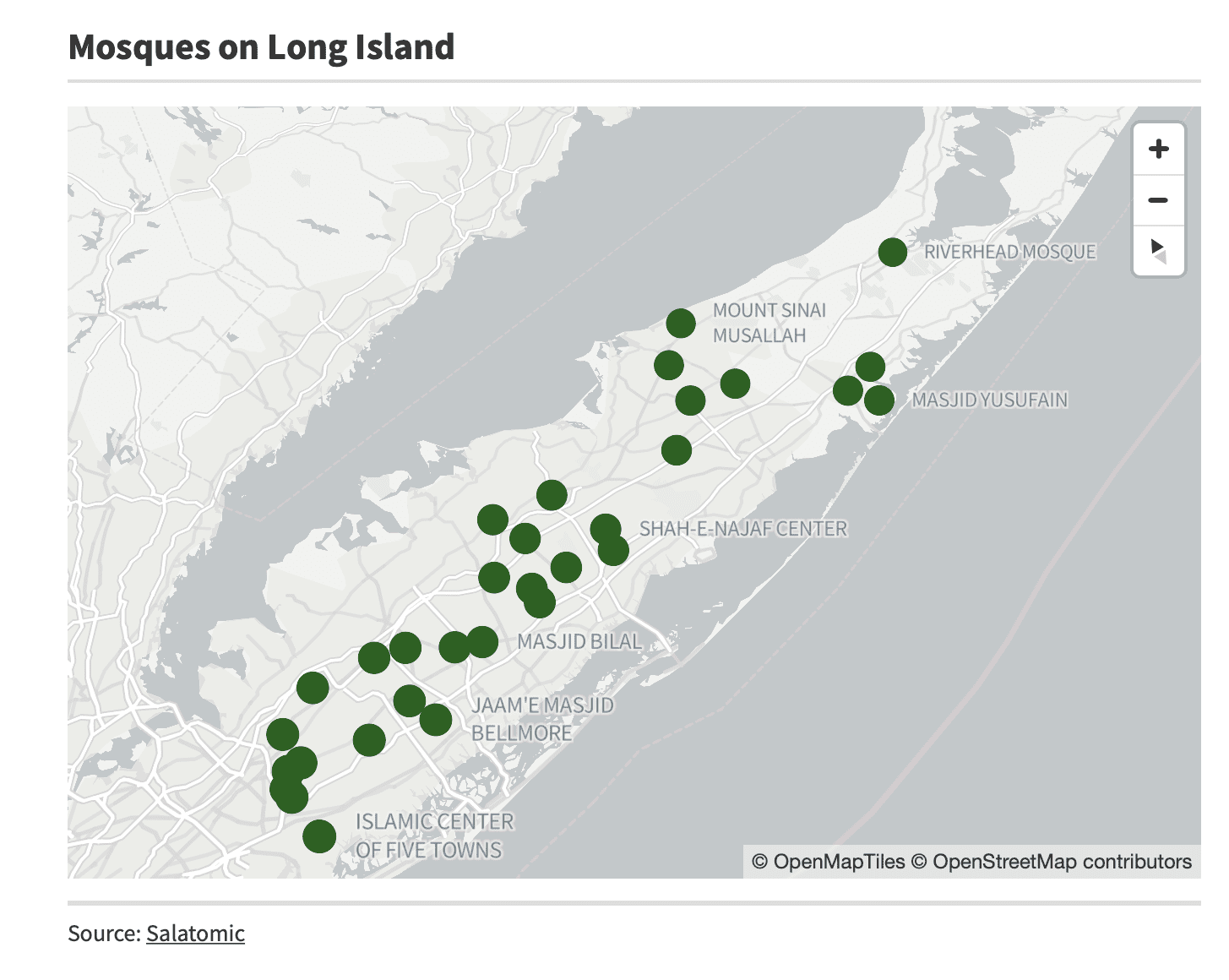 There have been attacks against Muslims on Long Island. In May 2021, a Brentwood mosque was vandalized. Perpetrators burned a religious flag at the mosque and spray-painted pro-Donald Trump graffiti.
According to Samra, who has organized an Eid bazaar for the last five years, planning for the event began in December. "We started doing it to get everybody in the community together for the holiday and to support local and small businesses," she said
Samra said the bazaar has expanded significantly, and she hopes to continue hosting it at Hofstra annually because of the positive response from students, the MSA and the larger community.
"It would be really nice if the event could take place outside in the future, as that truly captures what the essence of a bazaar is. That might be a good addition for next year," Nadeem said.
Vendors were small business owners, many from Long Island, but some from as far as Virginia, Washington and Canada. They heard about the event through personal connections and social media. Organizers advertised the bazaar on social media and the international Pakistani television network ARY Digital, and promoted it at New York mosques and restaurants.
Another bazaar is scheduled at Hofstra's Sondra and David Mack Student Center for June 25 and July 2.