By Scott Brinton
Volodymyr Tsyalkovsky started the Uniondale-based Ukrainian Americans of Long Island three years ago as a website — UALI.info — to unify the disparate Ukrainian communities "scattered" across Long Island. Now the site is serving as a clearinghouse for organizing meetings, war protests and supply drives to aid Ukraine, Europe's second-largest nation now under siege by Russia, its biggest.
"We need to stop the war. We need to forget about anything," Tsyalkovsky told The Advocate Monday.
Ukrainians, hundreds of thousands of whom have been displaced by the war that erupted last Thursday, are streaming into countries across Eastern Europe and desperately need immediate aid. To that end, Tsyalkovsky said, UALI will support a supply drive on Thursday, March 3, from 10 a.m. to 1 p.m. at the Woodbury Jewish Center.
Nassau County Legislator Josh Lafazan, a Democrat who is running for Congress in the 3rd District, is organizing the drive. The Woodbury Jewish Center is at 200 S. Woods Road.
(See list of needed supplies at the bottom of this story.)
Tsyalkovsky, 42, a father of three from Great Neck, holds a doctorate in organic chemistry from Lviv Polytechnic National University in Ukraine. He immigrated to the United States in 2006 to complete post-doctoral research at Clemson University in South Carolina and moved with his family to Long Island in 2010. He is now in financial software sales in North America.
Among others, UALI brings together St. Vladimir the Great Ukrainian Catholic Church in Hempstead, St. Michael the Archistratege Ukrainian Orthodox Church in Uniondale, where Tsyalkovsky and his family are parishioners, St. Josaphat's Monastery in Glen Cove and St. John the Baptist Ukrainian Catholic Church in Riverhead.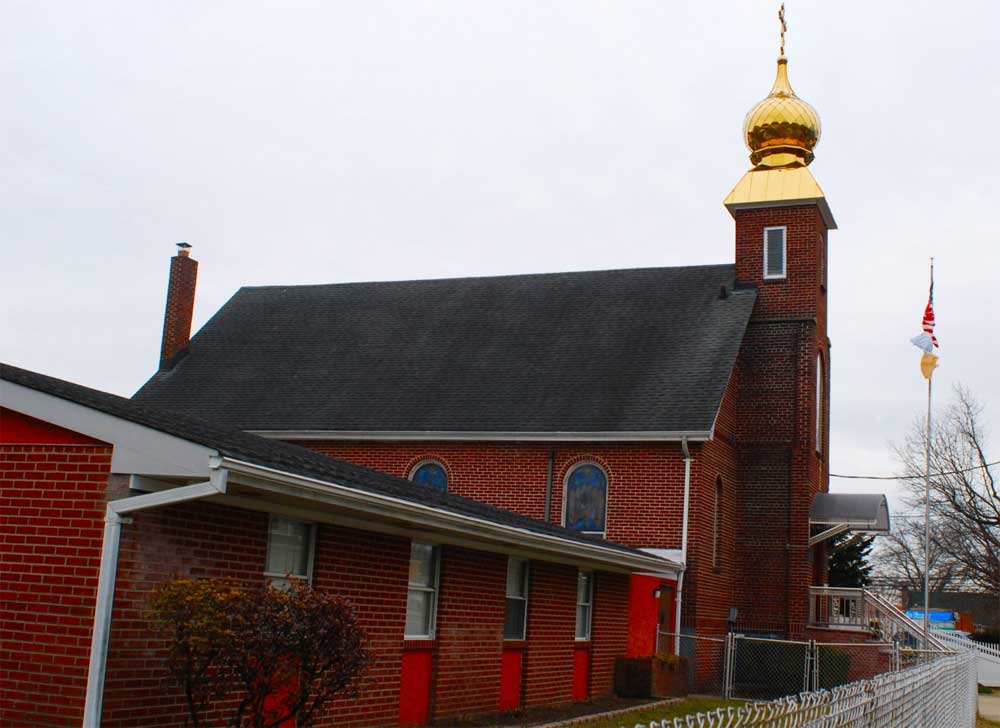 Of UALI, Tsyalkovsky said, "We are all Ukrainians. We help Ukraine survive . . . We need to put all our energy into how we can help."
The war in Ukraine, Lafazan told Huntington Now, has "created a need for emergency assistance to surrounding areas accepting refugees. It's critical that members of the Long Island community do our part in donating what we can to aid vulnerable people in this pivotal point in history."
The war has united Ukrainians, both in country and around globe, behind a common cause — freeing their nation of more than 41 million people, Tsyalkovsky said. "The Ukrainian people are stronger than ever," he said. "Everybody is willing to help and contribute their time. A lot of people would be willing to sacrifice their life for Ukraine."
Tsyalkovsky was among roughly 40 protesters who rallied outside the sprawling Killenworth mansion in Glen Cove Saturday, calling on President Biden to expel the Russian diplomats who vacation there. Nassau County Executive Bruce Blakeman, U.S. Rep. Lee Zeldin and Glen Cove Mayor Pamela Panzenbeck were among the attendees.

"We don't need [the diplomats] here, and let's get this property back on the tax rolls so the people of Nassau County and Glen Cove don't have to finance thugs and dictators and people who invade innocent countries," Blakeman said, according to the Glen Cove Herald.
Tsyalkovsky said Russian President Vladimir Putin's invasion of Ukraine must be stopped, noting, "Putin will see how far he can go. If that is successful, God forbid, he will try different things," an allusion to the possible invasion of other Eastern European nations that were once part of the Soviet Bloc.
Scott Brinton is a special assistant professor of journalism at Hofstra, and editor and adviser to The Long Island Advocate.
Supplies for Ukraine
Nassau County Legislator Josh Lafazan said Ukrainians fleeing the war in their country need:
• Toothpaste
• Dental floss
• Mouthwash
• Toothbrushes
• Soap bars
• Hand sanitizers
• Feminine hygiene products
• Shampoo and conditioner
• Deodorants, razors and shaving cream
• Toilet paper
• Paper towels
• Wet and baby wipes
• Baby diapers
• Microwaves
• Pots and pans
• New sheets and pillowcases
• Band-Aids
• Gauze
• Alcohol
• Disinfectant wipes
• Boxes of masks
• Hand warmers
• Flashlights
• Nail clippers
• Hairbrushes
• Shopping totes and bags.