By J.D. Freda
The aroma of delectable food could be sensed by Long Islanders aplenty from the entrances to Eisenhower Park's Field 5 on May 4. The park once again hosted the Long Island Marathon Weekend, with the race taking place on May 5. Despite a persistent drizzle, Long Island's very own small-business owners rolled up to Field 5 in their traveling kitchens to usher in the inaugural Long Island Food Truck Festival.
The event was sponsored by Newsday's Feed Me TV and coincided with the NEFCU Long Island Marathon.
"It's nice to see how many people showed, even in the rain," said Pat Cavlin, of East Meadow, who is a News 12 meterologist. "There are definitely more people here than I expected."
More than a dozen vendors graced the muddy fields on Saturday, bringing with them distinctly different meals, backgrounds and stories.
"I was in I.T. for the last 35 years, and I woke up a few years ago and I said, 'There's got to be more to life than this'," said Peter Robideau, founder and owner of Cheezy Pete's food truck. "I wanted to do something that I wanted to do, and not that I had to do."
That realization led Robideau down a new path. He was in search of an opportunity that gave him fulfillment. The path that he chose not only made him content, but also has filled the bellies of Long Islanders for the past three years.
"I was always good with food," Robideau said. "But I didn't want a restaurant. A food truck was really more my speed, so I didn't want a brick and mortar store."
One of the busiest trucks of the day, it seems that Cheezy Pete's has found an effective niche. Upon asking Robideau how he came to find such a desirable menu, he chuckled and said, "I just created the menu around what I like to eat. I tell people all the time, after I'm done working in the truck all day, I'll go home and make myself a grilled cheese."
Across the field and across the food spectrum from Cheezy Pete's stood a gourmet crepes truck that had a constant flow of people throughout the day. Hayk Mendikyan, Crepes & Bakes owner, sold his brick and mortar store in Huntington to chase the food truck lifestyle.
"We sold the store, and last year, we built a truck," Mendikyan said. "With the food truck lifestyle, you have freedom. I like to meet the people, do the festivals, do a lot of catering.
"I was little when I first started baking," Mendikyan said with a smirk. "My grandma, she was French, and when I was growing up, she would make them, and I always loved crepes."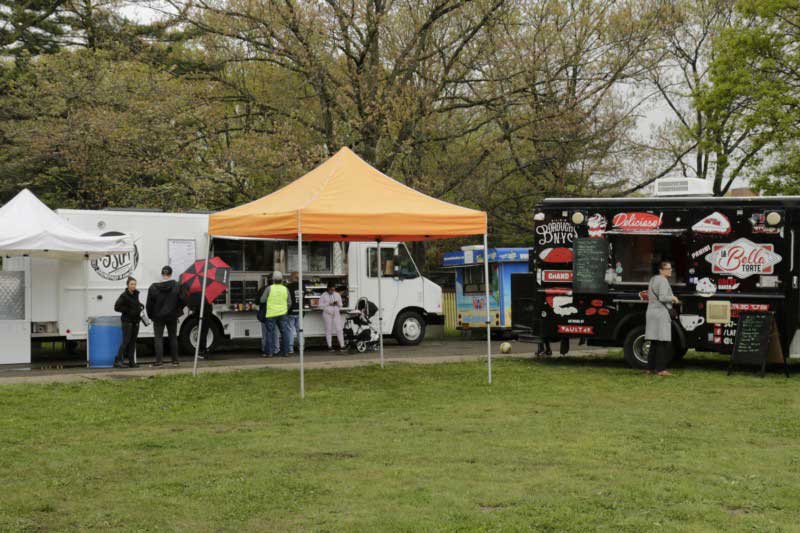 Crepes & Bakes now focuses on festivals, farmers markets and catering.
A New York City mainstay since 1971, Uncle Gussy's Food Truck also made an appearance at the festival. Spectators took notice and made their way to the longtime Greek staple.
"I got a chicken and lamb gyro, with fries in it. It was so good," said Jessica Gorman. "It was definitely worth it."
A common theme throughout conversation with vendors and spectators alike on this weekend was a desire for Long Island food truck culture to expand.
"I think there should be more food truck culture," Mendikyan said. "It is huge all over the world, and I think Long Island is now catching up."
With the first-ever Long Island Food Truck Festival now in the books and the beginning of summer on the horizon, locals can be sure to expect these delicious mobile meals to pop up more frequently throughout the Island.
Editor's note: This story originally appeared on liherald.com. It appears here with permission.