By Robert Traverso
In 2011, a community theatre in the Village of Malverne mainly existed within the mind of David Coonan. Coonan and his company, the Malverne Community Theatre, walked away with a first-place trophy at the inaugural Long Island Community Theatre Awards on June 10.
"I'm thrilled to be in that conversation as the little guy," said Coonan, who is the president of the Malverne Community Theatre.
The MCT and Coonan received three nominations at the awards show, which took place at the SYJCC Playhouse Theatre in Commack. The group was up for nomination in three categories: scenic design, small group ensemble and lighting design. Coonan won the award for stage lighting, and each nomination earned by the group was for "A Christmas Calling," the group's December 2018 adaptation of Charles Dickens' classic, "A Christmas Carol."
"Small ensemble is the one I wanted the most, because that's what we are," Coonan said.
The award show's website defined a small group ensemble as a cast made up of no more than nine theatre actors. The MCT's team, consisting of a core crew of about 10 people, was not discouraged by their loss on this front, however.
"We know we're an ensemble. You don't need a trophy to tell you that," Coonan said. He emphasized the tight-knit nature of the group in his acceptance speech.
"This is an ensemble award for me and for us in the very tiny Malverne Community Theater," said Coonan, who has lived in Malverne for most of his life.
"A Christmas Calling" was written by Malvernite Bruce Liby, who has lived in the village for 14 years, and has been a member of the MCT since the company's first production. "I knew the people that were potentially going to be in it, so I knew who would be a good fit for what . . . I was writing with people in mind," Liby said. "I knew who I was working with."
The small make-up of the group made writing the play a "fulfilling" experience, he said, and added that it aided his creative process.
"We're so close, we feed off each other and we work so well together," said Michelle Cavil, another member of the MCT. As the group's art director, she mostly designs costumes, but also works on props and sets.
Cavil joined Coonan, whom she attended Malverne High School with, at the MCT just one month after the company's first board meeting in April 2012. "I sit behind a desk all day; I was looking for a hobby, and this just seemed like a perfect fit," she said.
Like Cavill, Liby, a professor of physics at Manhattan College, said his work for the Community Theatre functions as a stress-relieving outlet for him. "I like to perform. I like to create. I like to do new and interesting things," Liby said. "I get bored sitting in an office all the time, so it's nice to be part of a creative process."
"My goal was [that] I want to try to be as creative as possible," Coonan said. "I want to try to do things that are different, [but] original. The biggest thing for me was making sure that we were different than other companies around."
Both a personal desire for artistic freedom and a desire to create a theatre company with a unique identity, Coonan said, has allowed him and the group to experiment with nontraditional genres, venues and more. "I think that's what makes us different. We do different things," Coonan said.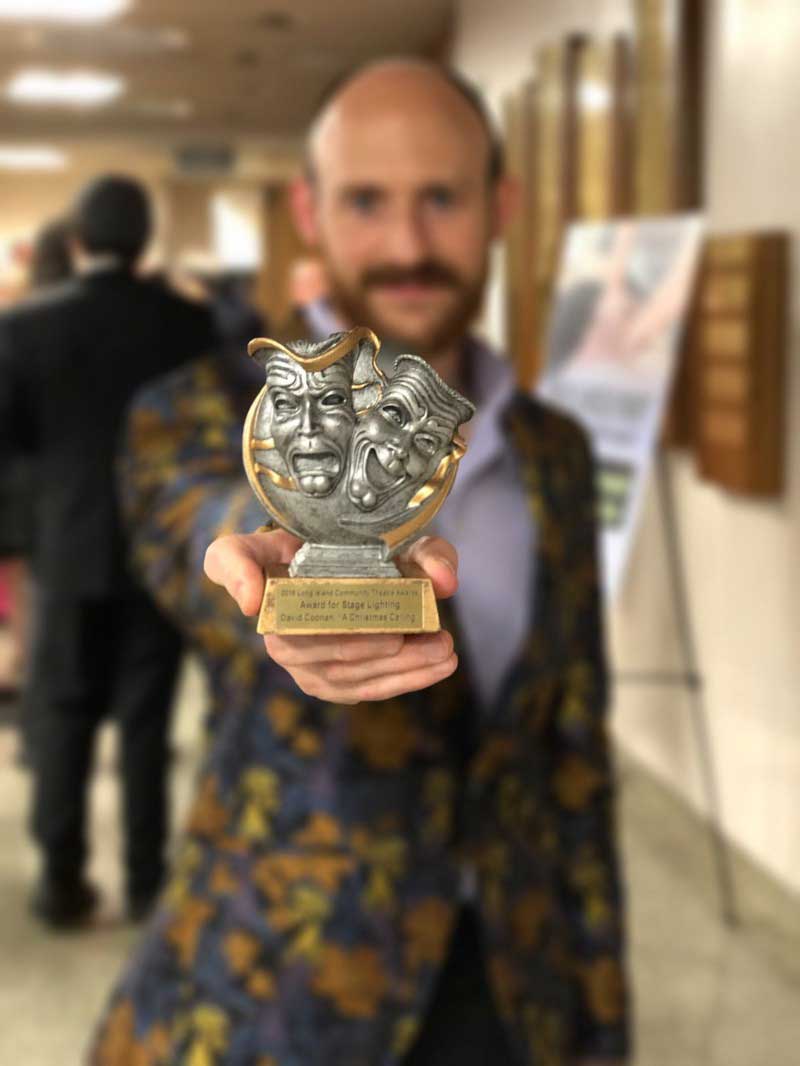 Malverne's proximity to New York City and the large-scale musicals of Broadway factored into Coonan's vision for the company. "There are places for that, but I didn't want this to be that," he said. "For me, it's more about artistic respect than a giant musical with 50 people."
Coonan's biggest takeaway from the group's victory is that they have gained recognition from larger organizations. "The [MCT] became more global," he said. "It's not about collecting awards. It's about the work."
The MCT's next production will be the Malverne High School alumni musical, which will be produced by the group and directed by Coonan. It will be held on Saturday, Aug. 10.
Editor's note: This story originally appeared in Herald Community Newspapers and liherald.com. To read the original, click here.