By Katie Fenton
The Covid-19 pandemic has complicated the operations of every type of organization — even those that are most needed by the most vulnerable. While young people living on Long Island have experienced widespread losses and new sources of stress over the past year, the organizations that aim to serve them have grappled to adjust as well.
"The youths in the community are facing a great deal of challenges related to Covid," Fabiola Turner, Big Brothers Big Sisters Long Island's director of programs, said. "Academically, so many youths are struggling. The social isolation is really impacting their mental health, so really there's quite a greater need now for mentors, now more than ever,"
Because Big Brothers Big Sisters Long Island primarily centers around developing relationships between mentors ("Bigs") and mentees ("Littles"), the need to socially distance has changed how the organization operates. In addition to introducing a hybrid mentoring program that allows matches to meet either in person or virtually, protocols for in-person meetings have been modified so mentors and mentees can safely meet while following CDC guidelines.

"The focus is on one-to-one interaction, so that means engaging and meeting in person. Obviously with Covid-19 last year, that made it very difficult for that to happen, where we did have some challenges with the mentors due to the restrictions that were placed, with them being able to go out in the community," Turner said. "But we were able to adapt and come up with some creative solutions by offering virtual engagement by really offering the opportunities for them to interact via Zoom and Google Meets."
Tuesday's Children is a Manhasset-based organization that aims to foster long-term healing for those directly impacted by the 9/11 terror attacks. Since its founding in 2001, the nonprofit has expanded its work to help children, families and communities affected by other acts of terror and mass violence. With services such as a long-term mentoring program for bereaved youths, the group's work became especially vital during the pandemic, explained Tuesday's Children's senior program director, Sara Wingerath-Schlanger.
"One out of five of our families that were already registered with us lost someone in the pandemic. There are extreme rates of high anxiety, feelings of isolation and certainly feelings of hopelessness associated with job loss," Wingerath-Schlanger said. "What Tuesday's Children was able to do was not only maintain programming through the pandemic but actually increase programming — both in the number of programs offered and the number of families receiving those programs."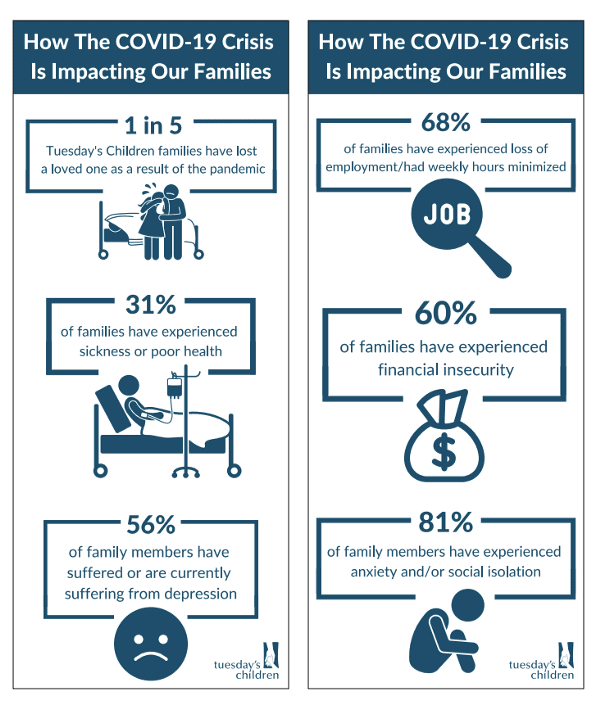 Wingerath-Schlanger added that the increasing prevalence of remote learning has made people more comfortable participating in virtual programming, and Tuesday's Children has actually seen a growth in engagement with their e-mentoring program.
One organization that conducts research on the mentoring process and provides support to programs across the state is MENTOR New York, an affiliate to MENTOR: The National Mentoring Partnership. Brenda Jimenez, CEO of MENTOR New York, explained that the organization was able to transition to virtual programming with some ease: using technology to work between its three New York offices more efficiently was already a key goal it had for 2020.
"Since we were already thinking about virtual spaces as a way to help with the magnitude of the geography and the travel and the distance, we were already being thoughtful about it. When Covid hit, it was easy for us to pivot and say, 'Let's try this,'" Jimenez said. "From the time of the shutdown in March to December, we hosted close to a hundred trainings, forums and interactions with programs."
In fact, while MENTOR New York typically works with about 800 to 850 mentoring programs, Jimenez said that this number rose to 1,300 over the course of the pandemic, with what she called "real, active engagements."
Jimenez said that, in recent months, MENTOR New York has reached out across the state to find out what obstacles mentoring programs are currently dealing with. Looking at about 80 programs on Long Island, the group found that one of the most common problems was proper funding.
"When the pandemic hit, we were all in shock, but our mentoring programs and youth development programs kicked into high gear really quickly. I think that our sector has been resilient with limited resources," Jimenez said. "Programs are going to start opening up again, but they've experienced a loss of staff due to lack of funding, [and] they've experienced some major funding gaps."An interview with Big Brother Big Sister Long Island's director of programs, Fabiola Turner, and director of development, Meredith Michaels.
According to BBBSLI's director of development, Meredith Michaels, the volunteer organization also dealt with financial challenges as a result of the pandemic. The organization, however, developed virtual fundraisers to continue it work, such as their Get Moving Virtual Campaign in November 2020.
"We rely heavily on our special events fundraising and our corporate sponsorships, so we've really had to adapt and pivot and create new opportunities for funders," Michaels said. "While we know these challenges will still exist over the next few months, as the world opens up even more, we're excited that it's allowed us to try new and different things, and we have tremendous sponsors and donors that have really continued to support these initiatives. Some of them have stepped up in even bigger ways because they know we have some of these challenges right now."
Turner explained that BBBSLI's ability to innovate and maintain this financial support played a major role in continuing its work during the pandemic. Along with academic support programs and additional opportunities for virtual mental health services, BBBSLI has provided 50 Google Chromebooks to mentees.
"We were really lucky as an organization," Turner said. "Those we did not have access to a Chromebook or computer, we offered them Chromebooks that would allow them to be able to use the Internet, and obviously also use it for school and other social interactions, remotely. That helped tremendously, so it made it easier to kind of navigate to a virtual platform."
"You'd be surprised, you can do a lot of cool things virtually. You can go to museums, you can play video games, you can watch a movie together, you can learn together," Turner said. "All the volunteers, the parents and the youths — they were really receptive to the changes."
In the coming months, mentoring programs may be increasingly able to shift back to in-person services. Wingerath-Schlanger predicted that the return to in-person programming would be flexible. Upcoming programs include a virtual Memorial Day 5K race, as well as a gala to celebrate the organization's 20 years of service, which will be held virtually on Sept. 9 and in person on Sept. 23. She cited the option to remain virtual as a lasting advantage to come from the pandemic.
"We hope that these are lessons that we'll take for a long time," Wingerath-Schlanger said. "The matches that we've created through the e-mentoring program, you know, some had a temporary approach where they were online in a kind of hybrid situation. Others will remain online for the rest of their friendship for many years to come, so they all kind of vary."
"We hope that these are lessons that we'll take for a long time," Wingerath-Schlanger said. "Many of our mentoring relationships went hybrid during the pandemic, going from in-person visits to virtual. We expect that these will go back to a more traditional mentoring relationship after the pandemic ends. The matches that we've created through the e-mentoring program, you know, some are in a sort of temporary online relationship in a kind of hybrid situation, with the idea they will be in person when pandemic restrictions normalize. Others will remain online for the rest of their friendship for many years to come, so they all kind of vary."