By Scott Brinton
Long Island Advocate Faculty Editor Scott Brinton recently returned to Bulgaria, where he served in the Peace Corps from 1991-93 and met and married his wife, Katerina. Below is the essay/photo essay that he brought back.
I immediately noticed the interlocking pattern of shadows that fell from the canopy of deciduous and evergreen trees onto the tombstones covered in brambles and wildflowers on this 85-degree Thursday. Birds hovered overhead, cackling. Otherwise, it was peaceful in this secluded corner of Sofia, the Bulgarian capital.
My wife, sister-in-law and I were at the Central Sofia Cemetery on July 6 to pay our respects to loved ones. Many Bulgarians visit the graves of their closest relatives at least once yearly to lay flowers and whisper prayers.
The Orlandovtsi Cemetery, as the graveyard is also known, is the final resting place of a number of Bulgaria's glitterati, literati and top politicos, including its first democratically elected president after the fall of communism in 1989, Zhelyu Zhelev. The graveyard is egalitarian, though — the once popular and powerful lie near average Bulgarians.
The cemetery is also a beautifully wild place where nature lives and breathes. Many, if not most, graves are covered by underbrush. To visit a gravesite, one cuts a path with clippers or tiptoes carefully through the overflowing vegetation.
This expansive graveyard, I thought, is a perfect reflection of Bulgarian philosophy on nature. With a population of nearly 6.9 million, Bulgaria is a rugged, mountainous nation that, through the centuries since its founding in 681, has remained a largely rural, agrarian state. Its bustling cities are rapidly progressing into the so-called "modern world," with high-tech innovation leading the way.
In a deep sense, though, the heart of Bulgaria remains its countryside, to which most Bulgarians can trace their roots. Many own apartments in cities and small cottages in provincial villages, living part of the time in each. Preserving the bucolic side of Bulgaria, even in a cemetery, is a way of life. "Let nature be nature" is a common refrain among Bulgarians.
Some 41% of Bulgarian land is protected from development, according to the Biodiversity Information System for Europe. That is a truly astonishing figure. Only 14.7% of land globally is preserved. In the U.S. it's less than that, at roughly 12%, though the Biden administration is seeking to protect 30% of land by 2030 to help guard against the worst effects of climate change.
Fast food and fast fashion have come to Bulgaria as it has pivoted toward the consumer-driven West over the past three decades, but such wasteful practices remain anathema to many, particularly older Bulgarians. The per capita Bulgarian carbon footprint is 4.9 metric tons, compared with 13 metric tons in the U.S. That is, on average, most Americans produce 2.65 times more carbon dioxide annually than the typical Bulgarian. CO2, which traps heat in the atmosphere, warming the Earth, is the primary driver of climate change, scientists tell us.
If the West were more like Bulgaria, perhaps the world would not be facing a climate crisis right now, with its increasingly stronger hurricanes and typhoons, wildfires, droughts, floods and rising sea levels.
Bulgarians just consume less — a lot less — than most westerners. More Bulgarians own cars than they did just over three decades ago when the nation eschewed communism and adopted capitalism, but the household car ownership rate still only hovers around 44%, compared with nearly 92% in the U.S. Even among those Bulgarians who do own cars, many take advantage to one degree or another of the nation's extensive public transportation network, which acts as its circulatory system.
When I think of Bulgaria, I am reminded of 19th-century American philosopher Henry David Thoreau, who called on people to take less from the planet when he famously spent two years, two months and two days living in a Spartan cabin that he fashioned himself on Walden Pond, Mass. He likely would have felt right at home in Bulgaria.
Preservation of the natural world is, in fact, written into the Bulgarian Constitution, which was ratified in 1991 and amended in 2015. Article 15 reads, "The Republic of Bulgaria shall ensure the protection and reproduction of the environment, the conservation of living Nature in all its variety, and the sensible utilization of the country's natural and other resources."
With so much land preserved, ecotourism has come to Bulgaria, with sites spread throughout the country, from Vitosha Mountain National Park, which towers 7,500 feet above sea level on the southern edge of Sofia; to the nearly 9,600-foot Rila Mountain, also a national park, to the southeast of the capital; the Melnik Earth Pyramids, 19.3 square miles of fantastic rock formations that jut from the earth like giant triangles; the Danube River basin, which comprises 42.5% of Bulgarian territory; and the majestic (increasingly developed) Black Sea coast, among hundreds of others.
Perhaps because Bulgaria is such a pastoral nation, one cannot help but feel an abiding sense of spirituality there, not necessarily religious in nature — though 59% of Bulgarians describe themselves as religious — but more pantheistic, that God can be found in the forest, as the American transcendentalists like Thoreau believed. Of the major religions, more than 70% of Bulgarians describe themselves as Eastern Orthodox Christian and 10% as Muslim.
At the heart of Bulgaria's spirituality is the gold-domed Alexander Nevski Cathedral in the center of Sofia, an Orthodox basilica constructed primarily between 1904 and 1912 to honor the Russian soldiers who died fighting in the Russo-Turkish War of 1877-78 that ultimately freed Bulgarians from 500 years of Ottoman occupation and rule.
Lying at the nexus between Europe and the Middle East, Bulgarian territory has for millennia been invaded and occupied by armies and peoples from east and west, north and south. Thracian ruins, dating back 2,400 years, are located in abundance outside Kazanlak, the "rose capital" of Bulgaria (and maybe the world), located in the center of the country. The region surrounding the city of 69,000 is known within archaeology circles as the Valley of Thracian Rulers, with an estimated 1,500 burial mounds, or tombs, scattered throughout the area, only 300 of which have been studied.
Ruins from the Thracian/Roman settlement of Serdika, or Serdica, are scattered throughout the Serdika subway station in the heart of Sofia. Attracted by the area's hot springs, the Thracian tribe of Serdi began gathering in what eventually became a fortified town as far back as three thousand or perhaps four thousand years ago. The Romans conquered Serdika in the first century A.D. and remained there for another three and a half centuries before the Huns overran the area. The Bulgars took control of the city in the early 800s and called it Sredets, a Slavic name. It was renamed Sofia in 1376 for the fourth-century Church of St. Sophia, which was restored in 1900 and remains standing today. Sofia, now with a population of roughly 1.2 million, is Europe's third oldest capital, after Athens and Rome.
An entire Roman amphitheater can be found in Plovdiv, a city of about 343,000 an hour and 40 minutes southeast of Sofia. In Roman times, Plovdiv was known as Trimontium (Latin for The Three Hills). The amphitheater, constructed in the first to second century A.D. to seat up to 7,000 people, is among the best preserved such ancient structures in the world and is used for plays and concerts in the summer.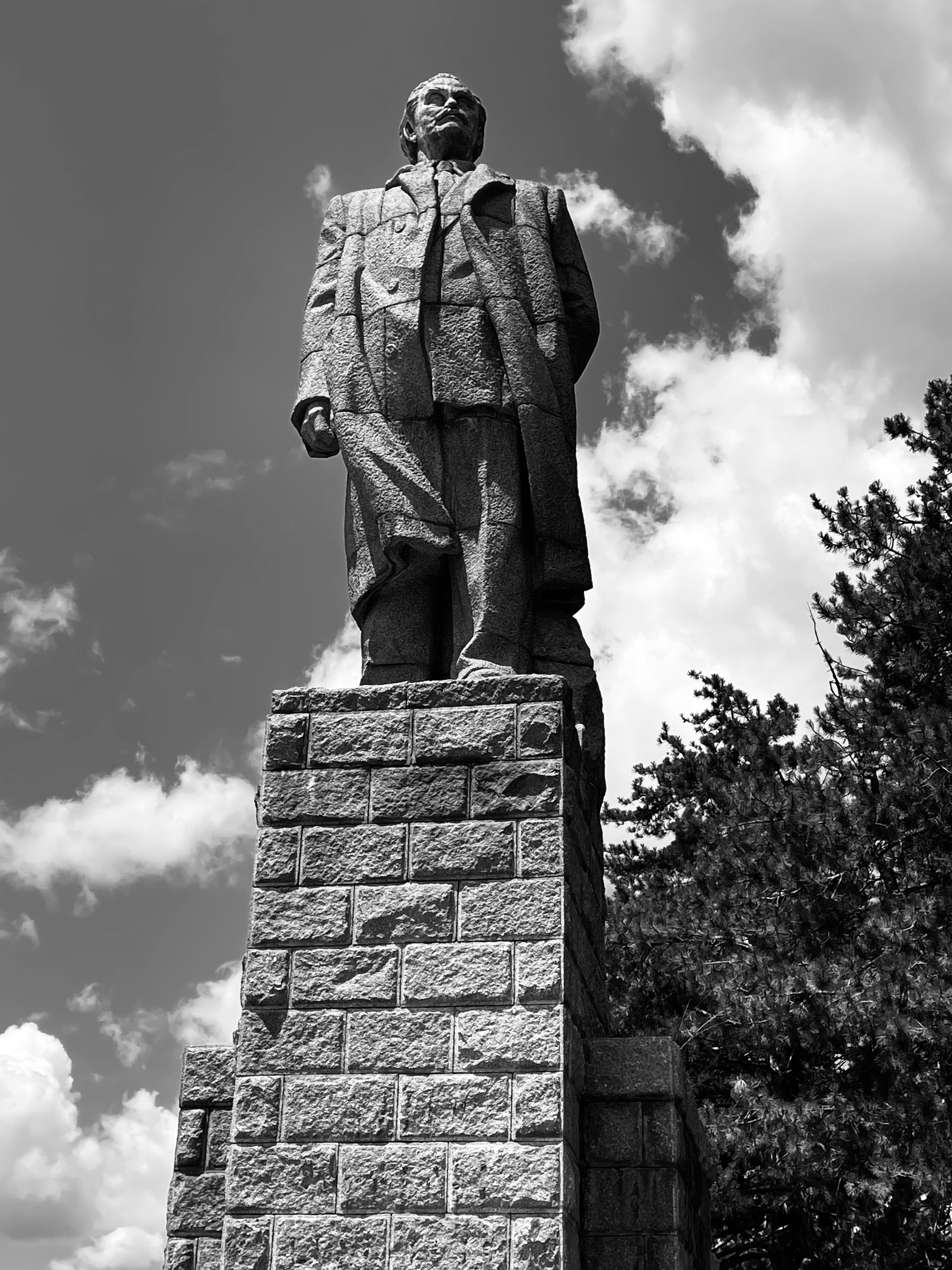 More recently, from 1945 through 1989, Bulgaria fell under the Soviet orbit, and vestiges of the communist era can be found throughout the country, from the hundreds of stark-white, otherwise nondescript high-rise apartment "blocks" that were built in major cities during this period to the dusty utopian art celebrating common people in its train stations.
Bulgaria may be among the least industrialized nations in Europe, and it often referred to as the "poorest" country in the European Union, with a per capita income of a little under $14,000 a year. I cannot help but think, though, that Bulgaria's wealth lies not in the accumulation of material possessions but in the preservation of its complex and layered history and of its land, of "God's creation," as we so often say in America.
In short, Bulgaria is a timeless land shaped by nature and history, with an enduring spirituality and goodness that is evident in the kindness of everyday Bulgarians. It is my second home, one that I return to again and again, not only physically while on vacation, but so often in my thoughts. 
Thirty years ago when I left Bulgaria for the United States upon completing Peace Corps service, the country's future was uncertain. How would this relatively small Eastern European nation, which was largely unknown in the West, carve out a sustainable path without Soviet subsidies? Century to century, generation to generation, though, Bulgarians have proven themselves to be a resilient lot, tough in the face of adversity but gentle in their approach to everyday life. There is, no doubt, hope for Bulgaria.
Any students potentially interested in volunteering for U.S. Peace Corps service can reach me at scott.brinton@hofstra.edu. I'd be happy to discuss my experiences.
Scott Brinton is an assistant professor of journalism at Hofstra University.