By Annemarie LePard
Nassau County launched a new program March 2 in collaboration with Nassau University Medical Center in East Meadow and the Nassau County Veterans Service Agency to vaccinate eligible veterans against Covid-19.
The initiative is distributing 300 doses of the vaccine to veterans weekly, with NUMC staff members administering inoculations and the VSA registering eligible veterans, according to Laura Curran, Nassau County executive, in a news release.
"Nassau County is home to more than 45,000 veterans, and I am dedicated to providing them with access to the Covid-19 vaccine," Curran said. "Protecting our vets from this deadly disease is the least we can do as they valiantly fought to protect our freedoms."
The eligible veterans are those who fall within New York State's guidelines, said Ralph Esposito, the VSA director.
Wayne O'Connor served in the U.S. Army from 1974 to 1977. Despite his service, he was not eligible for the vaccine initially because he kept falling just under the age bracket. "I'm 64, so [the group eligibility] went from 70, then to 65, and then I didn't think I was going to get it," he said, "and [NUMC] called me and said, 'You don't have to wait, come down to the Nassau County Medical Center.'"
Peter Kiernan, a Navy veteran who served from 1965 to 1970, called to schedule his vaccine appointment. His first shot was planned for April 10 until Curran announced the Vaccines for Veterans program. "I called a week and a half ago, and I've gotten one shot. My next shot is April 8," he said. "How fast [did] that happen?"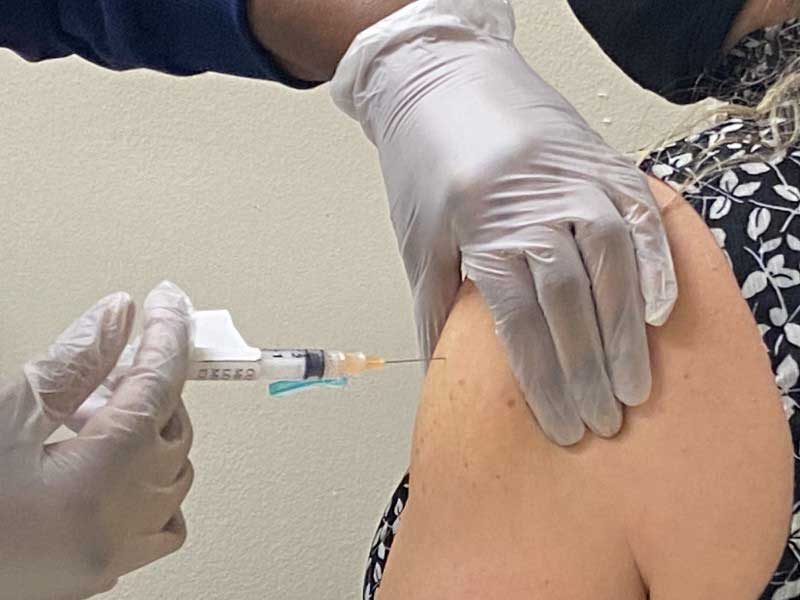 O'Connor and Kiernan secured their first inoculations on March 11.
When the vaccine was first approved for emergency use in December, its availability was sparse. Now, there are three companies making it, with more doses being distributed faster. Because of the relatively quick rollout, Nassau was able to start this program, Esposito said.
The proximity of the program to Nassau veterans made the initiative convenient for them, as the shots could be distributed at NUMC, in the heart of the county. If O'Connor had been unable to be vaccinated at the hospital, he would have had to travel to Northport, which is 50 miles away from him round trip. "It worked out good for me having to come here," he said. "The other place I would have been driving for two hours — an hour there and an hour back.
"If you're in the area, you come here [and] you park right outside," O'Connor continued. "Just the process of coming in here was a dream … It was a home run. It was fantastic."