By Robert Traverso
The Nassau County Board of Health expressed support during its Sept. 17 meeting for the emergency executive action to ban the sale of e-cigarette products taken last month by New York Gov. Andrew Cuomo amid a state- and nationwide vaping crisis.
County Health Commissioner Lawrence Eisenstein, who led the meeting, called Cuomo's order an "exciting step" in the fight against nicotine addiction. The Board of Health "would hate nicotine addiction" to take further root across the county and state, Eisenstein said.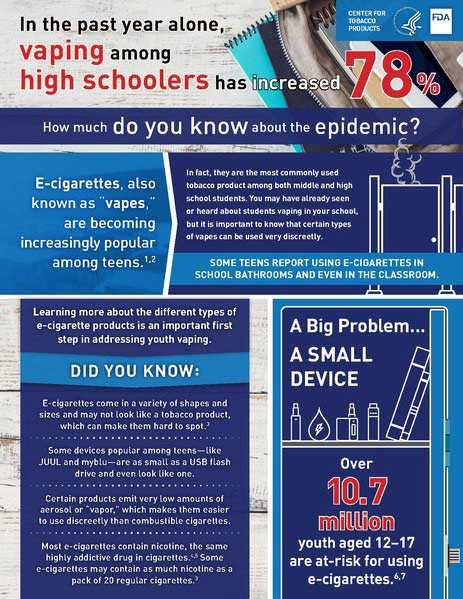 Cuomo's announcement came amid an nationwide outbreak of a mysterious lung illness thought to be caused by vaping. On Sept. 19, the federal Centers for Disease Control updated the number of "probable cases" of vaping-related lung illnesses to 530, when an eighth person, from Missouri, died. Nearly a month later, that number had risen to more than two dozen.
According to The New York Times, illnesses of this kind had been reported in 38 states and one U.S. territory as of late September. Sixty cases of "severe lung illnesses" were reported in New York alone, according to a report from USA Today.
Based on discussion at a New York State Association of Counties conference that Eisenstein attended on Sept. 16, he said he expected Cuomo's order to pass through the state's Public Health and Health Planning Council, and on Sept. 17, New York became the first state to officially prohibit the sale of flavored e-cigarette products when the panel passed Cuomo's emergency resolution. Seventeen members of the 19-member council voted for the measure.
That ban is now in litigation after the Vapor Technology Association sued to halt it and won a temporary stay. The stay will remain in effect until at least Oct. 18, after press time, when the case was to be heard in New York State Supreme Court.
Officials in other states, such as Illinois and Indiana, have said they are considering implementing bans as well. Walmart announced on Sept. 18 that it would suspend all sales of e-cigarettes in its U.S. stores. Additionally, prior to Cuomo's order, the Trump administration announced on Sept. 11 support for a federal-level ban on most flavored e-cigarette products.
The county health department has spent a significant amount of resources working to prevent nicotine addiction in past years, Eisenstein said. Mary Ellen Lorraine, the county health department's spokeswoman, said that it has worked with the Nassau County Police Department and the Department of Consumer Affairs to combat nicotine addiction.
In Nassau, a program to prohibit the sale of counterfeit e-cigarette products began on Sept. 26, when County Executive Laura Curran announced the creation of "Operation Clear the Air," a Department of Consumer Affairs-led effort that will work "to crack down on the sale and distribution of counterfeit e-cigarette and vape products throughout the county."
A recent county-wide search by Consumer Affairs found 15 instances of "unfair trade practices," in violation of the County's Administrative Code, in Baldwin, Freeport, Mineola, Oceanside and Rockville Centre.
Unfair trade practices include "deceptive or unconscionable trade practices in the sale of any consumer good." Each violation carries a maximum fine of $5,000. Many of the counterfeit products included stickers from Canada that advertised the product as approved for sale in the U.S.
If the flavor ban takes effect later this week, retailers and distributors could face fines as high as $2,000 for each flavoring unit sold.