By Genesis Ibarra
The ribbon had been cut, people were moving: the Walk to End Alzheimer's had begun. Some 948 participants raised funds for the Sept. 15 event at Eisenhower Park in East Meadow.
The 2.75-mile walk drew people of all ages together for a cause: to raise funds to end Alzheimer's disease and dementia. Alzheimer's causes progressive mental deterioration; dementia is a group of symptoms that negatively affect memory. Both are incurable. One in three seniors dies of Alzheimer's or dementia.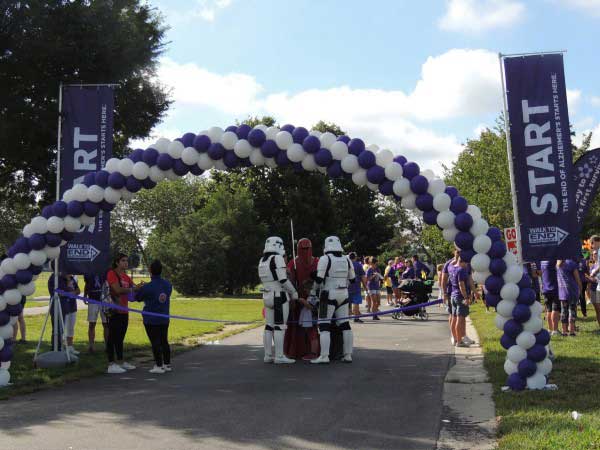 Amy Schiller walks to honor her father, Bob Forman, who died of Alzheimer's. 2018 was her first year at the walk. "I think the Walk to End Alzheimer's first brings solidarity for the community of people who are caregiving for someone with the disease, people who have lost someone to it, and people who are suffering from it. It provides support for much-needed resources and research. Hopefully it'll get bigger and bigger, and we'll do more and more each year."
Schiller, like many, walked in memory of a loved one and carried a flower whose color represents a reason for walking. The effectively became a field of flower pinwheels: blue is for someone with Alzheimer's or dementia; purple is for someone who lost a loved one to the disease; yellow is for someone currently caring for a person with the disease; and orange is for everyone who supports the cause. Every 65 seconds someone in the U.S. develops Alzheimer's disease.
Alzheimer's disease cost the nation more than $236 billion in 2016.
Kimyatta Thompson walked with her friend Taisha in one hand and a yellow flower in the other for Granny Brown, Aunt Charlotte and her friend's mom. They were #TeamHooksey. These first time walkers from Queens usually donate to the cause.
Alexis Laegala held a purple flower for her aunt. She walked alongside her aunt's husband, children, friends and her own children. "The goal is to honor my aunt and other family members that have passed before from this disease and hopefully to help find a cure for future generations," Laegala said.
As the largest nonprofit funder of Alzheimer's research, the Alzheimer's Association has a caregiver center that offers information and online resources to more than 5 million Americans who have Alzheimer's and dementia. Its efforts have more than doubled federal research funding for Alzheimer's in the last five years.
Editor's note: This story first appeared on liherald.com. It appears here with permission. To check out the original, click here.
By LIAdvocate on August 14, 2019.