When NYPD officer Marc St. Arromand, 42, of Elmont, was involved in a motorcycle crash on his way to work on April 11, he was rushed to Long Island Jewish Hospital in Valley Stream. Despite doctors' best efforts, St. Arromand died early that morning, shortly after his arrival at the facility.
Upon hearing the news of their colleague's death, dozens of members from St. Arromand's highway patrol unit headed to the hospital to pay their respects and to support his wife, Cecilia Jackson-St. Arromand, and their five children.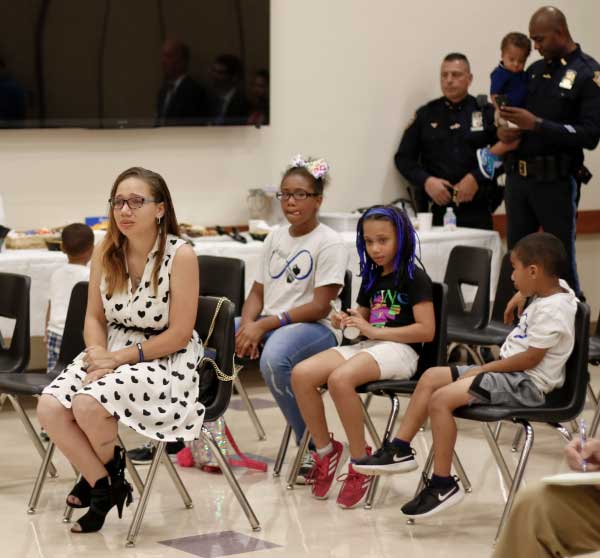 It was because of the care the group received by staff during their nearly 16-hour stay at the hospital, holding vigil, that on July 17, members of St. Arromand's unit honored the doctors and nurses at LIJ with a plaque for their efforts and their compassion during the difficult time.
"The outpouring of support that we received that day from this hospital's staff and administration was nothing short of extraordinary," said Highway Patrol Unit 2 commanding officer, Capt. Daniel Shouldis.
Cecilia, upon hearing of her husband's passing, was so distraught she reportedly needed assistance just to stand, according to LIJ Medical Director Dr. Joseph Marino, and Shouldis recalled his officers filling the hallways, attempting to find solace that day through sharing anecdotes and thoughts about their friend. St. Arromand had been veteran on the force, serving for 14 years.
Because he was an organ donor, his body had to be kept at the hospital for an extended period of time while they were harvested. Roughly 300 mourners reportedly stayed at the facility until 11 p.m. on the day of his death to see him out the door, which is tradition for fallen officers. All the while, the hospital staff cared for the group as they waited.
Shouldis praised them for their efforts, providing amenities such as food, drink, a private conference room for mourning, as well as grief counselors for St. Arromand's loved ones.
"You made what was the beginning of something no one ever wants to endure, just a little more bearable," he told the staff.
He also thanked the organ donation team, who kept the administration up to date with the process, allowing highway patrol officers, other members of the NYPD as well Nassau County police to escort St. Arromand's body from LIJ to the Nassau County medical examiner's office.
After the plaque was handed over, Marino thanked the NYPD for the gesture.
"The terms 'bravest' and 'finest' were appropriately coined for the firefighters and the police officers of New York," Marino said, "and that day, on April 11, I had the opportunity to witness the bravest and finest within Northwell: the staff at LIJ Valley Stream."
Christina Daly contributed to this story.
This story originally appeared in Herald Community Newspapers. It appears here by permission. To read the original, click here.