By Larry Levy
Long Island Democrats are decrying the lack of Black and Latino participation in this year's election, citing poor turnout in diverse communities as the key to the party's losses in at least one congressional and several state legislative races. 
Last year's election for town and county offices elicited the same criticism, including from leaders in Black and Latino communities, particularly in Nassau County. 
This might sound to some ears like victim shaming, as people of color in our region have suffered mightily from the impact of racial segregation and other forms of systemic racism in virtually every aspect of their lives, from employment and education to healthcare and housing. How can you expect them to have much, if any, faith in the people and institutions with the power to change this chronic state of affairs? 
But low Black and Latino turnout is real, with certain Black and Latino communities voting at half the rate of white ones. And the biggest victims aren't the Democratic (or other) candidates whom they're likely to prefer; it's their own communities. Despite all the understandable reasons for this self-disenfranchisement, diverse voters who bypass elections are only hurting themselves.  
In some parts of the country, aggressive acts of voter suppression have made voting extremely difficult, sometimes even dangerous. To the best of my knowledge, that's not the case on Long Island. But people in underserved communities — where the majority of Blacks and Latinos are segregated — can cite a range of reasons for not voting. Beyond a general lack of faith in government, they include everything from a preoccupation with the increased challenge of earning a living and caring for their children to a lack of adequate transportation and information (possibly a result of lower campaign activity in their communities and relatively few, if any, news outlets that cover their communities, a problem that The Advocate is working to address).  
And in contests for offices whose jurisdictions extend beyond their communities, such as a congressional district that includes white and non-white voters, there's the lack of candidates of color. These are all real concerns, and certainly Democrats have not figured out how to address them convincingly.
Low voter turnout, of course, hurts diverse residents and their communities by limiting their ability to elect the candidates and parties that they overwhelmingly prefer, and ceding voting rights and power for which so many within these areas and beyond have fought for decades — sometimes with their lives.
 Most concretely, a lack of voter participation allows elected leaders — who are usually white and don't live in their neighborhoods — to ignore their communities. Considering that many Black and Latino communities have lower incomes than regional medians, these areas have more needs than many others. 
The difference between white and non-white voter turnout was especially significant this year.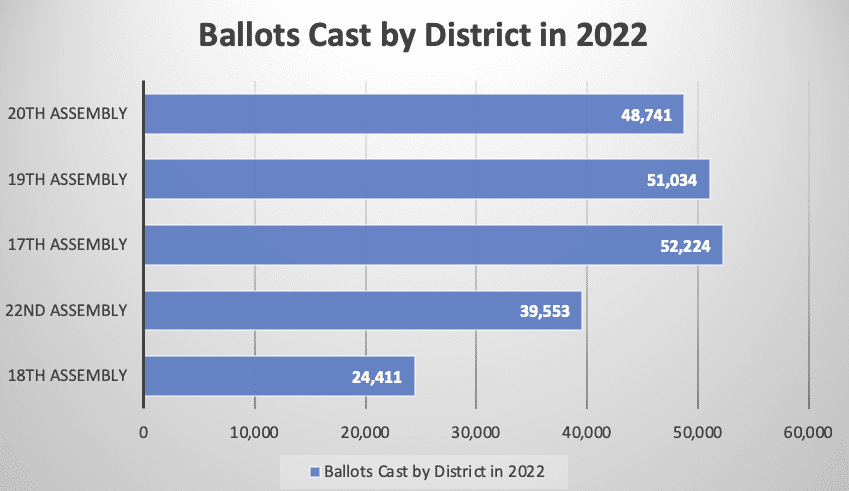 In the 18th Assembly District, which was created decades ago to be the first majority non-white legislative seat in a suburban community, a little over 24,000 voters cast ballots this year. In the heavily non-white 22nd District, about  39,500 votes were totaled. The nearby and majority white 17th, 19th and 20th districts each saw nearly or more than 50,000 votes cast.

In the Village of Hempstead, perhaps the most Democratic of all Nassau communities, turnout was down to 76 percent of its total in 2018, the year of the last gubernatorial election. The next village north, heavily Republican Garden City, saw turnout rise to 110 percent of its 2018 level.  Extremely Democratic Roosevelt came in at only 72 percent of 2018, while one of Nassau's "reddest" communities, Massapequa, saw its turnout increase to 113 percent.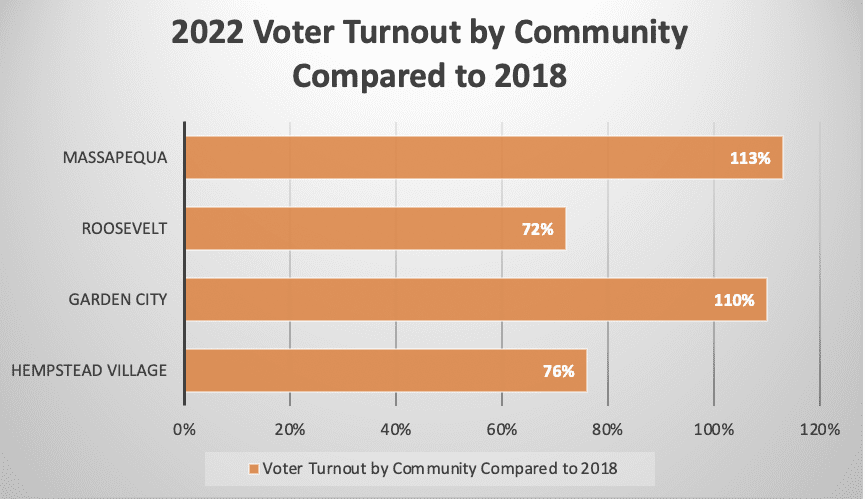 That's thousands of fewer votes for Democrats and thousands more for Republicans. In addition to the congressional and legislative losses, low Black and Latino turnout on Long Island also made Democratic candidates squirm with closer-than-usual victories in statewide races. 
If that's what these Democratic voters want (for whatever reason), then fine — but it would be better for the political and even fiscal health of their communities to come out and support the other party than to not vote.
If they voted merely in the same proportion as whites, instead sometimes at half the rate, there would be enough Blacks and Latinos in Nassau to control the outcomes of many elections. And the candidates or parties that they chose would not be as important as the message their participation sent to the powers that be: Attention must be paid — or else.