By Taylor Nicioli
Bagel delicatessen by day, pizzeria by night — IT Bagel and Pizza in Oyster Bay epitomizes Long Island's entwined cultures and cuisines.
Combining two long-heralded classics, this eatery is not your traditional fast-dining experience. With daylong, slow fermentation of the dough and a blazing wood-burning oven that can bake both counterparts, IT Bagel and Pizza is revamping well-loved fare and quickly becoming a community hangout.
"When we think about New York City and the proximity of the East Village and Little Italy, this culture of Jewish and Italian and their love of food [is predominant], and that's really what spawned this concept," said Brad Berrol, owner and founder of IT Bagel and Pizza. "Long Island is almost (famous) for the marriage of — literally and figuratively — Italians and Jews."
Growing up in various parts of New York, including Suffolk and some time in Brooklyn, Berrol has eaten just as many slices of pizza and bagels as any other local, he said.
In New York, bagel connoisseurs swear by steam ovens; however, in Montreal, Canada, bagel traditions look a little different, as the wood-burning oven is employed for baking. There is a familiar rivalry between the two, and a heated one at that, but Berrol was inspired to bring the method to New York to add a richer flavor to the bagel.
"It started with a wood-fired, artisanal bagel — elevating the bagel experience, the atmosphere, the staff. The whole idea was to disrupt what a typical delicatessen felt like … disrupting what the traditional bagel experience felt like," Berrol said. "And then it evolved into we can do all these wonderful things with this oven, why waste that opportunity?"
At the height of Oyster's Bay restaurant renaissance in 2018, Berrol was drawn to the location, wanting to take part in the resurgence of unusual food and community gathering spots. Four years later, the hybrid restaurant not only has its loyalists, but new customers driving for miles for a taste of the wood-fired bagels and pizzas.
---
IT Bagel and Pizza is at 19 E. Main Street in Oyster Bay.
Hours are 8:30 a.m. to 8 p.m. Tuesday to Sunday. Closed Monday.
---
"It just brings a lot of character to Oyster Bay, and it brings people together," said Gabriela Torres, an employee at IT Bagel and Pizza. "I go to Oyster Bay High School, so I know all of my friends will just gather here after school for dinner, and we do a few events that the parents really enjoy, too. I think it just ties everyone from Oyster Bay together."
Customers have described the food as unique and tasty, and said they enjoy being able to come for any meal of the day — breakfast, lunch or dinner. With all menu items made from scratch, the work day starts at 3 a.m. for the team, Berrol said.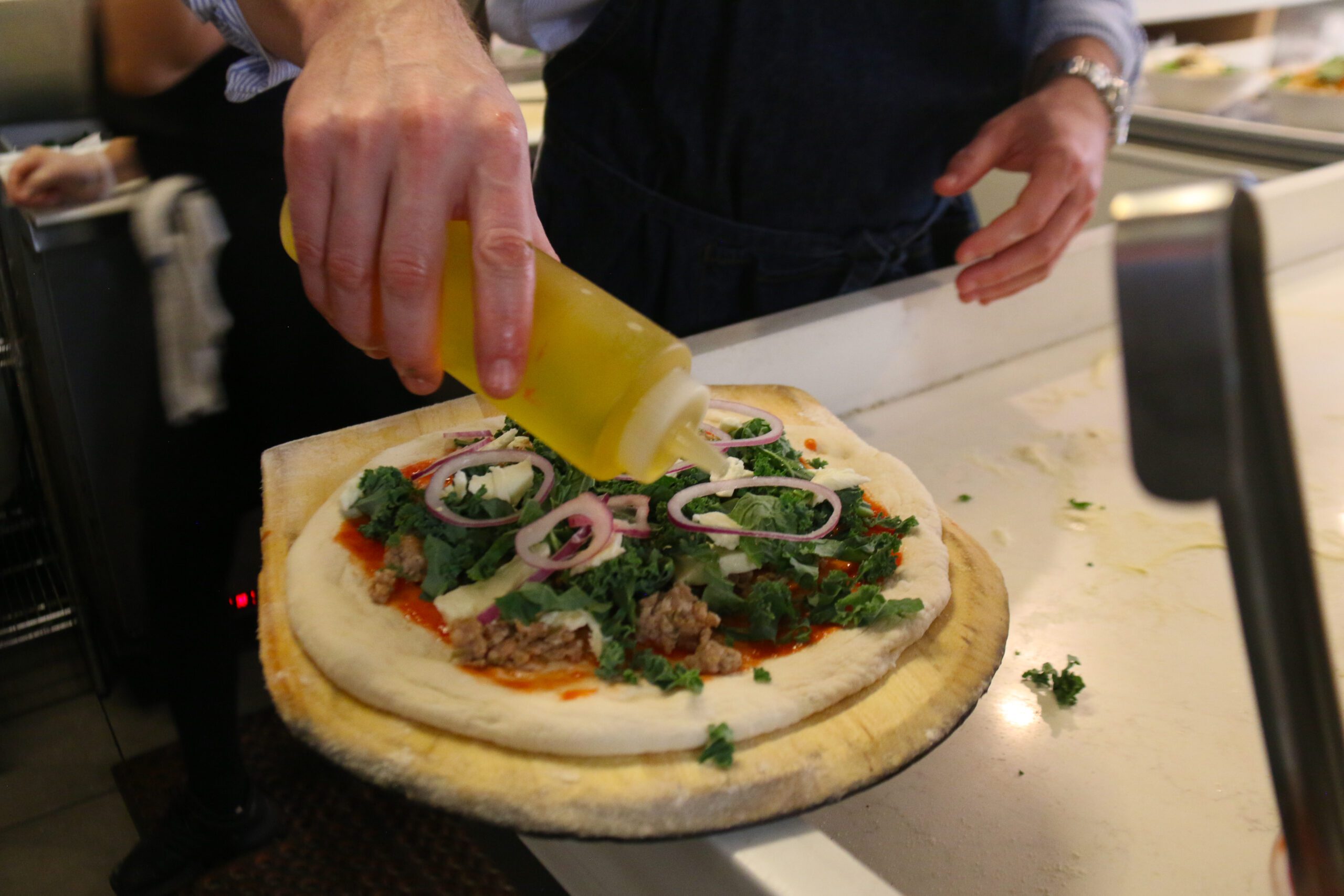 The eatery's website states, "You can count on IT BAGEL & PIZZA serving you in minutes, even if getting there took us days."
"More than anything, you have to take pride in what you do," Berrol said. "To be able to create an environment and a culture here at the restaurant where everyone feels responsible and accountable for the work that they do and what they put out, that's the best part for me."