By Scott Brinton
Perhaps it was the slant of the sun on this July 4 afternoon, or maybe it was the statue's shimmering metallic sheen, or both, but one piece in the Seward Johnson exhibit now on display at Old Westbury Gardens — of a guitarist strumming away by a lake in the forest, titled "My Dog Has Fleas" — took on an ethereal quality, as if it were an apparition.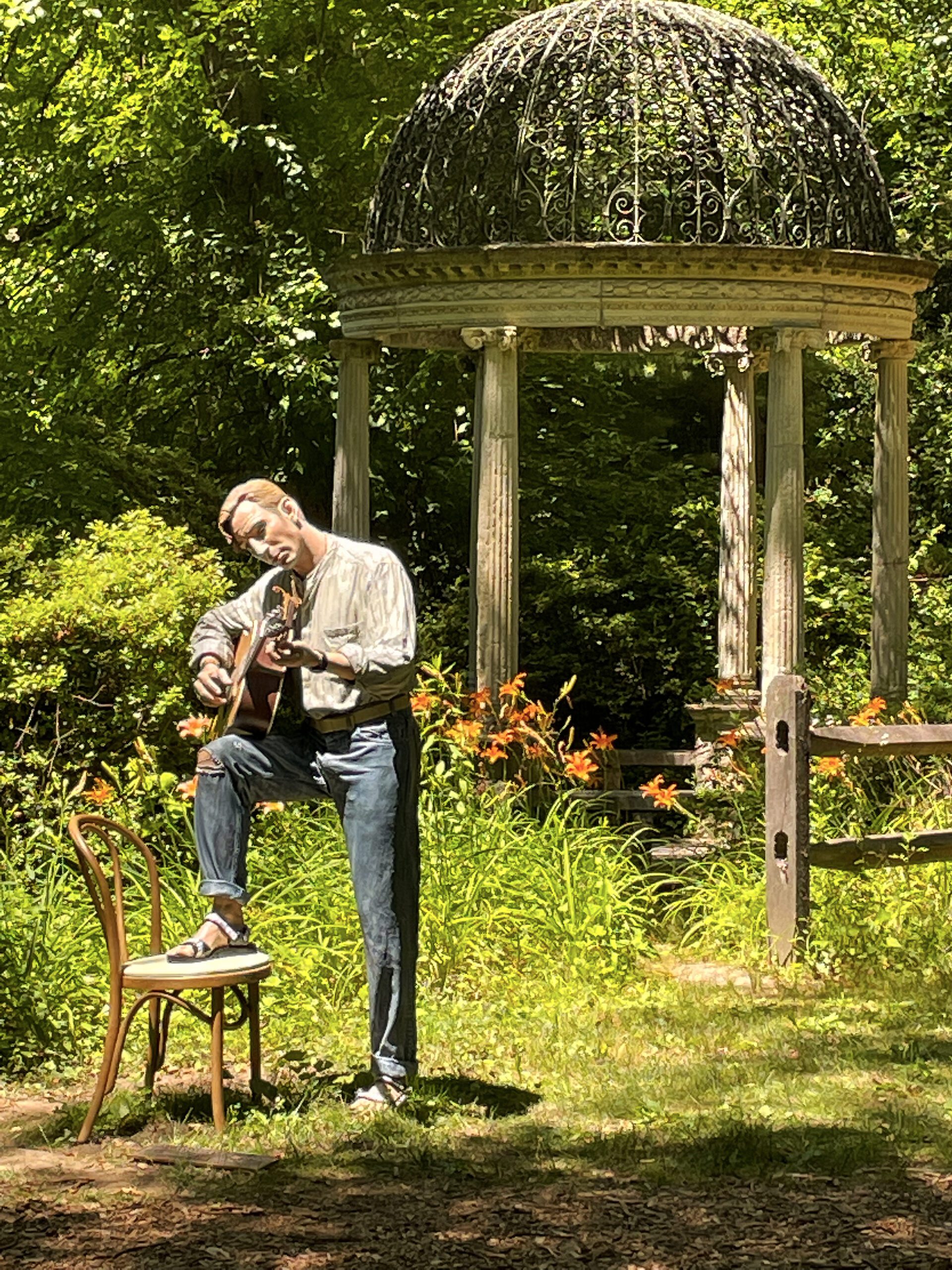 One could be forgiven for imagining you were seeing ghosts in this outdoor sculpture show. Johnson's bronze statues of seemingly ordinary people engaging in everyday activities, such as reading a chemistry textbook or flying a kite, are so full of life-like detail that they at once appear alive, yet frozen in place, as if cryogenically preserved.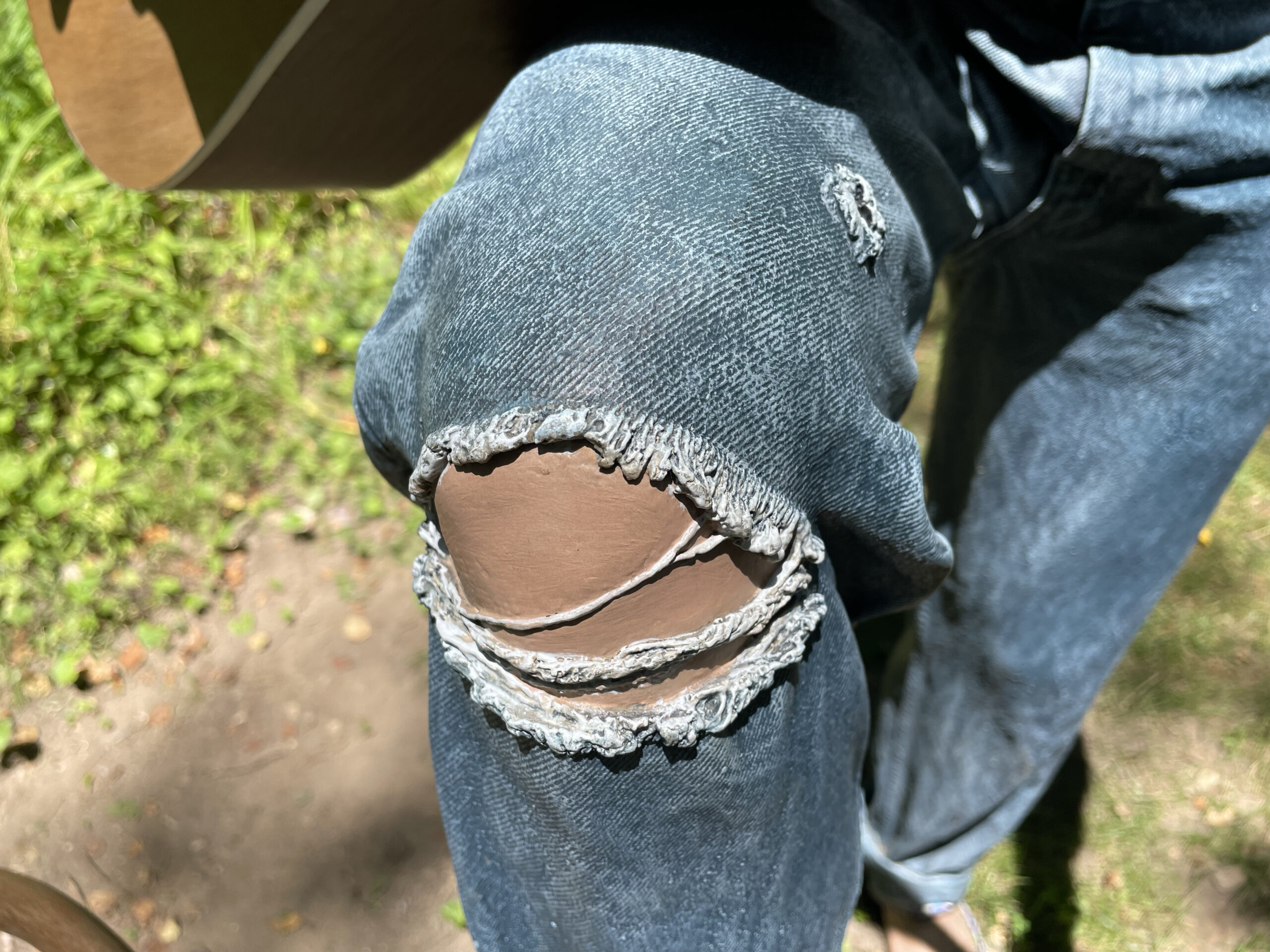 The show, "Revisiting the Familiar: Seward Johnson at the Gardens," opened June 18 and will run through Sept. 5. It reprises Johnson's 2017 exhibit at Old Westbury.
I was particularly interested in taking in this show, as there are two Johnson pieces at Hofstra University, where I teach journalism — one of a professor sitting cross-legged and lost in thought, books piled up by his side, and the other of a hitchhiker on his way to Boston. I wanted to see and touch (yes, you can touch) a fuller body of Johnson's work, and the 35 pieces included in the Old Westbury exhibit evoke the same sense of whimsy that one feels when chancing upon the two sculptures at Hofstra.
In the Old Westbury show, there is a piece that is nearly identical to the Hofstra professor, with both sculptures titled "Creating," from the series "Creating the Familiar." They are, in a real sense, time capsules, with the professors' dress, down to their sneakers, reflecting that of university academics circa 1982, when the two pieces were cast. The smallest details, from the wrinkles in the professors' garb to the slightly askew angles of their ties, are rendered to perfection.
John Seward Johnson II, better known as Seward Johnson, was a grandson of Robert Wood Johnson I, co-founder of the Johnson & Johnson corporation, started in 1886. Seward Johnson died in 2020, at age 89, but his work will surely live on in the American cultural milieu. His sculptures are about capturing small, fleeting moments and preserving them, often with a sense of humor, particularly in the titles of his pieces. The New York Times called him a "sculptor of the hyper-real" in the headline of his obituary.
We see this hyper-realism on full display in the nearly three dozen Johnson pieces scattered around the 200 acres of Old Westbury Gardens, once the estate of Henry Phipps Sr., a partner in Carnegie Steel, which made him among America's richest men in the late 1800s and early 1900s. Johnson pieces feel as though they have been discovered serendipitously. Searching for them becomes a treasure hunt, for adults and children alike. Part of the wonder of it all is seeing how people interact with the sculptures, sitting down beside them, lying next to them, wrapping arms around their shoulders, snapping selfies with them, staring intently at them, as if there were a soul to be found in the statues — and, in truth, there is.
Despite Johnson's popularity with audiences, art critics have not always been kind, describing his work at times as "kitsch," lacking an original aesthetic and a deeper meaning. To my mind, though, his sculptures possess a quality so often lacking in the art world — fun.
"It's easy sometimes to forget the simple things that give us pleasure," Johnson said. "If we open our eyes, life is marvelous."
The show is included in the Old Westbury admission price, which is $14 for adults, $12 for those 62 and older, $8 for children ages 7 to 17 and free for children 6 and under. Individual membership for the year is $50; family membership is $80. Both memberships are tax-deductible.
Old Westbury Gardens is at 71 Old Westbury Road, Old Westbury.
For more, go to the Old Westbury Gardens website here.
For more on Johnson, click here.