The Long Island Advocate presents an investigative podcast by Alexandra Whitbeck…
"Sex Work After Gilgo" is a three-part investigative audio series examining the relationship between vulnerable populations and law enforcement. In this series, The Long Island Advocate's Alexandra Whitbeck looks at the unsolved Gilgo Murders by the Long Island Serial Killer to better understand how sex workers are policed on the Island and in New York State. The series discusses the legal, political and social questions faced by sex workers after the murders, which left many fearing for their lives.
2021 marked a decade since the remains of 10 bodies were found along Ocean Parkway on Gilgo Beach, in Suffolk County. Seven were later confirmed to be sex workers. In this podcast, Whitbeck speaks with sex workers and sex worker advocates, past and present members of the Suffolk County Police Department, an attorney representing a victim, a crime reporter who covered the case as it unfolded and the victim of a civil rights violation committed by the SCPD.
"Sex Work After Gilgo" was Whitbeck's master's thesis for Hofstra University's Graduate Journalism Program, which passed with distinction in December. The series was also named a finalist in the Society of Professional Journalists 2021 Mark of Excellence Awards and featured on 88.7FM WRHU's "The Morning Show" and on Hofstra social media.
"Sex Work After Gilgo" first aired on April 4, 2022, on 88.7FM WRHU and The Long Island Advocate.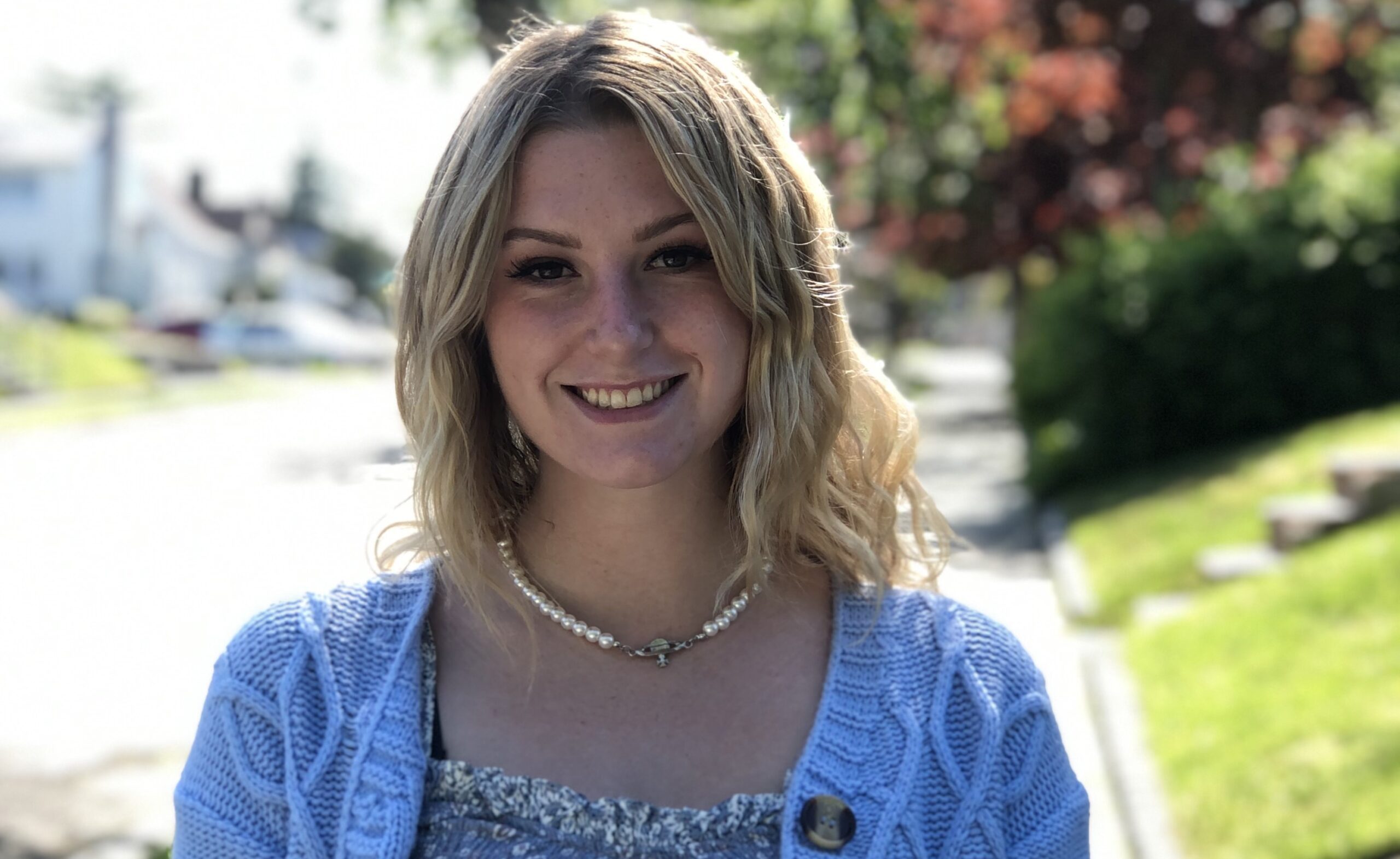 FULL SCRIPT
Sex Work After Gilgo: Part One
Music: Midnight Atroll by AK
TANIA LOPEZ: One thing that gets erased out of this whole thing, is that it's not just a story, these are people, these are somebodies' daughters, this is someone's child. You know, these victims, you know whatever they did for a living, they were young women.
NEWS 12 'GILGO BEACH: UNSOLVED' CUT: Suffolk police officially identified the four women as sex workers, who vanished from 2007 to 2010.
ROB TROTTA: The moral dilemma, is how does the county executive keep a guy whose been on the cover of Newsday for having sex with prostitutes in a police car, in a marked unit and keep him as the chief of police.
JOHN RAY: You can actually sense the real presence of evil in anybody that's done this if say otherwise has no idea what they're talking about that is threatening. That can be powerful.
PENELOPE SAUNDERS: So, there's a whole uncovered story here about how police do in fact murder sex workers. And it's very difficult to talk about people people's lives at risk.
Music: Midnight Stroll and Mystic Forest by AK
WHITBECK: Ten years ago, in late 2010 and 2011… the remains of 10 bodies were found along
oceanside parkway on Gilgo Beach in Suffolk county, long island.
Seven of the victims were confirmed to be sex workers on and around the island. Sex workers are adults who receive payment in exchange for consensual sexual services.
The remains of Maureen Brainard-Barnes, Melissa Barthelemy, Megan Waterman, Amber Lynn Costello, Jessica Taylor, Valerie Mack, and Shannan Gilbert were found in a similar nature along the south shore.
All of these women were sex workers.
The murderer, or murderers, of these women have taken the infamous name of the Long Island serial killer.
I'm Alexandra Whitbeck, and this is Sex Work After Gilgo.
In this four-part series, we'll be taking a look at how vulnerable populations are impacted by traumatic events.
Specifically, the scope of sex work on long island and what has changed socially, politically, and legally since remains of 10 people were found on Gilgo Beach.
In this first episode, we're going to look back to 2010 and 2011 with Tania Lopez, a Suffolk County crime reporter who covered the case as it happened.
We'll also hear from Penelope Saunders; a sex worker's rights activist who attended a vigil held for one of the victims and explains how the murder of these women is linked to systemic societal issues.
I also spoke with the attorney who has represented victims' families, John Ray, about his fight to bring these women justice.
In later episodes, we'll look at the Suffolk County police's investigation of the case and be introduced to some individuals who played a major role in its development and potentially why it ran cold.
We'll look at why every layer of this case is claimed to uncover further corruption in Suffolk County.
I'll be speaking with sex workers rights advocates who break down the complex relationship between sex workers and police.
We'll hear from past and current members of the Suffolk County pd about how their experiences have changed their policing.
Once again, I'm Alexandra Whitbeck and this is Sex Work After Gilgo.
Please note that this series contains depictions of violence that some people may find disturbing.
Music: Mystic Forrest by AK
Sound: Ocean waves
WHITBECK: Gilgo Beach is located on a barrier beach on the south
Shore of long island with Ocean Parkway being the only way to access the area.
Ocean Parkway stretches over nearly sixteen miles passing through Jones Beach State Park and Tobay Beach Park in Nassau County.
Once the beaches of Tobay come to an end, you've entered Suffolk County and Gilgo Beach.
It is fairly desolate; plants grow unruly in the marshland and the occasional biker pedals down the bike path running parallel to the road.
As you drive east on ocean parkway, the Atlantic Ocean and the beach itself sits to your right, and until 2011, the remains of Maureen Brainard-Barnes, Melissa Barthelemy, Megan Waterman, Amber Lynn Costello, Jessica Taylor, Valerie Mack, and Shannon Gilbert were to your left.
PENELOPE SAUNDERS: It's eerie out there. And I've actually never been back. It was just too much, and I would consider myself a fairly tough person and it was unnerving going out there, and the one piece to hold onto was the vigil.
WHITBECK: That was Penelope Saunders, she's an advocate for sex workers rights and the
director of the non-profit organization, The Best Practices Policy Project. She was
describing her trip to Gilgo Beach to attend a vigil held for the victims.
PENELOPE SAUNDERS: In early 2012, the mother of Shannan Gilbert organized a vigil, out on Gilgo Beach, and that was the first time I'd ever been out there, and I took my young child with me, the babe in arms with me, it felt very remote out there. It was extremely cold, actually I true to form got lost, we were driving around and around, and I had some other advocates with me, it was dreary out there, you know the wind is blowing it's very cold. After a long period of time, we found the vigil, and the vigil I remember, it was, the scape was gray, cool blues, that winter landscape, and they had beautiful neon-colored signs and balloons, holding this vigil. And It was like this vibrant vigil, honoring their child.
News 12 CLIP: Suffolk police found the bodies, not during a training exercise, but while looking for 24-year-old Shannan Gilbert, an upstate New York woman living in Jersey City who vanished in May of 2010 after working as an escort for an Oak Beach man she met on Craigslist.
Music: Mystic Forest by AK
WHITBECK: It all started with Shannan.
Shannan Gilbert disappeared on May 1st, 2010, after leaving a client's home in Oak Beach, located on the southern shore.
Seven months into the search for Shannan, the Suffolk County police found the remains of Melissa Barthelemy, Amber Lynn Costello, Maureen Brainard-Barnes, Megan Waterman and two unidentified victims in December 2010, just south of Thatch Island in the brush on Gilgo Beach each less than a mile from one another.
Later in March and April of 2011, the remains of Jessica Taylor, Valerie Mack and those of an unidentified woman were found further east down ocean parkway.
The victims were found by the Suffolk County PD in a similar manner; nude, wrapped in burlap and dismembered.
All of the women identified were sex workers advertising their services on Craigslist.
Music: Mystic Forest by AK
TANIA LOPEZ: I mean the first victim, Melissa, Melissa Barthelemy she was only 24 years old. I have a 24-year-old. 24 is, you're just starting your life, you're just beginning and to have that put in a situation where your life is snatched from you like that, you really want to make sure you're sensitive to that.
WHITBECK: That was Tania Lopez, a former Newsday crime reporter in Suffolk County. Tania
spoke with the families of these women and reported on the case in 2011.
Local Long Island news outlets like News12 and Newsday have covered the situation extensively over the past decade.
TANIA LOPEZ: I started, I believe I started January 30th, 2011, and I believe I had come after they had found the first four bodies.
Music: Mystic Forest by AK
WHITBECK: The first to be found was Melissa Barthelemy. She went missing on July 10th, 2009, was 24 and originally from Erie County, New York, but living in the Bronx.
News 12 CLIP: 24-year-old Melissa Barthelemy reported missing from the Bronx, July 2009.
WHITBECK: Maureen Brainard-Barnes was last seen on July 9th, 2007. She was only 25, a
mother and lived in Norwich, Connecticut.
News 12 CLIP: 25-year-old Maureen Brainard Barnes reported missing from Norwich, Connecticut, July 2007.
WHITBECK: Megan Waterman disappeared from Hauppauge, New York on June 6th, 2010. She
was only 22 and from South Portland, Maine.
News 12 CLIP: 22-year-old Megan Waterman, reported missing in Maine, June 2010
WHITBECK: Amber Lynn Costello was 27 and went missing on September 2nd, 2010. She was
from North Babylon, New York.
News 12 CLIP: 27-year-old Amber Lynn Costello, who was last seen in Babylon, New York, September 2010.
Music: Mystic Forest by AK
WHITBECK: In March and April of 2011, two more women were identified after linking partial
remains found years earlier with the remains the police found on Gilgo.
Jessica Taylor's torso was found in Manorville, New York in Suffolk County on July 26th, 2003.
Nearly seven years later on March 29th, 2011, her skull, hands and right forearm were found just over a mile from the other victims.
Jessica was 20 years old and worked in Manhattan.
Valerie Mack's head, right foot and hands were found on April 4th 2011, while the rest of her body was found a decade earlier in November of 2000. She was 24 and from Philadelphia.
Valerie was known as jane doe number 6 until she was officially identified on May 28th, 2020.
Newscasts: May 2020 video Hart announcing the identification of Valerie Mack.
WHITBECK: That was the former Commissioner of the Suffolk County PD Geraldine Hart, I spoke with her about the use of DNA evidence in identifying Valerie Mack.
GERALDINE HART: When I came aboard, uh, in April of 18 is when they did the golden gate cereal case and I thought, wow, that's interesting. So how do we use genetic genealogy to identify unidentified victims? And just starting that process, which is very laborious and partnering with the FBI who had an expert in it. Um, and, and successfully did it first in New York State to identify, um, anybody who seems to have a genealogy.
So, we're able to identify a victim. And that was very rewarding because that family didn't know what happened to the daughter. And the idea of that is just. Mind blowing, right? Uh, your daughter's gone, and you have no answers, but what's more impactful for me was, uh, had her son was now an adult grown and in prison and not knowing what happened to his mother, thinking that she left him.
And as a child thinking that your mother left, it has to be devastating. And to give him that closure of saying she didn't leave. And it's not the answer that you hope for. It's certainly horrific and tragic, but it is. It's not what you thought it was. Yeah. Yeah. So hopefully that gave a little bit of peace to the family, which is really what it's all about.
And this was, um, Valerie, Valerie, Mack. And then we did a lot of work on the two other unidentified, but, um, it's a little more difficult. The DNA's degraded a deal, but there's some other avenues that we're trying to pursue when I left. Um, so hopefully, I mean, you know, The energies behind it. And hopefully it comes in one day, hopefully.
WHITBECK: Shannan Gilbert's body was found on December 13th, 2011, in the Oak Beach
marsh, 19 months after she went missing from that very area.
Shannan's cause of death was officially ruled inconclusive by the Suffolk County medical examiners in May 2012 and not officially linked to the remains found on Gilgo Beach.
Music: Mystic Forest By AK
WHITBECK: The night Shannan disappeared, she called 911.
Aside from law enforcement and select Suffolk officials, only one person has heard the recording of that 22 minute 911 call made by Shannan as she ran for her life.
Music: Mystic Forest by AK
WHITBECK: In his Miller Place law office with bookshelves and a child's artwork lining the
walls, long island attorney john ray sits at the head of a large desk with neat stacks of legal documents and not one computer screen around him.
I met with John Ray to discuss his involvement in the case.
We started our conversation discussing how he began representing Shannan's case in 2011. A friend and reporter urged him to meet with Mari Gilbert, Shannan's mother after he spoke in court on the behalf of an unrelated victim.
JOHN RAY: They were all sitting in the jury box and one of them is a fellow named Steve Barcella and he was a, um, uh, a reporter photographer for the daily news. He knew me, I knew him for years and he buttonholed me afterward.
And he said, there's another woman who needs your help. And it was Mari Gilbert. Uh, you know, I knew the case, so I didn't know her name, but I remember that he said, can you meet her with him at a bar over in Islip? And she would like to see if you could be of help to her own, what was the nature of the help?
Well, Mari Gilbert, wasn't getting, um, anywhere with the police and she felt that the police were covering up her daughter's murder. So, she needed somebody to speak for her.
WHITBECK: John Ray then held a press conference in January 2012 on Gilgo Beach alongside Mari Gilbert.
Behind them, posters expressing their only goal.
JOHN RAY: I'll hold a press conference. And, um, the idea being to get the federal FBI in it, in the United States attorney, uh, because the police weren't doing a job, that was the goal and the only goal.
WHITBECK: Shortly after John Ray held the press conference urging federal agencies to get
involved in the case, a Suffolk County detective investigating Shannan's death named
Vincent Stephan sent ray a letter.
JOHN RAY: The police did a very odd thing, which to this day is in explicable, the police, uh, uh, treasurer, I believe he was a vice president of the Detective's Association that basically the police detectives union writes me a letter a few days after that press conference, his name was Vincent Stephan.
And he writes this letter to me saying that, um, uh, I was all wet in my press conference and I had no idea what I was talking about. And it was odd. It was that first of all he, he was one of the detectives who investigated Shannon's case. And he said, so he wrote me a two-page single space to tell me what I just said and in it, he actually revealed what he said was on the tape that the 911 tapes of Shannon Gilbert. And he claimed that she was all at all times calm. He claimed that there was never any threat of murder. He claimed that, um, everybody was calm, uh, that there was absolutely no reason for this to have happened.
And he claimed a few other things as well. And so, uh, he claimed personal knowledge. He heard the tapes.
And you might wonder what this has to do with what we're talking about, but it has to do with Burke. Police Chief Burke.
WHITBECK: After receiving this letter, John Ray began to fight for the tapes of Shannan's 911
call to be released.
Due to the graphic nature of the tapes and its evidentiary status in an investigation, the Suffolk County police kept this recording tight to the vest.
JOHN RAY: And you might ask yourself at this point….the police have never once said why they want the tapes never once in any of their papers, why in God's name, are they still holding back on this? When they claim that Shannon Gilbert was not murdered, uh, or that they don't know if she was or not, and that she's not connected to the other Gilgo people, how in God's name, can they then still insist upon holding back these tapes?
There isn't a single good reason for that at all. So why there is another reason and it's a good one, except we don't know it.
WHITBECK: John Ray started by filing a freedom of information act, otherwise known as a
FOIA, to obtain the tape.
JOHN RAY: We went by freedom of information, act demand for the tapes, which, um, ordinarily you would get, if this was not a crime, remember the police were saying this was not a crime. They were saying she disappeared by the natural causes. So, um, different things they said about that. But, um, depending on what day of the week they were speaking about it, you know, but she was, you know, that was clearly by their lights, not a murder. So, I should've gotten the tapes by the nine 11. Um, and by the freedom of information, Act, um, demand. Instead, they fought me on it, which was surprising.
WHITBECK: Nevertheless, he kept pushing.
JOHN RAY: So, I fight. That's what I do all my life. That's what I still do for a living. And I no longer fight in bars. I fight in court, but it's kind of the same. All right.
WHITBECK: John Ray spent the next year filing motions and subpoenas to get the tapes
released as Suffolk County fought him each step.
Music: Mystic Forest by AK
WHITBECK: Until he finally won in an appeal in May 2020.
JOHN RAY: I had to go through an appeal, full blown appeal, and I won the appeal. And so they had to give up the tape.
JOHN RAY: The detective sergeant in charge of the tape, his name was, uh, um, Pat Portellos. I told my, a guy that was helping me form of Suffolk County homicide, detective named Bill Mahoney, who'd stepped up to help me. And Portella told Mahoney to cops talking to each other. Um, John Ray will get those tapes over my dead body, quote unquote.
So, uh, why? I mean, what, the reason they're holding these tapes up. So arduously, I don't know. So, one, when I finally won and they had to give up the tapes, he had to deliver them to my office…
I said to him. Hey, detective, how are you? We're friendly, I'm friendly with the guy, nice to the guy. And, uh, um, you know, as sort of an arm's length relationship. And I said to them, gee, I'm still alive, I can't figure that one out, you know, because he said over my dead body.
Music: Mystic Forest by AK
WHITBECK: John Ray currently has the tapes in his possession and compares what Suffolk
County detectives previously stated was on the recordings with what he heard.
JOHN RAY: Many years later, um, when I came to know for sure that the police story of Shannon's disappearance was a thread of, uh, maybe more than a thread, but, um, a knitted, a coat of lies, willful deliberate, outright lies.
They weren't just mistakes or questions where reasonable people can differ. For example, you say, well, I heard the tape and he, maybe this guy was right. They weren't that excited. And I say, no, I heard the tape. And they were excited. Um, you know, you could debate that. That's not what happened here.
MUSIC TRANSITION: MYSTIC FORRESTS BY AK

WHITBECK: In 2020, Netflix released Lost Girls, a movie about Mari Gilbert's fight to find justice for her daughter, Shannan.
It details the vigil Penelope Saunders spoke about before and shows how the families of the victims relied on one another for support.
It looks at the role of Doctor Peter Hackett in the disappearance and murder of Shannan Gilbert.
Charles Peter Hackett was the former head of the Suffolk County emergency medical services.
He resided on Oak Beach, a private community where he was well known for his work in local emergency services and the security of oak beach.
Hackett was also known for running a home for what he called wayward women.
Oak Beach only covers 3.7 square miles of Suffolk County. In this small, gated area, the community is tight knit, sort of like a microcosm of Suffolk County itself.
Shannan Gilbert ran through Oak Beach screaming for help, on the phone with 911 for 23 minutes in May 2010 only to wait an hour for police to arrive.
She was in Oak Beach that night to meet a client named Joseph Brewer, a neighbor of Peter Hackett.
Before Shannan was declared missing and the search for her began, her mother Mari received a phone call from Hackett asking about Shannan.
Mari's claim that Hackett called her was later corroborated through phone records.
Hackett denies seeing Shannan the night of her disappearance in May 2010 and claims that he was asked to make the phone call by Shannan's driver that night according to CBS's 48 hours.
The Long Island Press reported that some of Shannan's belongings were found in the Oak Beach marsh, near Hackett's house.
And Oxygen reported SCPD found that Shannan appears to have entered the marsh right behind Hackett's house.
Shannan's body was then found in the Oak Beach marsh in December 2011.
In 2012, the Gilbert family filed a wrongful death lawsuit with the help of Attorney John Ray against Hackett.
Mari Gilbert denied Hackett's claims of not being involved in Shannan's disappearance until her own death in 2016.
Peter Hackett now supposedly resides in Florida, and Shannan Gilbert is still without justice buried in the Amityville Cemetery.
Music Fade Out
WHITBECK: Shannan's death was determined inconclusive by Suffolk County medical examiners in 2012 and is not officially linked to what law enforcement refers to as the Gilgo case.
However, Shannan's disappearance led to the discovery of 9 bodies alongside ocean parkway.
Melissa, Maureen, Amber-Lynn, Megan, Shannan, Valerie, and Jessica were not the only victims of the long island serial killer that were found, just the ones that were identified.
On April 4th 2011, the same day that the rest of Valerie's remains were found but not yet identified, Suffolk county pd discovered the body of a young male known as john doe.
They determined his time of death was 5-10 years prior to his discovery according to the SCPD's Gilgo news website where public information on the investigation is housed.
His remains were found west of hemlock cove alongside Ocean Parkway.
John Doe was found a little over half a mile west of Jessica Taylor and less than a third of a mile from Megan Waterman.
A toddler was also found on April 4th. The SCPD believes the child was roughly 2 years old at time of death and a female.
NEWSCAST
WHITBECK: On April 11th, the skull of a young woman who is referred to as Jane Doe #7 was
found west of Tobay Beach.
This discovery was later linked to the legs of fire island jane doe found in 1996 and are believed to be the same person.
In June 1997, the remains of a woman who became known as peaches was discovered in a wooded area of Hempstead Lake State Park in Lakeview, New York.
According to an FBI VI-cap unidentified persons alert released in January 2021, her torso was found in a Rubbermaid container with a time of death three days prior to her discovery in 1997.
She also had a tattoo of a peach on her chest.
On April 11th, 2011, the same day the other unidentified bodies were found, dismembered skeletal remains were discovered and later, in December 2016, were linked to peaches.
According to the same FBI alert, in December 2016, DNA analysis concluded that peaches was the mother of the toddler found in 2011.
Music: Mystic Forest by AK

WHITBECK: The remains of the toddler found were nearly twenty miles away from the torso of
its mother, but close to her arms, legs and skull on Gilgo Beach.
JOHN RAY: It's not like any other kind of evil. It has its own discrete characteristics. And, um, I'm not talking about, you know, uh, the kind of homicide where somebody, you know, in a fit of rage or something manages to do something they never really intended. That's a typical crime.
I'm talking about the kind words, presuppose, where it's planned, where homicide is meant, uh, you know, for revenge, for sex for a hundred other things for perversion, for nothing more than the pleasure of killing, um, the perverse pleasure. You can actually sense the real presence of evil in anybody that's done this.
It says otherwise has no idea what they're talking about that is threatening, that can be powerful.
Music: Mystic Forest by AK
WHITBECK: What links these murders together is the proximity and nature in which they were
found leading Suffolk County pd to believe they are connected.
TANIA LOPEZ: This isn't just a quote-on-quote story, these are people's lives. These are 10 people whose bodies were brutally murdered; they were brutally killed. It's an open case, it still remains a mystery who the killer or killers are, they may still be out there, maybe not. But we always have to keep in mind when doing these kinds of stories that they were human beings first, and now they happen to be victims and they deserve justice.
WHITBECK: Sex work on Long Island, like sex work in a lot of other places, faces deep-rooted
stigmas like the idea that sex work isn't a form of employment and that it's inherently
degrading.
Molly, a chapter representative from the sex workers outreach project or SWOP Brooklyn explains these stigmas.
MOLLY (24:11-26:22): "The way to bring it back to the victims is really decriminalization and criminalization and what people are allowed to get away with when we are criminalized. Right? Like that's why that's a huge part of the reason why so many sex workers are abused and murdered is because people know that no one cares because the dominant narrative of a sex worker is, um, that. You know that they chose it or that they're dirty or that, um, like they must have been addicted to drugs and their life was in shambles and like terrible anyways, you know? Um, so one is like getting away from this narrative that, um, Victims have like, who are sex workers have this like inherently, um, like tragic life, uh, that led them to this like inevitable end."
WHITBECK: These concepts threaten the lives of sex workers, as they actively work against the push for decriminalization which provides access to health and legal services, two things that protect sex workers and their families, clients, and employment.
One of the common and misconstrued tropes that circulates around this topic is that a person doing consensual sex work put themselves in a position to be assaulted or murdered simply because of their employment.
The media's depiction of what was then called prostitution aids to this trope. Women standing on street corners offering sexual services under a dimly lit streetlamp is just not the reality of sex work.
The term prostitution or prostitute carries connotations of criminality and immorality while the term sex work or sex worker recognizes that sex work is work. Using the term prostitute contributes to the overall stigma as well as the exclusion from health, legal and social services.
Commonly, people confused sex work with sex trafficking.
The term sex work refers to an individual willingly (consensually) taking part in selling sex, the individual's human rights are not affected. Sex trafficking/human trafficking is defined as a person taking part in the sale of sex through threat, abduction, or other means of coercion. The individual's huma rights are affected. Visit stop the traffik for more information.
Like Tania said, when discussing and covering these stories, it is essential to exemplify the voices of vulnerable groups such as sex workers, who cannot turn to police for safety or support.
In later episodes we will be hearing from sex workers who share their experiences.
In many cases, crimes committed against sex workers are not held to the same investigative standards by law enforcement because of the deep-rooted stigmas I mentioned before or the scary reality that police officers might be the people killing sex workers.
There's this idea that crops up in this case that sex workers do not deserve justice simply because they were selling sex, a criminalized practice in New York State.
We will speak more on this in the second episode when we look at the actions of former Suffolk County Police Chief James Burke when he was tasked to act on the Gilgo case.
Due to this, sex workers are more susceptible to being the victims of violent crimes.
Once again, Penelope Saunders.
PENELOPE SAUNDERS: As a sex worker's rights organizer there are so many cases that I know of that sex workers have reported that police are killing them, killing colleagues. And people are very fearful. So, there's a whole uncovered story here about how police do in fact murder sex workers. And it's very difficult to talk about people people's lives at risk.
Music: Midnight Stroll by AK
WHITBECK:
We'll be hearing more from Penelope Saunders, the director of the non-profit organization, the best practices policy project in the third part of this series as well as Molly, a chapter representative for SWOP Brooklyn, an organization dedicated to ending violence and stigma against sex workers through education and advocacy.
In part two of sex work on Gilgo… we'll discuss how the Suffolk County police department handled the case, and the suspected involvement of their former chief of police.
We'll hear from Christopher Loeb who explains how being victim to a civil rights violation at the hand of the Suffolk County PD exposed political and police corruption and inherently links him to these murders.
We'll hear more from john ray about the larger implication of the letter he received from Suffolk County detective Vincent Stephan.
Tania Lopez recounts interviews she had with prominent Suffolk County figures and explains their involvement with the investigation.
Rob Trotta, current Suffolk County legislator and former police and FBI task force officer speaks about the involvement of the Suffolk County pd in the case and the corruption he has seen in the county as both an officer and a political figure.
We'll also be hearing from Geraldine Hart, former Commissioner of the Suffolk County police department and FBI officer who breaks down how the case was handled internally and the challenges the investigation presented during her time leading the force.
To hear my full conversations with all of our guests, visit alexandrawhitbeck.com.
Again, I'm Alexandra Whitbeck and thank you for listening to part one of Sex Work After Gilgo.
Music: Midnight Stroll by AK