By Micaela Erickson
LI Helpers, a Nassau County-based grassroots volunteer organization that is using social media to help feed the hungry on Long Island, began last March, as Covid-19 was rapidly spreading throughout Nassau and Suffolk counties, and the group has been evolving ever since.
The organization seeks to provide culturally specific groceries to vulnerable populations on Long Island and in Queens, including domestic violence survivors, single mothers, people who have tested positive for Covid-19 and undocumented immigrants.Video by Micaela Erickson/Long Island Advocate
One of the co-founders of LI Helpers, Misha Khan, of East Meadow, explained how the organization grew. In its earliest form, LI Helpers had a "modest goal" of serving a group of domestic violence survivors and their children, delivering groceries to them biweekly. Volunteers soon noticed a much larger community need and expanded their outreach.
"We began a system where we could deliver groceries to whoever reaches out on Long Island and Queens as well," Khan said. "We didn't realize how quickly the platform would grow and how many people would be reaching out. It was such a big blessing to be able to have that privilege and opportunity to help those in need across Long Island."
As the platform continued to expand, Khan and the organization's other founder, Fawzia Syed, saw an opportunity to incorporate hot meal distributions into their cycle of community aid.
"We began to realize that there were sort of clusters, like maybe in certain towns, where we had more families [in need] compared to others," Khan said. Roosevelt is one of the clusters.
She noted how there is a notable population of Spanish-speaking families in and around the Roosevelt area, and the group has held three meal distribution events there so far. Khan and Syed said they hope to hold the meal distribution events a few times a month.
To date, LI Helpers has provided food to more than 2,500 families. Khan attributed the group's large reach to its active presence on social media.
"Social media has played a huge role in increasing our reach. Since Fawzia and I are already on social media, we were already comfortable with marketing and reaching out to other similar organizations," Khan said. "We also try to be as transparent as possible so people know where their money is going. We try to take as many pictures as possible of meal distribution events and grocery deliveries so they can see exactly what we're doing because people have been so generous with their donations."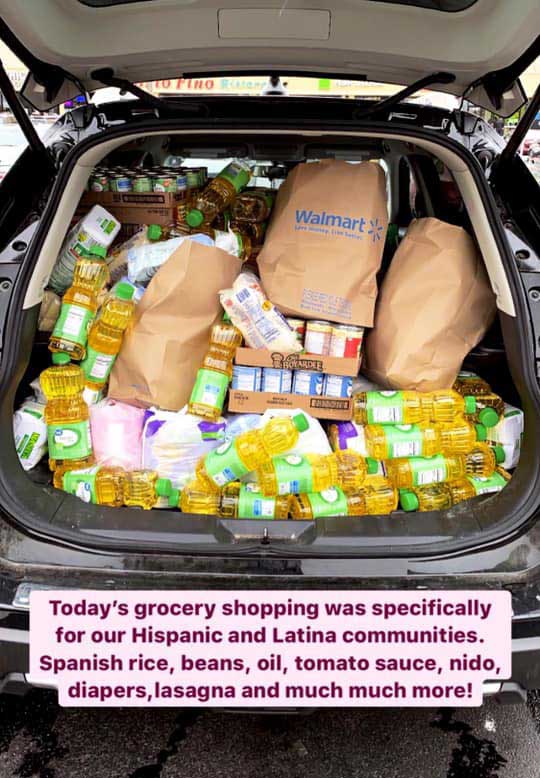 Social media has been extremely helpful for organizations like LI Helpers, but it has also acted as an important resource for people who want to lend a hand to those seeking aid. Courtney Adema, 21, a senior journalism and drama major at Hofstra University, noted how seeing information about food insecurity on social media inspired her to donate to local funds.
"I was seeing a lot of information about how to help people experiencing food insecurity during the pandemic, and without social media, I don't know if I would have known how or where to donate," Adema said.
Larger Long Island charitable organizations have seen similar results from social media, as well. Long Island Cares is Long Island's first food bank, and its CEO, Paule Pachter, has seen the widespread impacts of food insecurity firsthand.
"What we've seen since last March is about a 65 percent increase in the number of people living on Long Island who have been impacted by food insecurity as a result of coronavirus," Pachter said.
According to the U.S. Department of Agriculture, he noted, before March 13 last year, there were 259,000 Long Islanders who were considered to be food insecure. Because of the ongoing pandemic, that number has since increased to roughly 480,000.
While working to feed the hungry over the past year, Long Island Cares has remained active on platforms like Instagram, Twitter, Facebook and LinkedIn, providing people with several options to stay up to date with different resources for food. Pachter explained how he checks the statistics of the organization's virtual following each month, and how it has trended upward in the past year.
"On average, we have between 36,000 to 40,000 people following Long Island Cares across our platforms. That went up to 113,000 people from August through the end of December," Pachter said.
As of now, that number is at about 79,000. Pachter said the people who follow Long Island Cares do so to find resources, learn what kind of food is coming into the food bank, and when and where pop-up locations are open.
"Not only has it been helpful for people looking for resources, but it's been so beneficial for people who want to come help and volunteer and have contacted us through social media," Pachter said. "It's been very helpful in terms of helping people get food as well as recruiting volunteers and raising money."