By Annabel Hofman
Part two in a series featuring stories that appeared in the 2022 edition of Pulse, the Lawrence Herbert School of Communication's annual student-created magazine, titled this year as Pass the Plate. Pick up your copy at the Herbert School.
Vast, uninterrupted amounts of space are among the most striking characteristics of the drive out to Long Island's North Fork. It is a stark contrast to the hundreds of buildings and roads of Hempstead. Out there it's easy to understand how agriculture can be such an important part of the Island's history and economy. There are farm stands, vineyards and animal pastures everywhere you look. 
With 560 farms and 30,032 acres of farmland, Suffolk County has the fourth highest value of agricultural sales in New York, bringing in $225.6 million in 2017. The region also has 69 wineries, the most in the state.
As a result of climate change, winters are becoming milder and shorter, and summers are growing longer and hotter. Additionally, severe rainfall events are becoming more common. Farmers and vineyards are forced to adapt to these changing conditions and find ways to protect the land for the future.
Most Long Island agricultural operations are small, family-owned farms, including Sang Lee Farms Inc. The farm was started in the mid 1940s, after World War II, by the current owner's father and uncles.
This long history of farming in the area means that Lee's family has witnessed changes in weather and storm patterns over the decades.
William Lee explained that Long Island's average last frost date is usually May 15, yet recently, the last frost has occurred much earlier. Additionally, farmers can harvest crops later into the fall, extending the growing season compared to previous years.
While a longer growing season is ideal for crop production, Lee said there are also downsides to the warmer temperatures. "The middle of the summer when the temperature is higher than average and not entirely optimum for crop growth, we do see disease issues and falloff in the yield that we get with some crops," he said. "It's a double-edged sword."
Excessive heat is not good for vegetable plants, but it can increase the quality of wine that comes from the grapes that vineyards grow.
This occurs "because wine grapes like heat, and they like sun and dry conditions," said Richard Olsen-Harbich, the winemaker at Bedell Cellars. "I've been making wine here for 40 years. The varieties that we're growing now get riper and make better wine than they used to back 25 to 30 years ago."
Olsen-Harbich said vineyards are starting to plant grape varieties that thrive in the heat, which would have been harder 20 years ago. Hotter temperatures also lead, however, to an increase in yield from the grape plants, which decreases the quality of the wine produced from the grapes.
"Quantity does not necessarily relate to quality," Olsen-Harbich said.
Additionally, grapes grown in hotter conditions can produce wine with a higher alcohol content, which people tend to avoid, Olsen-Harbich said.
Robert Carpenter, administrative director of the Long Island Farm Bureau, said that intense rain events are another effect of climate change that farmers are having to deal with.
"So it used to be a three- or four-inch rainstorm was once every few years. A five-inch storm was maybe once a decade or once every 20 years. Now we're seeing them with a little more frequency," Carpenter explained.
These intense rainfalls are detrimental to crop production, can make plants susceptible to diseases and force farmers to increase their fungicide use, according to Sandra Menasha, vegetable and potato specialist for the Cornell Cooperative Extension of Suffolk County.
"They're just very intense, very destructive to the soil when you have intense rainfall like that. And the soil is pretty much what is like the heart of growing produce or most crops. And if you don't have healthy soil, it's going to be very hard to produce a crop," Menasha said.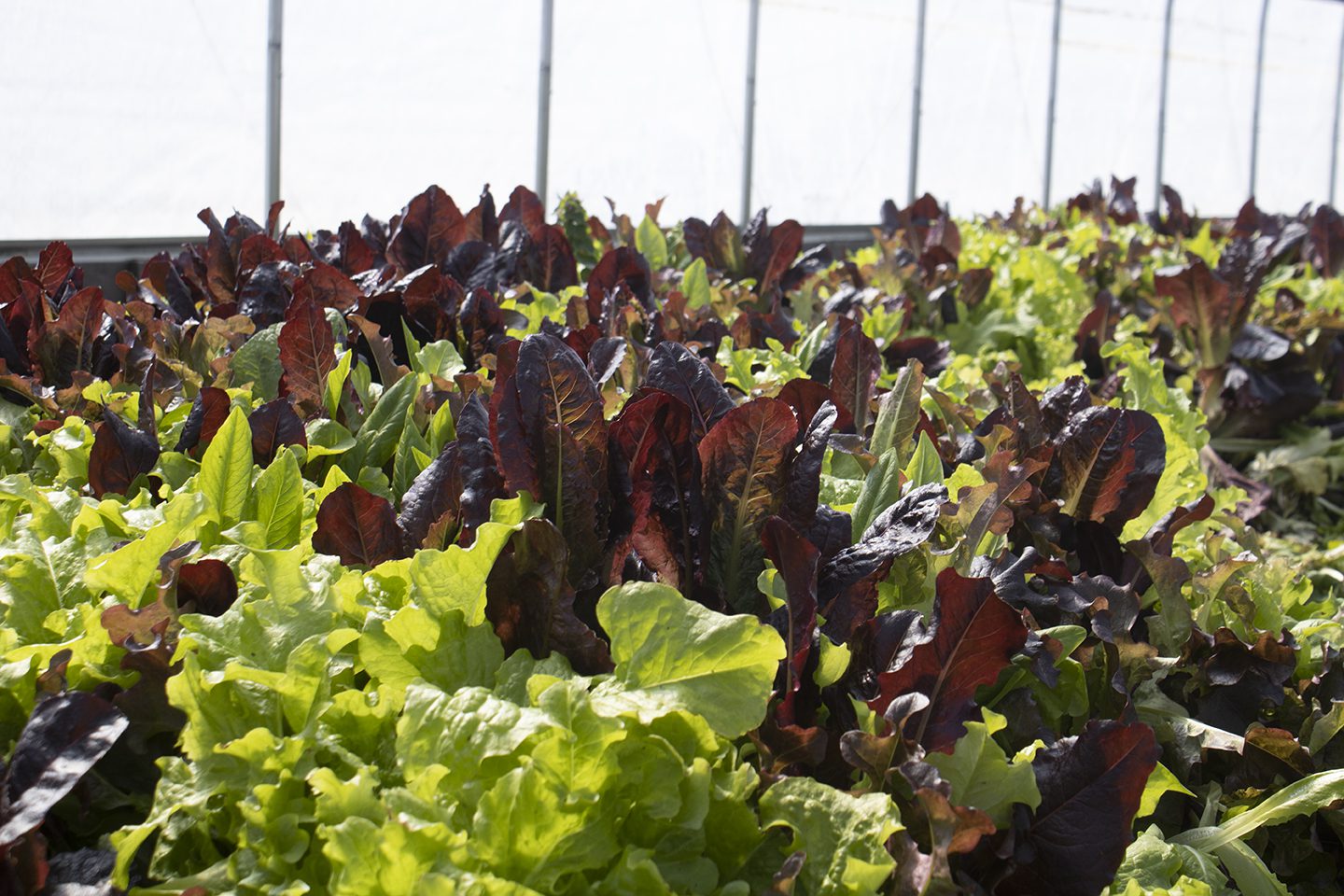 Lee also emphasized his concern about the threat of extreme rainfall. "Knock on wood," he said, "we've been fortunate so far not to have an extreme weather event. But if it does happen, it would be pretty much a disaster for us. We just kind of have our fingers crossed right now."
There are tactics that growers can employ to attempt to mitigate negative effects of climate change.
One method is investing in soil health by adding organic matter such as compost and grass clippings, enabling the soil to sequester the elements carbon and nitrogen at the top where the plant's root systems are, according to Carpenter.
"If you can build a healthy soil and regenerate the soil, you can instill a lot more resiliency within the system to better handle these extreme conditions from climate change," said Menasha, echoing the need for a focus on soil health.
Cover crops and buffer zones can help protect soils. Cover crops are planted to regenerate the soil and protect it from erosion between planting seasons.
"If we're cover cropping, properly and on time, and there's a quick freeze and high winds, then hopefully we won't have soil loss due to wind erosion, which has taken place here on the North Fork and was very bad last winter," Lee said.
Buffer zones catch runoff of both water and soil sediment after rain events. They protect bodies of water from pollution while keeping important nutrients and soils on the farmland.
Carpenter emphasized that farmers have voluntarily invested a great deal of time and effort into practices to mitigate the effects of climate change and protect the soil for the future.
"There's a perception that farmers just go dump all kinds of things on to the soil and the land, which is a big misconception, because farmers need that land to be productive, not only for today, but what about their kids and their grandkids and their great grandkids?" he said. "Farmers were stewards of the land long before any of the environmentalists became aware of what was happening."
Olsen-Harbich, of Bedell Cellars, is a founding member of Long Island Sustainable Winegrowing, a nonprofit that educates growers about and certifies them in sustainable practices.
"We felt we wanted to be proactive and get out in front of it, not wait for government regulation to come and try to do something for us. But we wanted to get out and do it ourselves."
Lee added that there is a belief that we will always have food in this country and because of that, issues of food insecurity are often swept aside. However, as an insider into the world of food production, he doesn't think we should be so sure. It's possible that in the near future, the U.S. will be a net importer and rely on other countries for our food.
"I think food production should be one of the highest priorities that the United States has or should have," Lee said.