The newest addition to the National Lacrosse League will be calling Long Island home but for one member of the New York Riptide, coming to Long Island is more of a homecoming.
Kieran McArdle grew up in Ronkonkoma in Suffolk County, about 32 miles east of Riptide's new home at the Nassau Coliseum. After standing out as an attacker at Connetquot High School, McArdle dominated in the NCAA, the first player in St. John's University history to record 200 points, 100 assists and 100 goals. Now 27, five years after graduation and chosen in the sixth round of the NLL's expansion draft last summer, McArdle couldn't be more excited about a professional career where he grew up.
"It's real cool," said McArdle "I used to come to the games when the Saints used to play here and now all my family and friends and my Rush organization can come down and watch me play right in my home backyard so it's a real cool experience."
McArdle had played in multiple pro lacrosse leagues, including the NLL, the last three seasons with the Toronto Rock and five prior seasons with the MLL's Florida Launch, where he was the league's 2014 rookie of the year. He spent last summer with the Atlas of the Premier Lacrosse League in the inaugural season of that field lacrosse league. After years of being on the move, he is excited to be back where he started.
"For my past however many years of playing professional I've always had to hop on a flight to go to my games," said McArdle. "I loved everything about Toronto but I was hoping I'd be coming back to Long Island. I was real fired up, not having to travel and being in front of your family and friends and having a Long Island face behind Long Island box lacrosse is going to be good for the game and good for Long Island."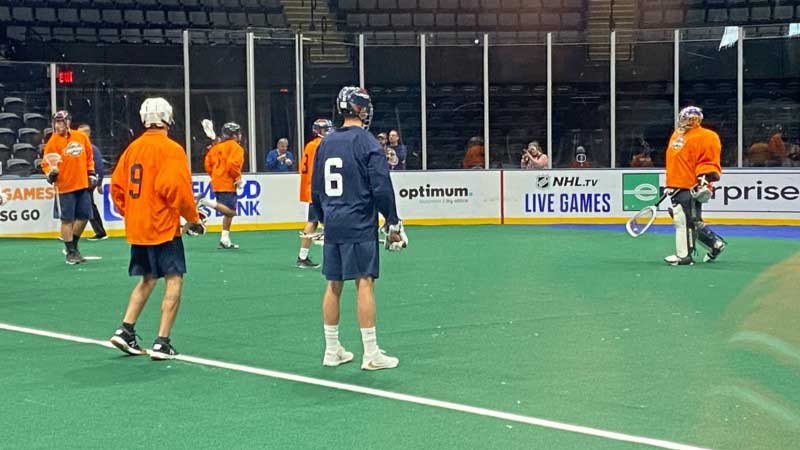 The Riptide isn't the first indoor lacrosse team on Long Island, following the aforementioned Saints (1989–2003) and New York Titans (2006–09). Both are defunct, but McArdle believes Long Island's love for the sport and the next generation of lacrosse players witnessing professional box lacrosse will bring support for the Riptide.
"Box lacrosse is still very new to Long Island," said McArdle. "Growing up, I never played box. We would play on a normal field with normal nets, but now you start to see it at the youth level and there is box being taught. Kids being able to see it at the pro level will be huge for the sport and huge for the youth."A post shared by Kieran McArdle (@kieranmcardle6) on Nov 3, 2019 at 8:48am PST
McArdle already had been educating Long Island's youth on the sport as the Director of Player Development for the Long Island Rush youth lacrosse program. On Dec. 28, McArdle and the Riptide will make their home debut against the Saskatchewan Rush at the Coliseum.