By Samuel Johnston
Music and emotion filled the cavernous Episcopal Cathedral of the Incarnation in Garden City April 2 when Long Islanders came together in a spirit of friendship to support the people of Ukraine, who for six weeks have fought an invading Russian army.
The cathedral recently sent more than $16,000 to the Lviv Regional State Clinical Medical and Diagnostic Cardiology Center, which treats patients with vascular and heart diseases. The funds were used to purchase medicines and medical beds in Lviv, a city of roughly 720,000 people in Western Ukraine, to increase the ability to take in patients who are evacuated from Kyiv, Ukraine's capital of 2.9 million. Fundraising continues, with the cathedral accepting donations on Saturday.
The cathedral is working with Ukrainian Americans of Long Island, an umbrella group that formed three years ago to unite the Island's varied Ukrainian communities.
Larry Tremsky, the cathedral's head musician, and the Rev. Dr. Michael Sniffen, the cathedral's dean, led the concert. Sniffen reminded the audience that the cathedral was "a gathering place of solidarity until this horror is over." 
"Most Ukranians have a very deep love and passion for their culture," said Alex Pryodny, a pianist who performed at the concert. He expressed anger and sadness knowing that the place where he grew up is now in Russian hands. He still has family in Ukraine and worries for their safety while he lives and works here in the United States. He played an original piano composition that reflects on the Russian invasion of Ukraine.
During Pryrodny's performance, many in the audience cried and hugged those near them. He received a standing ovation at the end of his piece.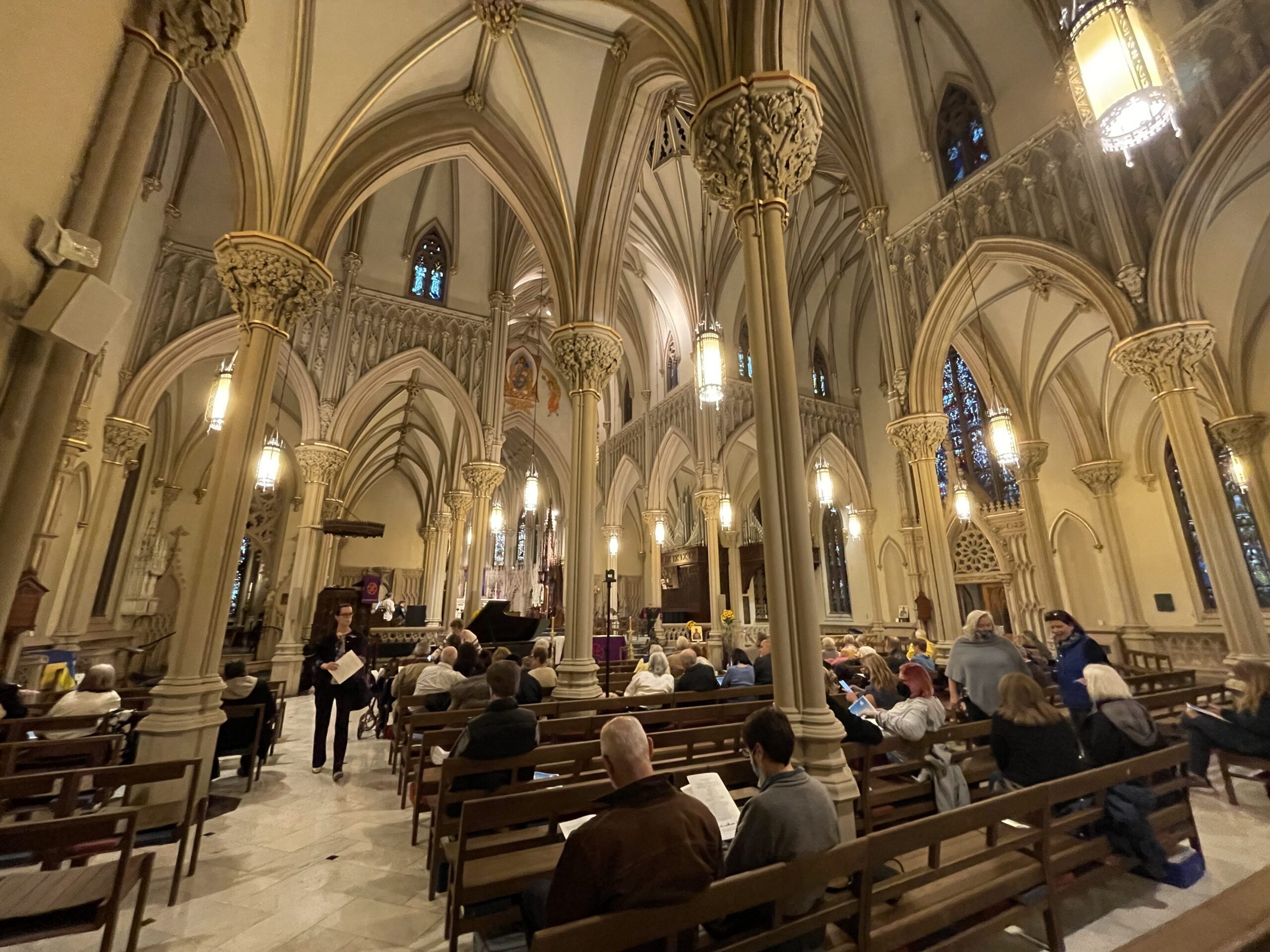 Next was Ela Piddoubny playing the bandura, a traditional Ukrainian string instrument that looks much like a large mandolin with many more strings. She was joined by Lesia Senta, who sang alto. The bandura is considered Ukraine's national instrument. The two women performed a love song about a young man parting with his beloved and going to war. Piddoubny said she chose the song because it was written during previous times of war in Ukraine and is "unfortunately still relevant today." 
Sniffen concluded the event by asking the audience to "continue to support the Ukrainian people as they continue to struggle," noting that the cathedral's community is praying for peace in Ukraine and the safety of its people.
To learn more about upcoming Ukrainian events on Long Island, go to Events-UALI. To help support Ukraine through UALI, click here.