By Athena Dawson
Editor's note: This is part two in a long-term series on Uniondale by Hofstra University graduate journalism students enrolled in Community Journalism this past fall.
Emergency calls happen when Uniondale Fire Department volunteers least expect them, but they will always answer them. Comprising four fire companies and a total of 135 members, the department brings together people from all walks of life to form a diverse community.
The companies include two engines (Manor Engine Company No. 3 and Brookside Engine Company No. 2), one truck (Protection Ladder Company No. 4), and one rescue and EMS squad ( Emergency Company No. 1).
At the heart of it all is Chief Hugh Lacy, who has been a firefighter with Brookside Engine Company No. 2 for 17 years and took on his role as department head in April. He grew up in Uniondale and chose firefighting to give back to his community.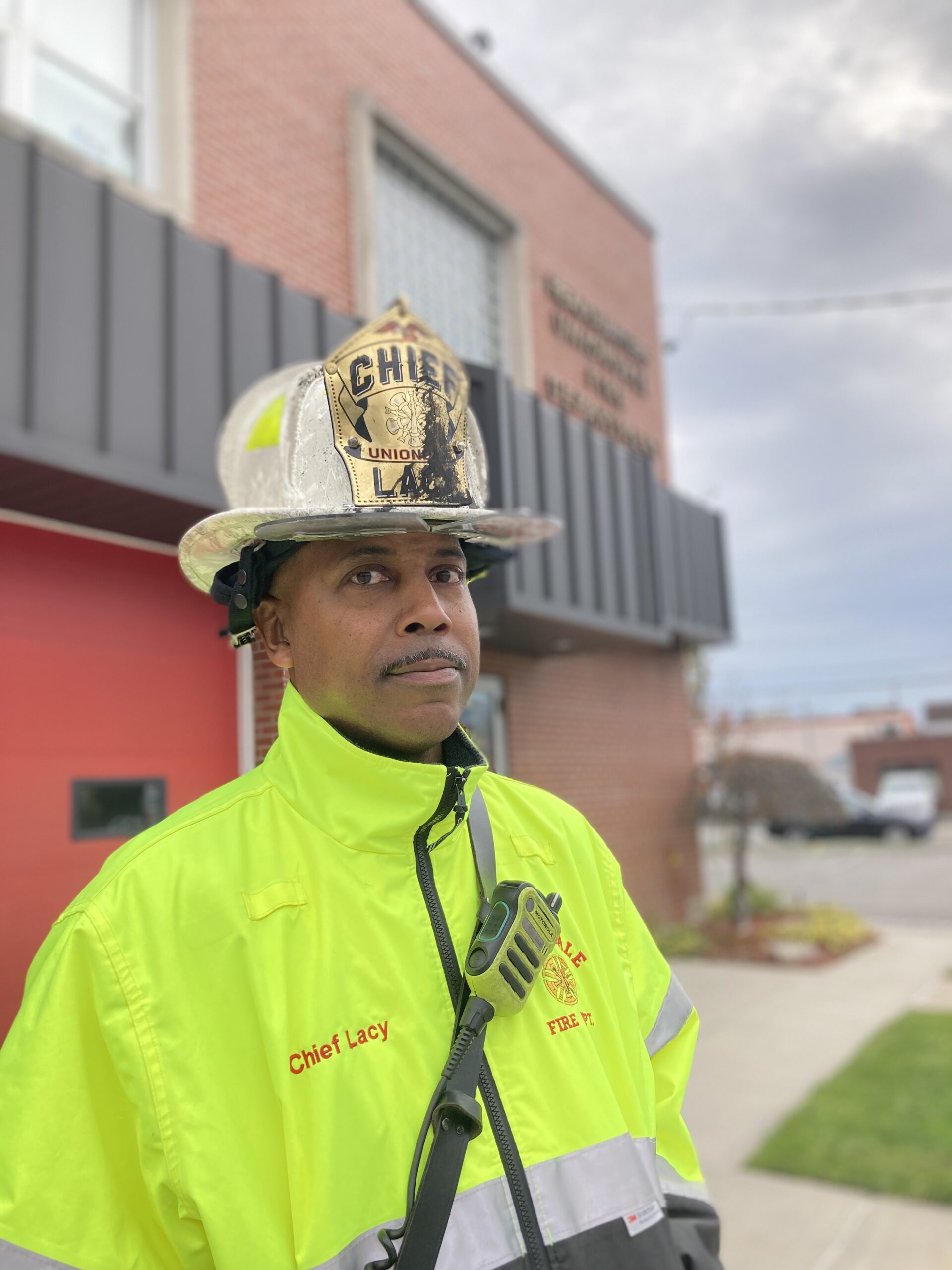 Lacy said many people do not realize that all Uniondale firefighters and EMTs are volunteers, working their regular jobs and then carving out time for firefighting as much as possible.
"We're not paid for what we do. Our firefighters and EMTs are responding wherever they are to their firehouses. This is outside of our full-time jobs," he said.
"There's a balance. It's not for everybody," he added.
Recruiting fire volunteers is hard, because the amount of work involved in volunteering can be overwhelming.
"We do it for the greater good," Lacy said.
There are some benefits, including eligibility for a state pension, depending on the number of years of service. But those benefits do not come close to compensating firefighters for the number of hours that they put into volunteering.
Growing up in Uniondale, Lacy didn't see many Black firefighters. He moved to Boston for 12 years as a young adult, and when he returned to Uniondale, he heard there was a shift in diversity within the fire department.
"I was like, wow, this is the ultimate way of giving back, and we don't expect thanks. There's a certain vibe that hits you when you're able to help complete strangers," he said.
To Chief Lacy, diversity is key to the success of any company. "We have diversity of race, which gives diversity of thought. You have folks that work, let's say, for example, [at] the phone company, the guy that is a bus operator, the lady that is an office manager," he said. "All those different backgrounds, when you put all that together, I believe it holds a lot more value."
The firefighters and EMTs receive rigorous training at the Nassau County Fire Service Academy in Old Bethpage, within their companies at the fire department or even with other fire departments.
Members start out on probation and move up to Class A firefighter or EMT. Members can then work their way up to officers — 1st lieutenant, 2nd lieutenant and captain. Usually each rank is a three-year rotation. Once their captain duty is fulfilled, they are eligible to run for chief. There are three positions within the chiefs' office — 2nd assistant chief (George Martinez), 1st assistant chief (Jessica Ellerbe) and chief (Lacy).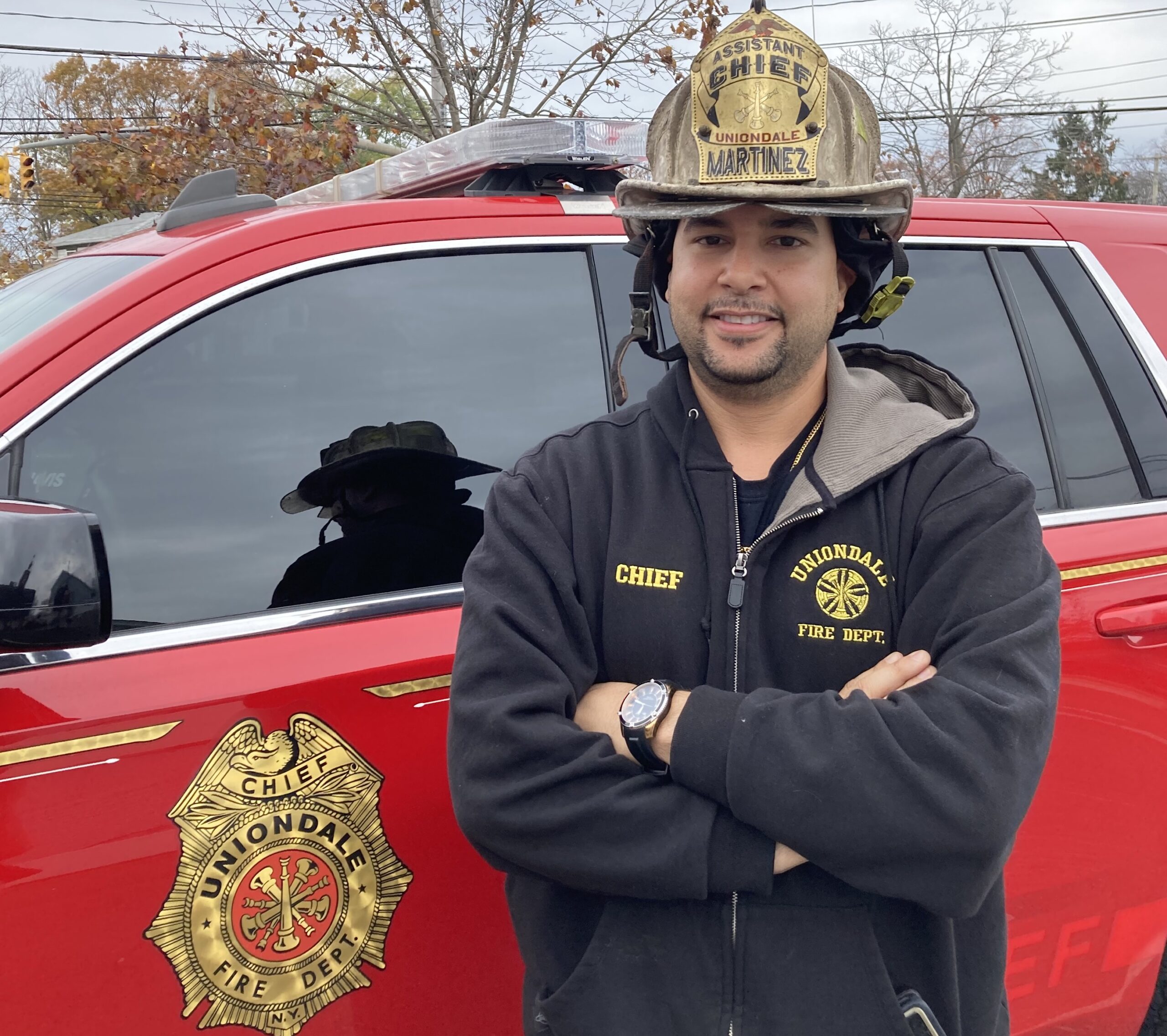 With almost 15 years of firefighting experience, 2nd Assistant Chief George Martinez knows the intensity of the job. "At times, it can be non-stop. Being that it is volunteering for us, not only do we have our everyday stressors of work and our own personal lives, it's an extra level of stress that we do to ourselves because we volunteered to sign up," he said.
But first responders build deep bonds with one another, Martinez said. "There's all different kinds of ages and races and creeds within the fire department. You learn different things, meet new friends and have a good time," he said.
Protection Ladder Company No. 4
Forming a family away from home is common among Uniondale firefighters. That is certainly true for the members of Protection Ladder Company No. 4. The firehouse was full of energy and joy during a recent visit by this reporter as members busily put up holiday decorations.
But the job isn't always this happy. "My first fire, the entire ceiling went black to orange in a couple seconds. That to me as a rookie firefighter was terrifying," said William Rodriguez, a member of Ladder Company No. 4.
Rodriguez has volunteered now for six years, and dealing with deaths and witnessing the destruction caused by fires can be overwhelming, he said. His firehouse family helps him through the tough times.
"The best thing about it is you have a family to come back to," he said. "The family helps you out. I'm not talking about family back at home. I'm talking about the same guys you ride on the fire truck with."
Lt. Kenson Derisma, of Ladder Company No. 4, said he had always wanted to help people. "I wanted to do my part in helping my community. I wanted to join the brotherhood, and I've been here for nine years since," he said.
Emergency Company No. 1
Lt. Fitzroy Morgan of Emergency Company No.1 is a 17- year veteran of the Uniondale Fire Department. Morgan emigrated to the United States from Jamaica at 11, moving to Uniondale. He decided to become a firefighter after riding along on some impactful calls.
"It's the real life or death, and people that's always in need and the impact that you have," he said.
Emergency Company No. 1 deals with both the intensity of firefighting and medical emergencies. "Both sides play a huge deal, whether seeing a fire, people burnt out of their homes, escaping with the clothes on their back, to a signal nine, a medical emergency," Morgan said.
The bonds these firefighters form keep them grounded when they deal with personal and professional problems. "We've had members whose family members passed away, and the company's there as a rock to help them and assist in anything that they need," he said. "It also helps with firefighting just within building structure. I know if anything happens they aren't going leave me."
Gaille Germain, 21, is an EMT with Emergency Company No. 1 and has volunteered with the department since 2018. Gaille said she enjoys dealing with the new challenge each day presents when she's volunteering. And she said her peers push her to be the best version of herself.
"I started school, then I stopped school, but then different members here… pushed me to go back to school," she said.
Gaille grew up with many of the people she currently volunteers with. "Most of the people I went to high school with, they also joined here. Some of my closest friends are here," she said.