By Ahjané Forbes
Editor's note: This is part eight in a long-term series on Uniondale by Hofstra University graduate journalism students enrolled in Community Journalism this past fall.
Capturing a subject from the right angle is nothing new for one Uniondale High School graduate. Joshua Watson, a current freshman computer science major at Nassau Community College, is usually the photographer behind the lens at many community events. Taking his camera and a smile to every occasion, Watson brings viewers on a journey to learn more about the union in Uniondale.
It all began with Uniondale High's yearbook club. "It was for class. I did it because I was in yearbook before I graduated, and they needed an event photographer. I was already a photographer," Watson said. "So my teacher knew my skill, and he technically put me into the yearbook."
Uniondale High teacher Marc Aracena taught Watson during the coronavirus pandemic. At the time, Watson began to show interest in the school's photography club. Not long after, Aracena said, Watson showed his determination to become the photography club president.
"Joshua is a sweet kid, very quiet, and just fell in love with photography. His ability to capture moments and abstract, staged pieces is amazing. He was always practicing, and I was proud to call him my student," Aracena explained. "The truth is, he really did it on his own. I gave him a few pointers, some constructive criticism, and he just rolled with it by learning and growing."
Watson started to see photography going from a simple hobby to a new-found passion. "After a while, I just knew I was good at it," he said. "I don't think I'm good at it, but I try my best. Ever since then, I've just been taking photos."
After graduating last year from Uniondale High, Watson started to perfect his craft. Becoming more active on social media has led him to gain more recognition within his community. Brown Bag Charity, a community outreach organization that started to provide relief to residents during the pandemic, brought Watson on to photograph events. He covered the group's Halloween event, capturing children trick-or-treating in their costumes.
Although Watson enjoys photographing the community, he started to change his settings. Enrolling in NCC as a computer science major, he wanted to expand professionally.
"[The] way I reached out to the college community is due to two of my friends at The Vignette we have here. It's the newspaper," Watson said. "They actually found me on the first day of school; they told me I needed to come in because they know my skill, and they just wanted me as a photographer. They told me all the benefits I can get and all that stuff. So I was like, 'You know, why not?'"
With friend Jordan Pommells, a NCC sophomore photography major, he shared an interest in action shots, portraits and street photography. The two now work together at The Vignette.
"He was just at school events, taking pictures, and he just had a passion for it," Pommells said. "I just asked him to be a part of the school newspaper because we were looking for more photographers, and he was just willing to join."
Another friend, Kaldwin Lerandy Ladislas, executive manager of The Vignette, was in awe after seeing Watson's snapshots from their trip to the Metropolitan Museum of Art in Manhattan. Although the forecast predicted heavy rain that day, Watson managed to focus on the beauty of the art and the people in the city.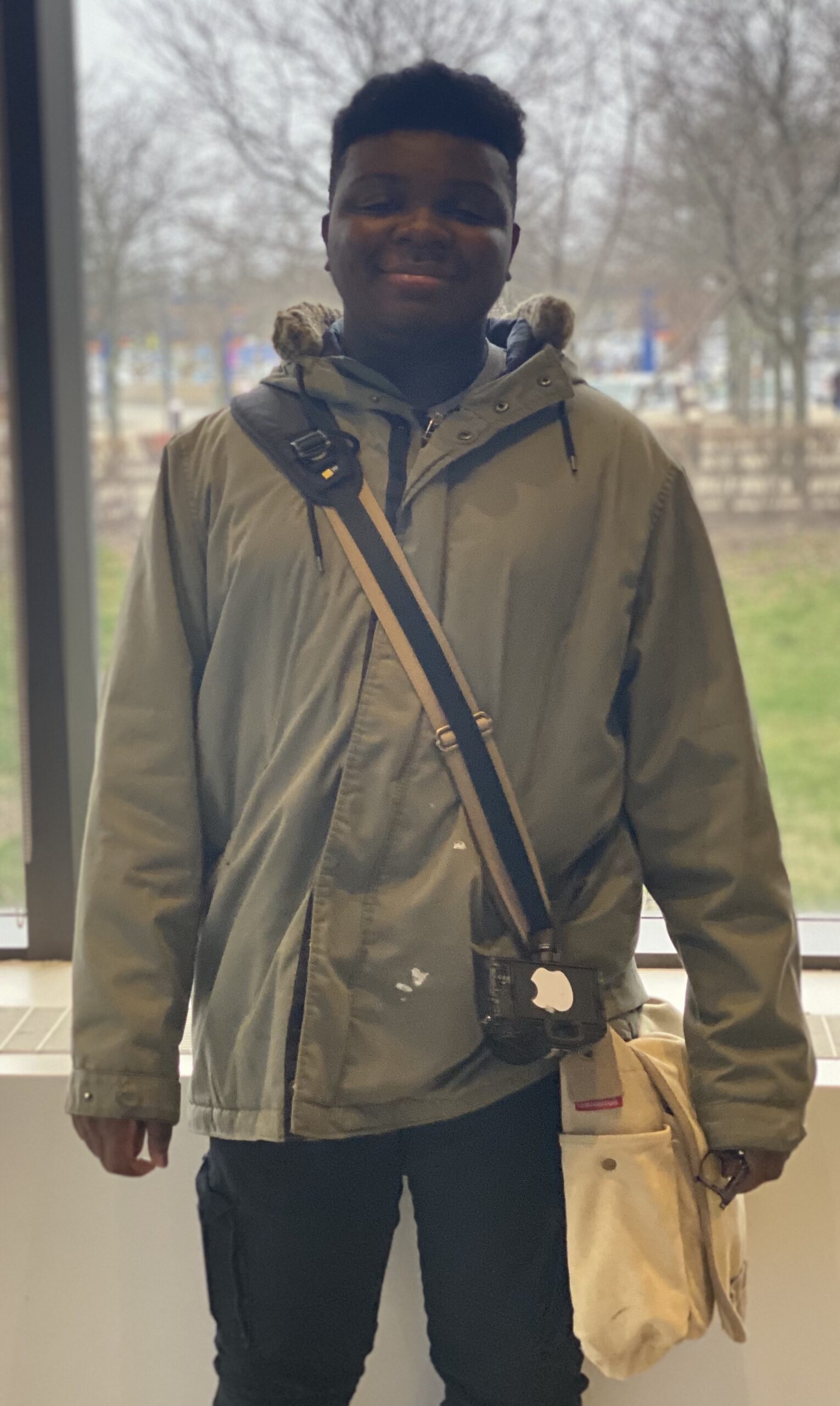 "Joshua is full of potential genuinely. He's going be very good for sure. I'm very excited to work with The Vignette, I love it," said Lerandy Ladislas, a sophomore American Sign Language and urban planning major. "That's a place with amazing people. And we're also managing to just produce an amazing newspaper with the weekly comic book series. It's amazing!"
Viewing Watson's journey from a different perspective, his mentor shines light on his story from a wider angle. Dan Angelo Spencer, a photographer, filmmaker, content creator and creative director, saw potential from the beginning, even before Watson owned a DSLR.
"I got to see from the first set of photos that he took on a cell phone to the first set of photos he took with his camera to now. He's having stuff that's going into publication, and people are very much gravitated towards what he does," Spencer said. "Mentoring him, it was interesting. I get to see the full development of someone who I taught at the beginning and then someone who is pretty much now doing photography as a business."
Aracena agreed with Spencer by retelling a story to demonstrate Watson's seriousness in the early stages of crafting his compositions.
According to Aracena, during a parent teacher meeting, Watson's mother expressed concerns when it came to photography. Watson would take photos at church, around the house and outdoors. Watson's mother complained that his focus was not on his school work, but on developing digital images. Aracena apologized to Watson's mother.
After the meeting, Aracena told Watson, "You better do better and cover all your bases," as a warning for both of their sakes.
Watson kept his promise to Aracena to do better and went on to win Best Photograph at a Uniondale High competition last June. Watson's pictures were among 200 others spanning three classes.
Even though Watson is not finished with college yet, the young photographer is planning for the future. Action shots are his favorite type of photos to capture at Uniondale High football games. Watson would love to be a photographer for the Dallas Cowboys one day, saying that seeing professionals do it led him to try it locally.
Defining the perfect photo, Watson did not pick any of his. Rather, he explained what he looks for in all photos, especially his.
"With no blurs, it's like the subject is there and what the subject is," Watson said. "Sometimes I'll be taking pictures and crowds, and me personally, I just don't feel like the point is being drawn. I just want it to give emphasis and really just draw people in."
To check out Watson's latest work, follow him on Instagram @joshuaphotoshow.