By Sayo Adeniji

More than 30 local parents, teachers and students turned out at the Sept. 20 Uniondale Board of Education meeting to express concern over the renewal of a local charter school that they worry will continue to draw funding away from the Uniondale School District and detract from its record of success.
Rather than put state and local tax dollars toward the Academy Charter School, on Charles Lindbergh Boulevard in Uniondale, a number of attendees said the funds should go toward developing schools and academic programs within the Uniondale district. The amount of funding was not discussed at the hearing, held in the Uniondale High School auditorium, and calls to school officials seeking comment on the amount were not returned.
Charter schools "are publicly funded, privately managed and semi-autonomous schools of choice," according to the National Conference of State Legislatures. They receive federal, state and local funding. By New York State education law, school districts must send a proportional share of local tax dollars to area charter schools based on the number of local students who attend them, though the charters operate independently of school districts. They instead report to the state.
The school board meeting was held after the Academy Charter School in Uniondale recently asked New York State to authorize its continued operation, according to a public notice released by the board.
The Academy Charter School, which serves students in grades kindergarten through 11, first opened in the 2018-19 school year, closely replicating a similar Academy Charter School that had already opened in Hempstead, according to the SUNY Charter School Institute, which is empowered to grant schools' charters, or contracts with the state.
In the Academy's first-year report in April 2019, the institute noted, "The Academy-Uniondale has a rigorous assessment system that improves instructional effectiveness and student learning," adding, "The school's curriculum supports teachers in planning and delivering effective instruction."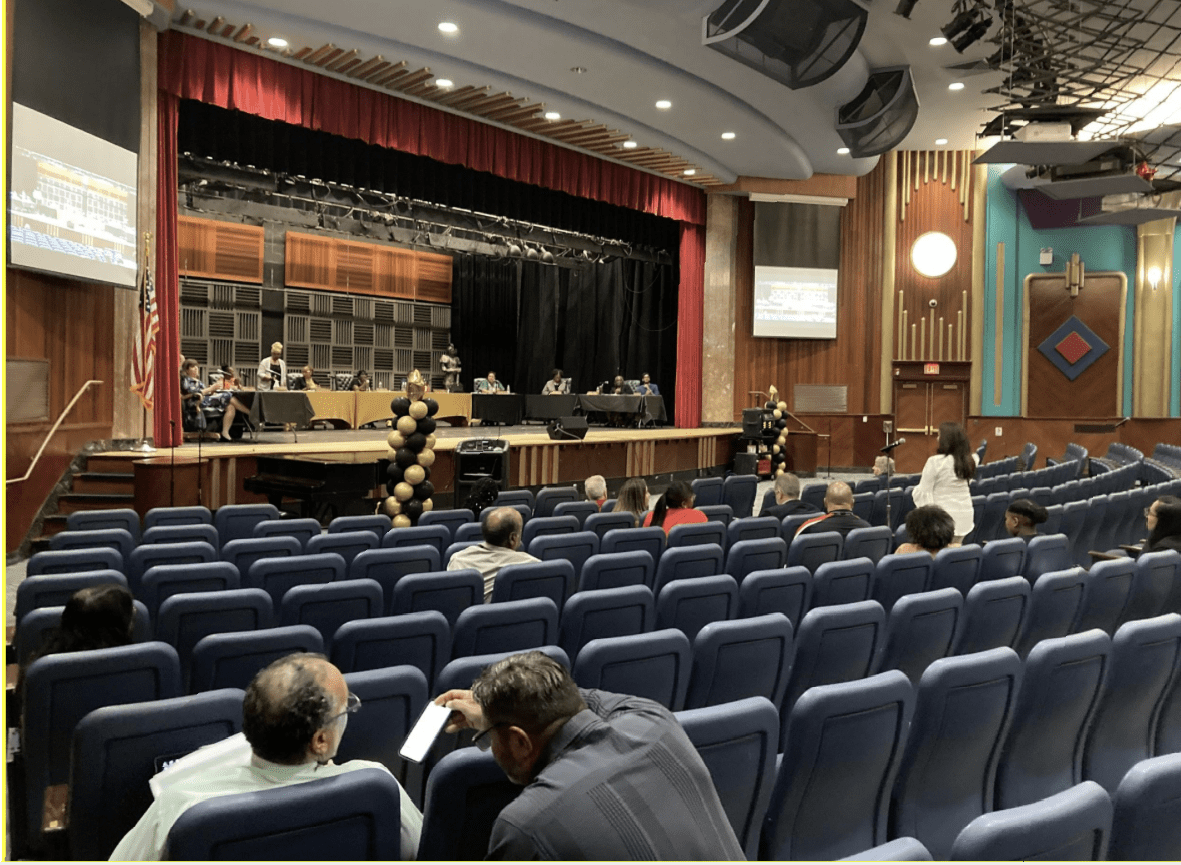 Still, many people were not convinced, saying state and local funding would be better spent on public schools. At the Sept. 20 meeting, speakers delivered fervent speeches in support of Uniondale schools.
Aaron Osorio, a Uniondale High School 10th-grader, was one of 14 students who spoke in favor of keeping tax dollars in the Uniondale district, recounting fond memories of growing up in the area. "I'm from Uniondale, through and through," Osorio told the board. "Uniondale has done so much not only for me and my family, but for all of Uniondale."
Osorio, whose parents also attended Uniondale High, added that in spite of limited resources for the school's music programs, he believes its artistic endeavors play an important role in students' lives. "The marching band sounds amazing and so does the jazz band and the show choir … They always do amazing things," he said.
Leigh Pollet, the Uniondale High 11th-grade girls' cross-country and track coach, offered another perspective on the district's past and present. ''Over the past 35, 36 years that I've been here,'' he said, ''I've been through various superintendents and administrations and principals, and one constant has stood out: The opportunity to succeed that this school district offers the children of Uniondale is unparalleled.''
Pollet noted that four Uniondale School District alumni, three of whom ran track, study in the Sophie Davis Biomedical Education Program at the City University of New York School of Medicine. That those students were admitted to this competitive program, he said, speaks volumes about the quality of education that they received during their time in Uniondale.
Parents made their voices heard as well. Following the hearing, Donna Jackson shared how her three children, who graduated from Uniondale schools, have flourished. "I think my children had a very good education here," she said. "I wouldn't change it for anything."
She said one of her children took courses at Farmingdale State College while in high school, allowing him to skip college courses that some of his peers were required to register for. Such benefits, she said, are not available in every school district.
Although Jackson convinced some of her friends to enroll their children in the district's public schools, she said, some were not persuaded and opted for charter schools instead. She attributed their choice to rumors about public schools being disorganized.
"They hear rumors that it's not structured, there's a lot of fights," Jackson said. "They hear all those negative things, but no matter what school you go to, you're going to have fights."
Bayo Fagbamila, dean of students at the Academy Charter School, begs to differ. He said he believes one of the key factors that distinguishes some charters from public schools is an orderly learning environment. "If you're learning in a decrepit, beat-down environment, you might not be feeling the value of your education,'' he said.
Fagbamila also said state and local funding play important roles in enabling the Academy to meet the needs of students, adding that the school serves "not just the neighborhood, but multiple communities."
The Uniondale School District comprises 6,890 students, according to U.S. News & World Report, while, according to Fagbamila, about 600 students attend the Academy Charter School, not all from Uniondale. These students depend on state and local funding to access academic and extracurricular opportunities, he noted.
Scott Brinton contributed to this story.