By Stephanie Bongiorno
---
Walkers take to Eisenhower Park to end epilepsy
A video montage on the Walk to End Epilepsy event in Eisenhower Park, Long Island. "Fight Song" is courtesy of Rachel Platten who joined the Walk to End Epilepsy foundation to inspire those with epilepsy.
By Stephanie Bongiorno
EISENHOWER PARK, N.Y. — Whether sporting a decorated sign, a purple ribbon or pom pom, the 700 people at the ninth annual Walk to End Epilepsy at Eisenhower Park had a common goal: to raise awareness and money for epilepsy cure research and educational support programs. More than $80,000 was raised at the Oct. 5 event.
EPIC Long Island, a center established in 1953 that provides education and treatment for those with epilepsy, intellectual and emotional disabilities, partnered with the Epilepsy Foundation for this event.
What is epilepsy?
Epilepsy is a neurological disorder that disrupts the nervous system, causing seizures or sensations. It is estimated that 1 in 26 individuals may develop epilepsy over the course of their lives.
"Today is a wonderful day because it is an opportunity to raise awareness about epilepsy and its impact on the over 35,000 Long Islanders who are living with epilepsy," Irene Rodgers, director of community services at EPIC Long Island, said.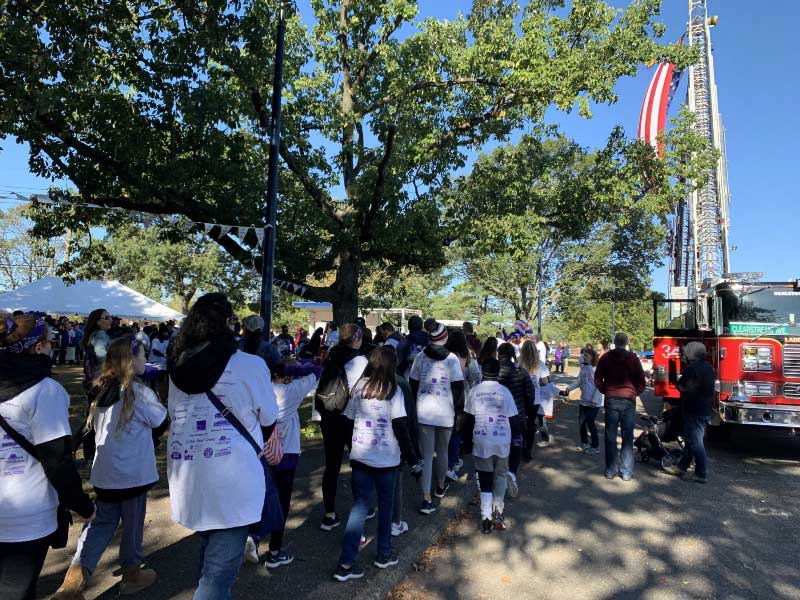 Educational support programs
"We welcome all types of people such as those with developmental disabilities, epilepsy, behavioral health challenges, digestive disorder, depression, anxiety to profound mental illness," said Jennifer Colbert, vice president of the clinic service at EPIC Long Island.
Tables with information on support programs were supplied at the event.
"I do a lot of programs, especially in the school systems helping teachers and staff understand what it might be like for students to have seizures and how it affects them," Janet Romeo, community education coordinator at EPIC Long Island.
Funding
The lead sponsors for the walk were Cohen's Medical Center at Northwell Health, Grassi Franchise Services and Greenwich Biosciences.
"In order for us to provide services for people with epilepsy and to educate the general public about it, we need funding," said Thomas Hopkins, president and CEO at EPIC Long Island. "Our program is run primarily on funds that people donate and today's event is one of the main sources."
Supporting family, friends and strangers
Rachel Platten, singer of "Fight Song," and The Walk to End Epilepsy have joined forces to raise awareness for those with epilepsy and encourage them to share their stories. The "Fight Song" has become the walk's anthem, and it has been used to inspire many.
"To celebrate with supporters, family and friends, with the people that love you around your epilepsy is something that emotionally and psychologically is vitally important for people, especially for kids with epilepsy," Hopkins said.
Family and friends of Henry Bacher, a 4-year-old with epilepsy, held signs with "Team Henry" written on them and walked in support of him.
"Henry was newly diagnosed with epilepsy about a year ago, and so it has been a really eye-opening, almost frustrating guessing game for us," said Tracy Bacher, Henry's mother. "It is really important to gather with people going through the same thing and to support this organization."