By Jair Brooks-Davis
Certain versions of hockey have been played for almost a thousand years, solidifying the game's significance in world sporting culture, yet in the United States, it regularly falls short in TV viewership and team revenue when compared with basketball, football and baseball.
Why? Local players and coaches try to answer this perplexing question.
Spyrodon Markoulis
Spyrodon Markoulis, a member of the Hofstra University men's hockey team and a Glen Cove native, said the cost to play hockey is a turnoff to the game for many. The freshman goaltender said the price of basic equipment is often a deterrent. High-end sticks — which could break during use — cost hundreds of dollars.
At Pure Hockey for Adult players, some of the highest quality sticks are a little above $300, some helmets are priced around $250, pants are $230, gloves are $210, shin guards are just under $200, and inline pants are $60.
Many families simply cannot afford to have a child to play hockey. Some people don't have easy access to a hockey rink. Ice time can be pricey, and there may be select hours to practice.
Markoulis also said the marketability of the NHL's top prospects is lagging when compared with basketball, baseball and football. In the United States, names like Michael Jordan, Kobe Bryant, Tom Brady, Patrick Mahomes, Derek Jeter, and Alex Rodriguez are part and parcel of the American sports lexicon, instantly knowable to many, if not most people, regardless of whether they follow sports.
How often does the average sports fan hear about Leon Draisaitl, a German pro hockey player who is an alternate captain for the Edmonton Oilers, and who is second in NHL goals right now? Others don't know who Alex Ovechkin is, and he's captain of the Washington Capitals, the greatest goal scorer of the 21st century and in many ways the face of the game for almost two decades.
Markoulis added that there isn't a model figure in the NHL that the everyday fan can latch on to and admire. He said more outreach, fan events and community-driven marketing campaigns would connect local markets with stars, both from a league and team perspective.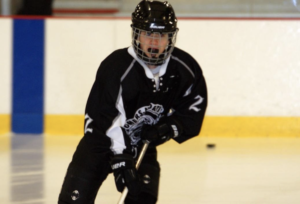 William Wiegelman
William Wiegelman, another member of the Hofstra men's ice hockey team out of North Salem, N.Y., had his first on-ice experience in kindergarten at an after-school skating program.
He said the struggle to make hockey accessible lies in the cost of equipment and the distance to commute for meaningful travel hockey tournaments and competitions.
"Equipment you could find cheap, you could find hand-me-downs. That's what I did," he said. "Most of my childhood was hand-me-downs from my dad's friends' kids. I think that the expense, when it comes to hockey, is getting ice time when you're trying to work out by yourself compared to when you have soccer or baseball, [for which] you could go to your local grass patch and do your thing."
Wiegelman saw people around him play for travel teams while growing up, but he knew about the hours and price tag that would involve. "I think a big thing that kept me from playing travel for a long time was that the local travel teams played on Long Island," he said, "and that was a thing my parents could not commit to, so that was another tough thing."
On the marketability of the sport, he said fans have many reasons to follow and admire stars Connor McDavid of the Oilers and P.K. Subban of the New Jersey Devils. Connecting these stars with younger fans could help create a new generation of young people interested in the sport. Subban, whose father moved to Canada from Jamaica, also helps with the NHL's diversity and inclusion efforts.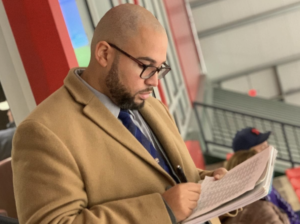 Justin Trible
Justin Trible was a coaching assistant for the men's ice hockey team at Division III Curry College in Milton, Mass., while he was a student there. He graduated with a bachelor's in public policy in 2021 and is now a recruiter at Apex Systems in Connecticut. The team roster featured Jordan Williamson, son of Winnipeg Jets former assistant coach Glen Williamson, and Eetu Selanne, son of Hockey Hall of Famer Teemu Selanne.
Trible grew up in rural Pennsylvania, where he said hockey is "non-existent." It's a football and basketball region.
"No one would talk about hockey," he said. "Most people would go down to the local park and play basketball with each other or go to a neighborhood field and throw a football around."
Trible enlisted in the U.S. Army, learning about respect, commitment and teamwork. Following his service, he enrolled at Curry and played rugby before landing a gig as a hockey coaching assistant.
"My girlfriend at the time bought me hockey gear, and I was understanding strategic decisions that are made out on the ice, so I figured I would apply," he said.
"I don't think people play hockey as much due to the lack of rinks in various areas," he said. "In states like Massachusetts and Minnesota, there are rinks everywhere, and hockey is big throughout those states, but in my side of Pennsylvania, it's pretty rural."
Accessibility and money are other reasons for the lack of major growth of the sport in the U.S., he said, noting, "It's an extremely expensive sport. I remember my ex-girlfriend paying hundreds or thousands of dollars for my skates and gear."
Dave Reid
Dave Reid is a retired former National Hockey League player who won two Stanley Cup championships with the Dallas Stars and Colorado Avalanche. Currently, he's an analyst with the NHL Network and TSN in Canada. He described his upbringing in Etobicoke, Ontario, and skating on frozen ponds with his older brother.
"We didn't have rinks back then, so we went out and skated on frozen ice because it was accessible," Reid said. The game was practically a requirement to play in the region of Canada where he grew up.
In retirement, he became a general manager for his junior team, the Peterborough Petes. In this position, he tried to grow the culture with the team and involve parents of team members, with his thesis being that creating a tight-knit bond and family-like atmosphere would build a successful program.
"Unfortunately for my situation there, it was very short-lived because we couldn't get the direction of the team," he said. "One thing we did was provide meals for families. What we did was we welcomed them by having a big family room, which was the alumni room, and we opened it up to food, so we would have just light snack foods."
Lenny and Austin Whelan
Families throughout Canada with young hockey players often must travel hours to attend games. Lenny Whelan, a native of Richmond Hill, Ontario, watched his son Austin grow up and play in the Northern Ontario Junior Hockey League and play at Curry. Whelan said he remembers the journey and hard work for Austin to get to where he is today.
"I've watched my son on the ice since he was 6, from him quitting at the beginning, to him earning a scholarship to the NCAA," Whelan said. "All those car trips, stories, arguments, hotels and restaurants took [a]toll, but if I could, I'd do every minute of it again. It's where we became best friends."