By Daniel Gall
Editor's note: Part three in a series looking at segregation on Long Island.
On the west side of Peninsula Boulevard near the Southern State Parkway, set back from the road, sits Hempstead High School, in the middle of the Village of Hempstead's industrial zone, comprising multiple auto repair and collision shops, with tow trucks waiting outside for their next jobs.
The tall, black, wrought-iron fence surrounding the school appears as a blur as one passes by in a car. The schoolyard grass is cut, but beyond trees and shrubs, it is plainly landscaped. There is but one gate leading into the high school from the street, with a guard stationed there to check people in. The Student Code of Conduct, found online, explicitly states that any of the high school's 1,800 students may be subject to search with the use of a metal detector or hand-held scanning device, "without reasonable suspicion, as long as the school official has a legitimate reason to do so."
Ten minutes north of Hempstead High is Garden City High School, at the intersection of Merillon and Rockaway avenues, across from the 18-hole Garden City Golf Club. Housing about 1,200 students, it is a modern-looking building, onto which a $6.4 million expansion was added roughly 10 years ago.
The addition included construction of a 10,350-square-foot music wing that featured a 2,500-square-foot band room, 2,000-square-foot chorus room and 2,000-square-foot orchestra room. Also included in the project were more than 20,000 square feet of interior renovations and new bleachers at the school's artificial-turf athletic field.
The Garden City High campus is filled with immaculate grass fields and blooming flowers in the spring, creating a buffer between the school and the surrounding residential neighborhood. The phrases "metal detector" and "hand-held scanning device" do not appear in the Garden City Public Schools Code of Conduct.
Garden City has long been the beneficiary of an inequitable neighborhood school funding system that allows wealthier, often largely white communities to pour property-tax funds into their districts, giving them the ability to pay their teachers and administrators above-average salaries and construct state-of-the-art facilities. Garden City High's expansion was funded with a $36.5 million bond referendum that local voters approved in 2009 to repair and renovate schools throughout the Garden City District.
Meanwhile, low-income districts, often in communities of color on Long Island, remain perpetually underfunded, even when higher state aid is provided. Hempstead is a prime example of such a district.
Only three miles separate Garden City and Hempstead high schools, yet there is an 18% difference in the graduation rates and a near $2,000 per-year difference in per-pupil spending — or $2 million per 100 students. Garden City's graduation rate annually has been 99%, while Hempstead's 2021 rate was 81%, according to the New York State Education Department. Eight years ago, Hempstead's rate was as low as 48%.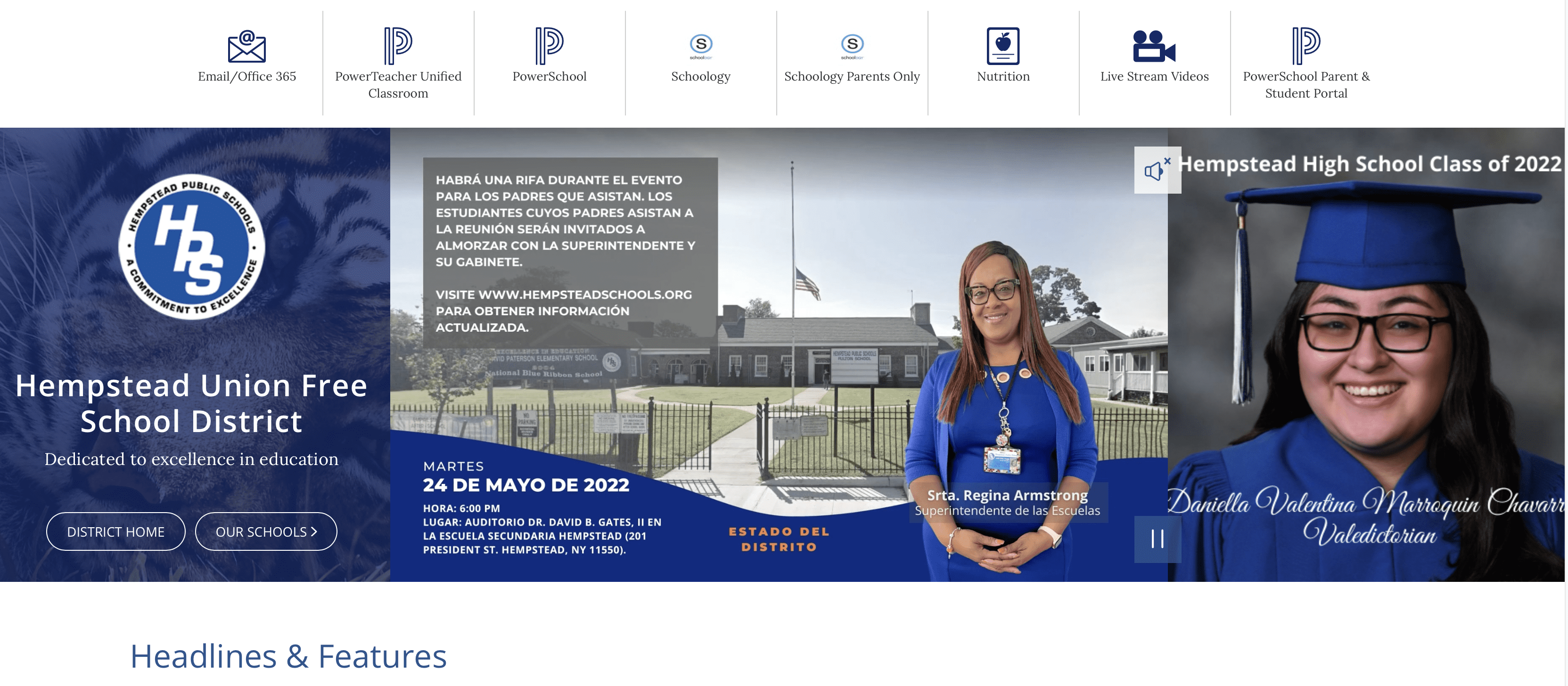 Hempstead Superintendent Regina Armstrong said earlier this spring that it was "too early to tell what the exact [graduation] rate will be for 2022, but we are pretty much looking at remaining in the early 80s for this school year," noting that as of January, "we already [had] 67% of the senior class ready for graduation."
Garden City High is currently ranked by U.S. News & World Report as 23rd among New York State high schools and sits at 214th in the national rankings. More than 90% of students took at least one Advanced Placement exam this past year, with a majority of those passing the college-level tests. Eighty-five percent of the student body is white, and 3% is considered "economically disadvantaged."
Hempstead High is ranked in the 989-1,212th bracket in New York and in the 13,383-17,483rd bracket in the national rankings. Seventeen percent of students took one AP exam, with 9% passing. Students of color comprise 98% of total enrollment, and 72% are considered "economically disadvantaged."
Village of Hempstead Mayor Waylyn Hobbs Jr., who was first elected in March 2021, said he is making education a major focus of his administration and has been a proponent of a strong school system. He noted that the Hempstead school system faces challenges that few other Long Island districts do, including high levels of immigrant students from Central and South America, who often arrive as unaccompanied minors.
"The Hempstead School District has received quite a few unaccompanied minors who do not speak English, as it was not their first language," Hobbs told The Advocate. "Most of the time when you are testing based on state regulations and goals and you have students who cannot even speak English, you're not going to have the graduation rates where they should be. This is not a reflection on the teaching ability; it is more on having to adjust and meet those needs.
"The state has a policy of no child left behind," Hobbs continued, "but I do realize the disbursement of [immigrant] students is not fairly being distributed throughout" Nassau County.
The Garden City School District does not face such a challenge, with recently arrived, low-income immigrants kept out of the community by high home prices — ranging from $750,000 to more than $1 million — and high rental prices — roughly $5,000 a month for a three-bedroom house.
Garden City's position as one of the nation's top high schools gives students there a sense of pride in their schools and a confidence about their futures. GCHS freshman Grant Lemieux said, "I think Garden City [High] is a great school. I think we have really nice programs which prepare us for college and the real world."
Lemieux said his older brother had little to no trouble with the college application process. The "accommodating" nature of school staff and the top-rated athletic program "helped him get into a pretty nice university and potentially set him up to have a really nice life," Lemieux said.
Owen, another GCHS student who did not wish to be identified by his last name, shared his schoolmate's outlook. "I don't think I would get better opportunities at a school in a different district," Owen said. "This is a pretty good school. I like it here."
Four-year Garden City Superintendent Dr. Kusum Sinha stated on her webpage, "For 2021-22, we are committed to applying certain lessons we learned throughout the past year and a half [during the pandemic] to our educational program. We will expand the use of technology to make our instructional program even stronger and provide opportunities for students at all levels to interact with one another throughout the year."
Scott Brinton contributed to this story.