By Ralph Boscia
Part one in a series on the proposed Las Vegas Sands entertainment and casino complex in the Nassau County Hub.
Las Vegas Sands recently signed a 99-year agreement with Nassau County to lease the 72 acres surrounding Veterans Memorial Coliseum to construct a $4 billion entertainment center and casino, in the Hub in Uniondale. Now parents and students at Kellenberg Memorial High School, located across the street, say they are worried about an influx of people and traffic in the area.
The casino, in particular, has raised concerns.
The project, if approved by Town of Hempstead and New York State officials, would bring thousands of construction and entertainment jobs and tens of millions of dollars in annual revenue to the region, county and Sands officials say.
Kellenberg parents and students, however, say their concerns have been largely ignored by officials, leaving them with a list of worries that remain unaddressed.
Neither a Kellenberg nor a Sands official could be reached for comment for this story.
Kellenberg, an independent Catholic school serving roughly 2,500 students in grades six to 12, is just south of the coliseum, at the corner of Glenn Curtiss Boulevard and the heavily trafficked Hempstead Turnpike, which is regularly ranked among the state's most deadly thoroughfares.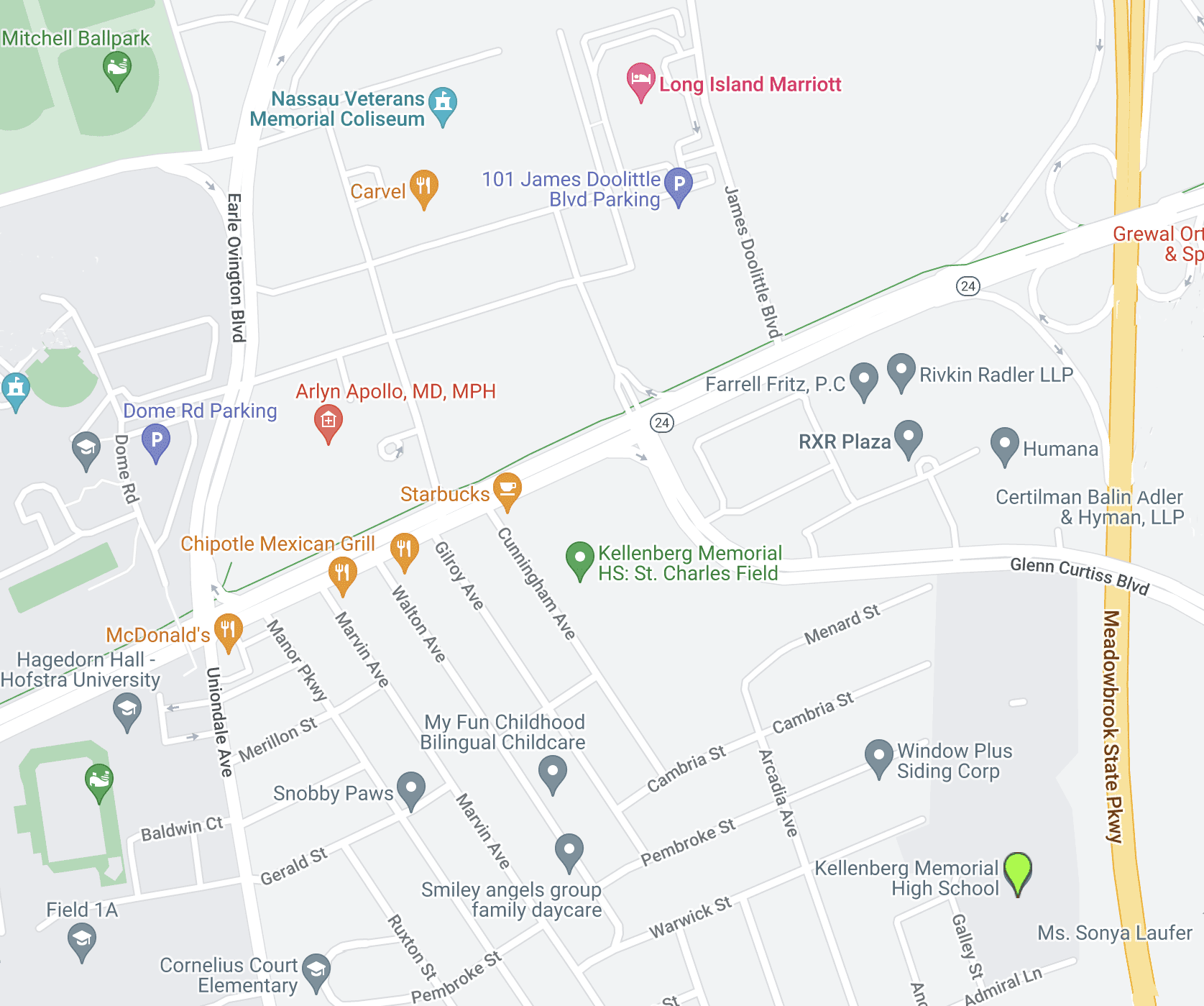 Kellenberg is divided into two distinct schools. It's Latin School of Studies is for students in grades six to eight. The high school serves grades nine through 12.
There is a Starbucks a short distance from Kellenberg, on Hempstead Turnpike, which is frequented by upper-grade Kellenberg students. "Our children walk that block towards Hempstead Turnpike. About 60% of the students, I would estimate, go to the Starbucks right there after school," said Kellenberg alumna Elaine Kawas, whose daughter is a sophomore at the school. "I don't know the hours of the casino, but there will be a lot of things that will be changing once those doors are open, and our children are going to see all of it and be a part of it, and whether we want to protect them or not, we will not be able to be there."
A 2010 study in the Journal of Health Economics found "there is a strong link between the presence of a casino in a county and the number of alcohol-related fatal traffic accidents." The rate of fatal accidents in non-casino counties was 30.51, compared to 39.29 in counties with casinos. Additionally, the number of non-alcohol-related accident fatalities in casino counties was 78.52, which was 17 points higher than the non-casino county rate of 61.30.
Rising Kellenberg freshman Giovanni D'Amato said, "The main thing I'm worried about is the people that it's going to bring over. Casinos don't normally bring in a good crowd."
A number of parents and students in the Kellenberg community say Las Vegas Sands has not done enough to address the potential downsides of the resort, instead pushing the narrative that the casino would bring economic benefits to the county.
"All they are pretty much saying is how great it's going to be," Kawas said. "But it has nothing to do with what they plan to do for the safety of all of the children around the area."
John D'Amato, whose son will start Kellenberg in 2023-24, agreed, saying, "They just keep pointing to the amount of jobs they could create. But there is a social aspect, too, and you have to consider what you are bringing to the community."
During an April news briefing on the lease agreement, Nassau County Executive Bruce Blakeman, a Republican from the Five Towns, said, "We believe [the Sands project] will bring jobs, economic prosperity, tax relief and improved safety here in Nassau County."
Meanwhile, Las Vegas Sands Chairman and CEO Robert Goldstein said, "Our proposed project would be designed to produce tens of millions of dollars in tax revenue for the local community on an annual basis, potentially offering property tax relief for residents. The project would also provide a lift for local businesses through a robust procurement program and support a broad range of community organizations and causes."
D'Amato agreed the casino and entertainment center would "bring a lot of jobs — construction workers, restaurants, the hotel, casino workers," which, he said, would be "fantastic."
He noted, however, that "you have to weigh the safety for the kids. If it was anywhere else, I would be OK with it, but it's near two schools, when they are going on the bus at 7:30 a.m. and they [can] see people stumbling out of the casino and can be exposed to God knows what."
In addition to Kellenberg, Cornelius Court School, a part of the Uniondale School District, is located five blocks south of Hempstead Turnpike, off Uniondale Avenue. It acts as central registration for the district. California Avenue Elementary School, also part of the Uniondale district, with grades pre-kindergarten to five, is 17 blocks from Hempstead Turnpike, behind Hofstra University's Maurice A. Deane School of Law.
Sands officials are applying for one of three downstate casino licenses. Without a license, Sands would develop a mixed use entertainment center that would include a hotel and office complex, along with residential areas that potentially would include workforce housing, according to Newsday.
Downstate casinos have also been proposed at a site outside Citi Field in Queens, Coney Island in Brooklyn, Times Square and Hudson Yards in Manhattan, and in the Bronx.
For a gallery with more photos of Kellenberg students at their school, click here.