By Fatima Moien
Brandishing handmade and other signs in their hands, a dozen protesters crowded the entrance to Nick's Pizza on Sunrise Highway in Rockville Centre Wednesday to call on Nicholas J. Angelis, the eatery's one-time owner, to pay the more than $400,000 in back wages and interest charges that, according to Nassau County Supreme Court documents, he owes eight former workers of the upscale eatery.
All the workers came to the United States as undocumented immigrants, though one is now a permanent resident.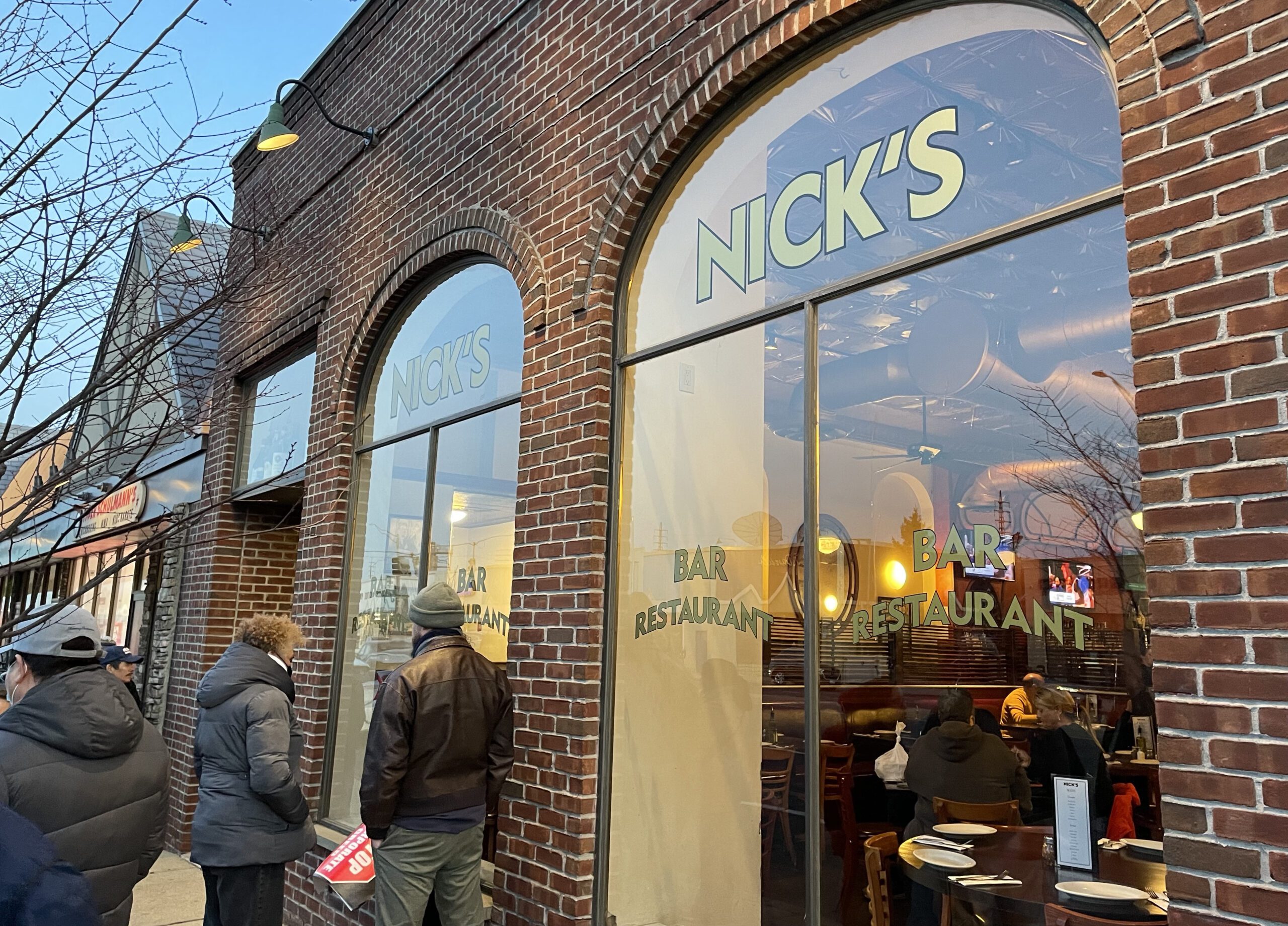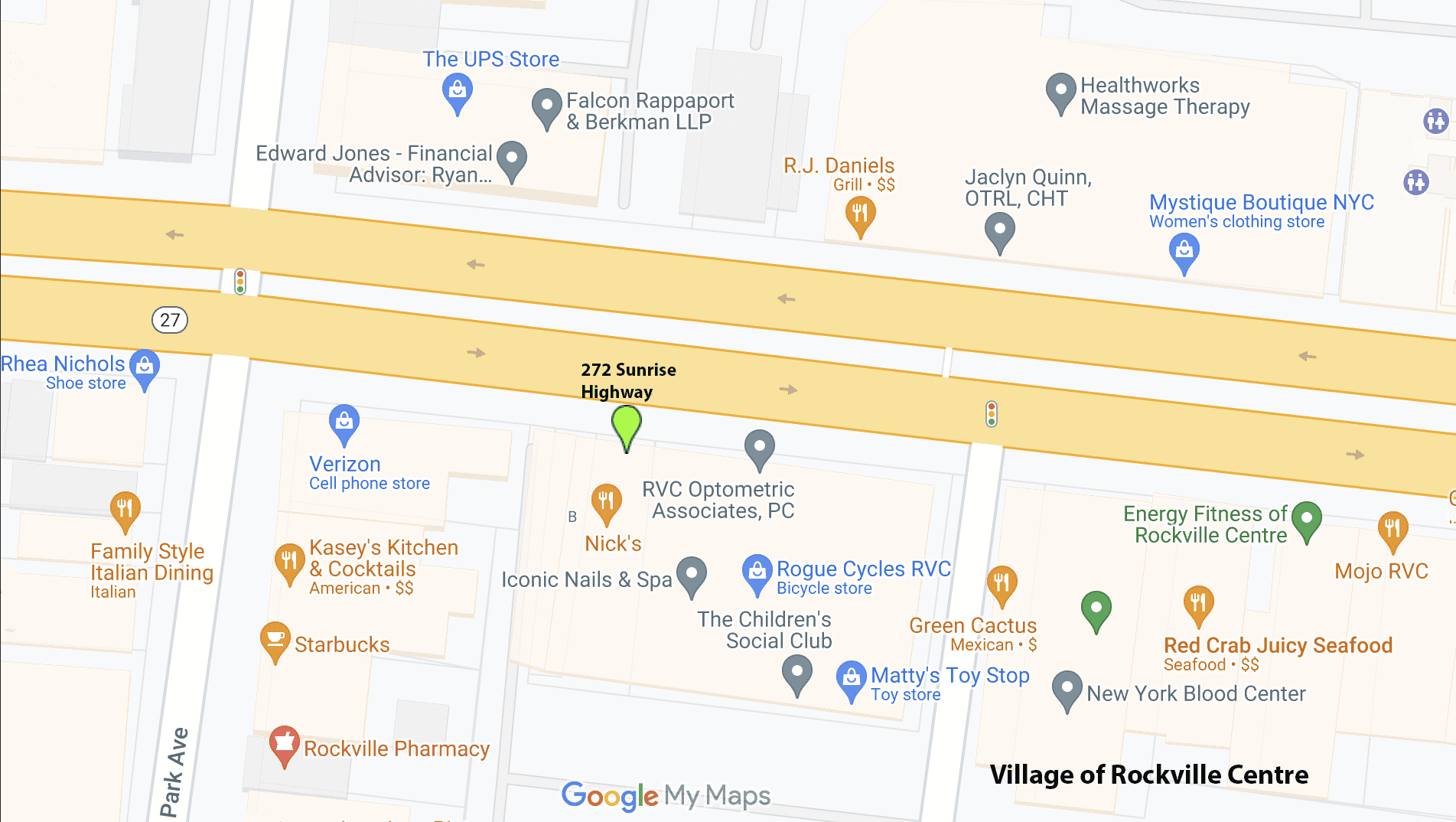 Angelis, 62, of Rockville Centre, was ordered by the New York State Department of Labor in 2011 and 2015 to pay the workers for overtime that they had accrued at the pizzeria between 2003 and 2011 but were never paid for. So far, however, they haven't received any of the money that they are owed, despite two court judgments in their favor in 2021 and 2022.
In addition to the money that Angelis must pay the workers, he also owes over $300,000 in state penalties. His total tab is more than $733,000, court documents show.
The Long Island Advocate first reported this story last September in a joint investigation with WABC "Eyewitness News." The DOL's orders and the court judgments can be found by following this link.
When called for last fall's story, Angelis had no comment at the time. He could not be reached for this story. His Manhattan-based attorney, Wayne Kreger, did not return two calls to his office.
The demonstration began sharply at 5 p.m. just as the sun was starting to set, with rush-hour traffic whizzing by on the Sunrise behind the protesters. A diner or two inside Nick's got up from their table to wave to the protesters, who returned the gesture.
Saul Asencio, 50, started working at Nick's as an undocumented worker after leaving El Salvador in 1996. Unaware of his rights at first, he said, he worked for a flat rate of $450 for up to 72 hours a week.
According to the federal Fair Labor Standards Act, all hourly employees, regardless of immigration status, must at least be paid a state's minimum wage, and are entitled to overtime pay (time and a half) if they work more than 40 hours a week.
By state law, the DOL could only look back six years when determining how much Asencio and the other seven were owed. Asencio said he believes Angelis owes him for the many "loyal" years that he gave the restaurant.
"I want to be paid 100%. The boss has a lot of money," Asencio told The Advocate, referring to Angelis.
Temporary Protected Status provides short-term protection from deportation to immigrants from countries that have endured wars and severe natural disasters. According to the National Immigration Forum, New York has among the largest populations of TPS immigrants in the nation, with 30,169 holders of the status from El Salvador, 9,220 from Haiti and 8,447 from Honduras. Combined, TPS holders from these nations contribute $4.5 billion in salary annually to the nation's gross domestic product.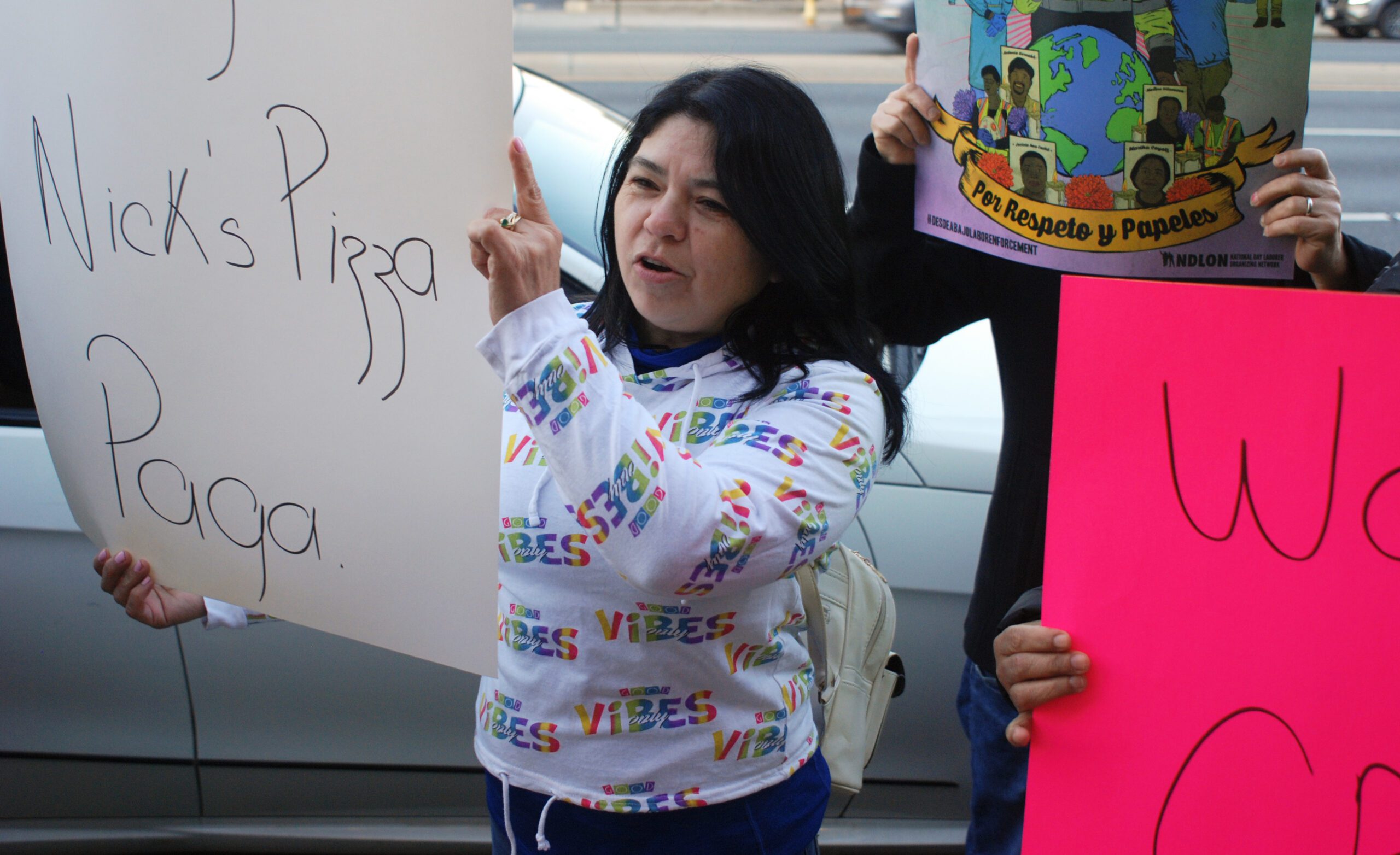 Javier Guzman, an immigrant organizer for the nonprofit Make the Road New York, a grassroots, immigrant-led organization, was among the protesters in front of Nick's Pizza. He chanted for much of the nearly hour-long demonstration, occasionally leading the protesters in their calls.
Guzman said TPS workers are often mistreated and threatened with deportation, despite working seven days a week for their employers. "This is very common here on Long Island. It happens all over the place. Employers don't pay minimum wage or overtime," Guzman said.
Representatives of the Workplace Project, in Hempstead, and the National Day Laborer Organizing Network, with offices in New York and California, were also among the protesters. They included Nadia Marin-Molina, NDLON's executive director.
"Now workers are starting to take action," Marin-Molina said. "This is the first of as many protests that are needed to make sure that [Nick Angelis] pays."
In an email last September to The Long Island Advocate's reporting partner, WABC-TV's "Eyewitness News," the DOL issued this statement for investigative reporter Kristin Thorne's story: "We are actively working on this case and prepared to pursue all available measures to ensure these workers are paid what they are owed. Wage theft will not be tolerated, and the DOL remains committed to protecting hardworking New Yorkers from bad actors who attempt to cheat them out of hard-earned wages."
According to a 2017 study by the Washington, D.C.-based Economic Policy Institute, a nonpartisan think tank, "wage theft" costs low-income workers as much as $8 billion a year in the country's 10 most populous states, including New York.
Scott Brinton contributed to this story.
On Friday, The Advocate will continue its investigation into this case, examining a string of civil wage-violation lawsuits in New York City in which Angelis and others are named.