By Scott Brinton
Part one of two.
Diana Sanchez, regional organizer for the National Day Laborer Organizing Network, stood feet from the glass-door entrance to Nick's Pizza, on Sunrise Highway in Rockville Centre, and shouted into a microphone, "Shame on you!"
The dozen protesters assembled in a tight semi-circle around her responded in kind four times.
The demonstrators were there Feb. 8 "to demand" one-time owner Nicholas J. Angelis, of Rockville Centre, pay eight of his former workers the hundreds of thousands of dollars in back wages that the New York State Department of Labor contends they are owed.
They are "workers who have families, who have children, who have to survive," Sanchez said.
Roughly a decade ago, Angelis, now 62, was ordered by the DOL to pay a combined $421,0000 in back wages, interest charges and liquidated damages to eight of his kitchen workers at Nick's Pizza, in addition to $311,500 in state penalties, for a total of more than $730,000. In a two-year probe that began in 2009, the DOL found that Angelis had paid the workers a rate below minimum wage from 2003 through July 2011, court documents show.
The workers are yet to receive any of the funds that they are owed, despite two New York State Supreme Court judgments in their favor in July 2021 and May 2022 — hence the protest in front of Nick's on Wednesday. All eight came to the U.S. as undocumented workers, from El Salvador, Honduras and Mexico, though one is now a permanent resident.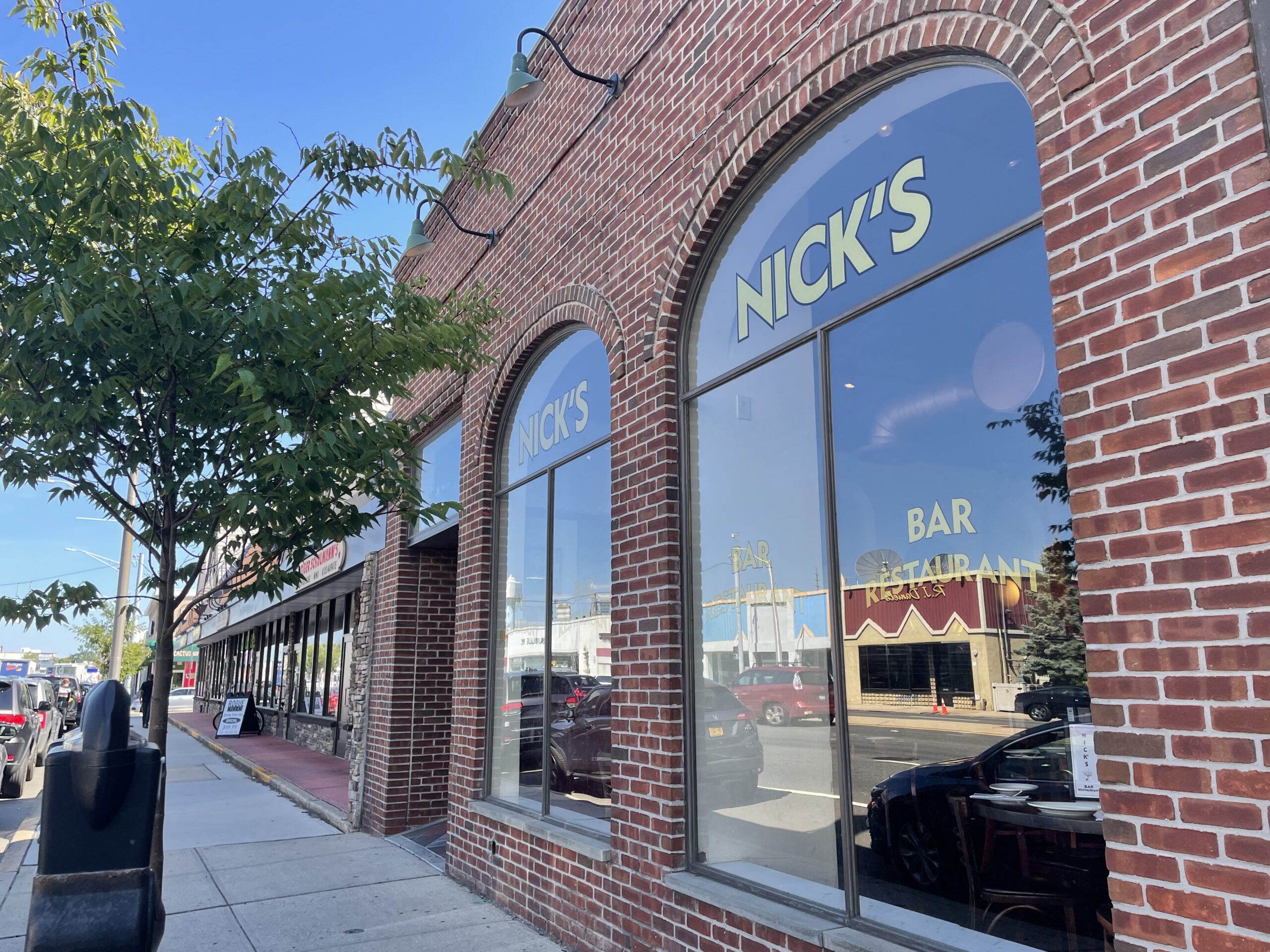 The Advocate first reported on the state orders and court judgments against Angelis last September. In further investigating the case in recent months, The Advocate uncovered four class-action civil lawsuits alleging wage violations against Pizza on Stone LLC, which does business as Adrienne's Pizzabar, in between Pearl Street and the cobblestone-covered Stone Street, only blocks from Wall Street.
Angelis, who plays a key leadership role in Adrienne's Pizzabar, according to its website, is named in the suits, along with Peter Poulakakos, one of the eatery's owners and a restaurant developer who has steadily built an "empire" of roughly 20 high-end dining establishments across Lower Manhattan over the past two decades.
The wage-violation cases against Adrienne's Pizzabar are four of a dozen such class-action civil suits filed against LLCs/restaurants owned by Poulakakos and others dating back to 2011. The suits were found on PACER, the online database of federal electronic court records, in a joint, four-month investigation by The Long Island Advocate and WABC "Eyewitness News."
To date, 10 of the suits have been settled, with ventures owned by Poulakakos and his partners agreeing to pay more than $1.9 million combined to dozens of employees and their lawyers, though Poulakakos and others admitted no wrongdoing and their attorneys "sharply" and "vigorously" contested the allegations against their clients' businesses in court filings.
Outside of the Adrienne's Pizzabar cases, Angelis was not named in the other suits.
Poulakakos had no comment when reached recently on his cell phone. When called for last fall's story, Angelis also had no comment. He could not be reached for this story. The Manhattan-based attorney for the two restaurateurs, Wayne Kreger, did not return two calls to his office.
The Pizza on Stone suits
Poulakakos, Angelis and a business partner named Frank Casano were first cited together in a 2011 class-action civil lawsuit against Adrienne's Pizzabar — Mendez and others v. Pizza on Stone. According to this suit, Angelis manages Adrienne's, with "responsibility over employee wages and shift schedules." The suit was settled in 2013 for a little over $136,000, including payments to the workers, a required charitable donation to a Superstorm Sandy relief effort in the downtown Financial District, and attorney's fees and expenses.
Just under $10,000 went to the workers themselves, roughly $54,000 to the unnamed Sandy relief organization, $54,000 to the plaintiffs' attorneys, and $18,000 to Advanced Litigation Strategies LLC for administering the settlement, court documents show.
In a notice to other potential plaintiffs as the suit was getting under way, the law firm for Mendez, the Lee Litigation Group of Manhattan, claimed Adrienne's had "failed" to pay "the appropriate spread of hours premium, cost of uniforms, minimum wage and overtime compensation."
The notice, addressed to any employees of Adrienne's from 2005 through 2011, further stated that Adrienne's had "failed to provide proper wage statements and wage and hour notices to employees, in violation of New York State laws."
A second lawsuit against Adrienne's — Moran v. Pizza on Stone LLC — was settled in 2018 for $7,500. In this suit, Angelis was listed as an "owner, officer and/or agent" of Adrienne's.
A third suit — Velazquez and others v. Pizza on Stone LLC — was settled in 2021 for $175,000. In it, Angelis was named as an owner and operator of Adrienne's, with Poulakakos and Casano.
And a fourth suit — Baez v. Pizza on Stone LLC — is pending. The case is currently in the discovery phase. The next court date is scheduled for May 30. This suit identifies Angelis as an owner and operator of Adrienne's, with Poulakakos and Casano.
Kristin Thorne of WABC "Eyewitness News" reported on the suits against Adrienne's in December. For her story, click here.
The One Hanover suit
In 2014, One Hanover LLC and Peter Poulakakos and his father, Harry, reached a $600,000 settlement in a class-action lawsuit that four workers had filed the year before, alleging wage violations. A third of the settlement fund — $200,000 — went to the plaintiffs' attorneys.
According to the suit against One Hanover, the LLC does business as Harry's, or Harry's Steak House, the Poulakakos family's "flagship" restaurant, considered by many in the Financial District to be a Wall Street institution. Harry Poulakakos opened the premium eatery as Harry's at Hanover Square in 1972. Located in the basement of the historic India House, it's something of an unofficial dining club for the high-finance set, immortalized in the 1987 best-selling Tom Wolfe novel "The Bonfire of the Vanities."
This past December, Harry, now 86, rang the opening bell of the New York Stock Exchange to mark the 50th anniversary of his namesake restaurant.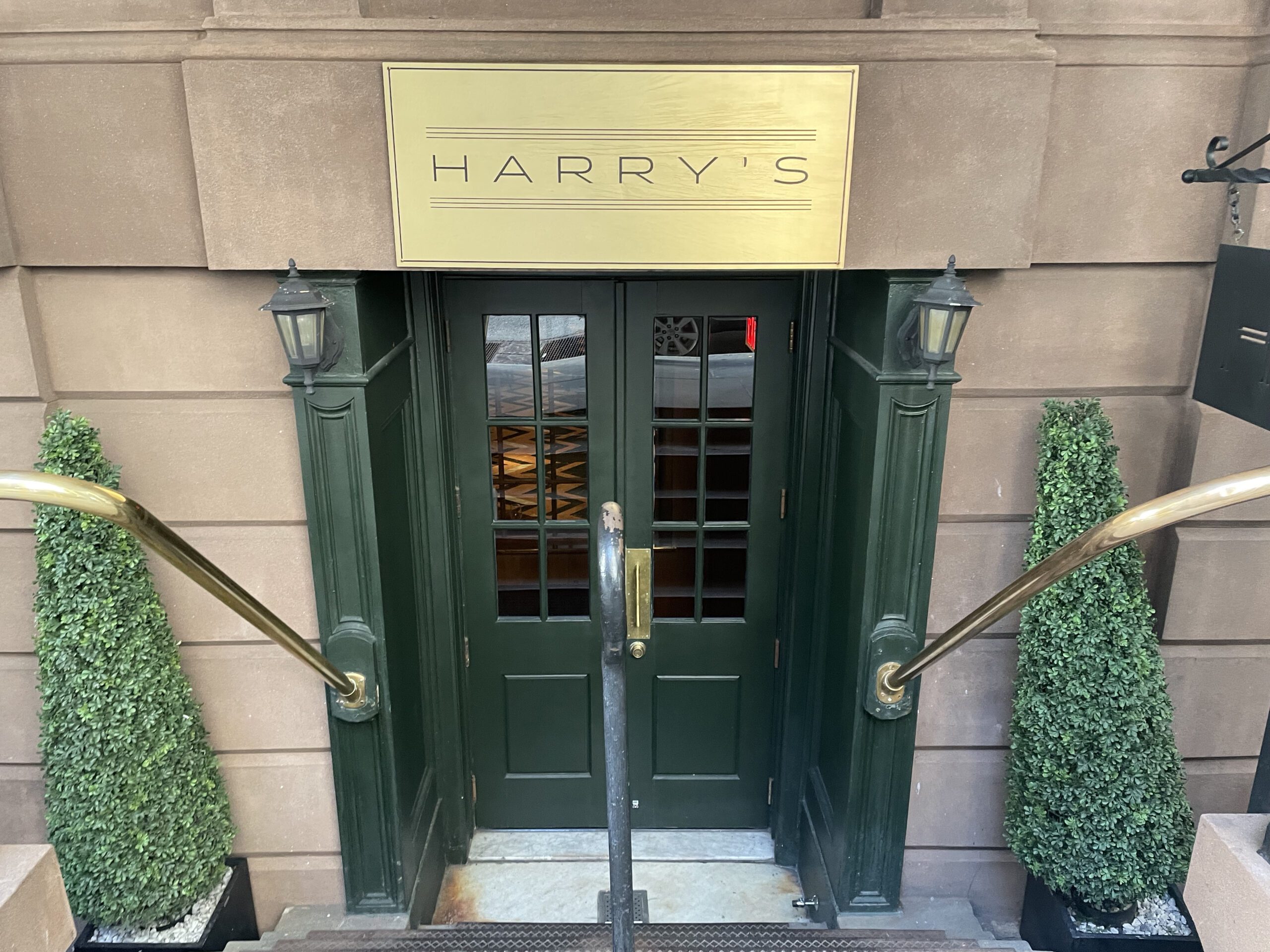 Harry Poulakakos retired from the restaurant business in the early 2000s, though he has kept a hand in it ever since. Peter Poulakakos, 46, graduated from Georgetown University in 1998 with an economics degree and began developing restaurants soon after, starting on Stone Street, just down the block from Harry's. By 2011, he had 10 venues south of Chambers Street.
The Poulakakoses currently have plans for two new restaurants — an Adrienne's and a Harry's — in West Palm Beach, Fla., Harry recently told CNBC.
"We try to keep our pricing as low as we can. It's very, very hard," he said in the interview. "I was always careful with the prices from day one. But today everything is very expensive. Meats are expensive. Whiskey is expensive. Wines are expensive."
Still, he said, "Our business today is the best ever."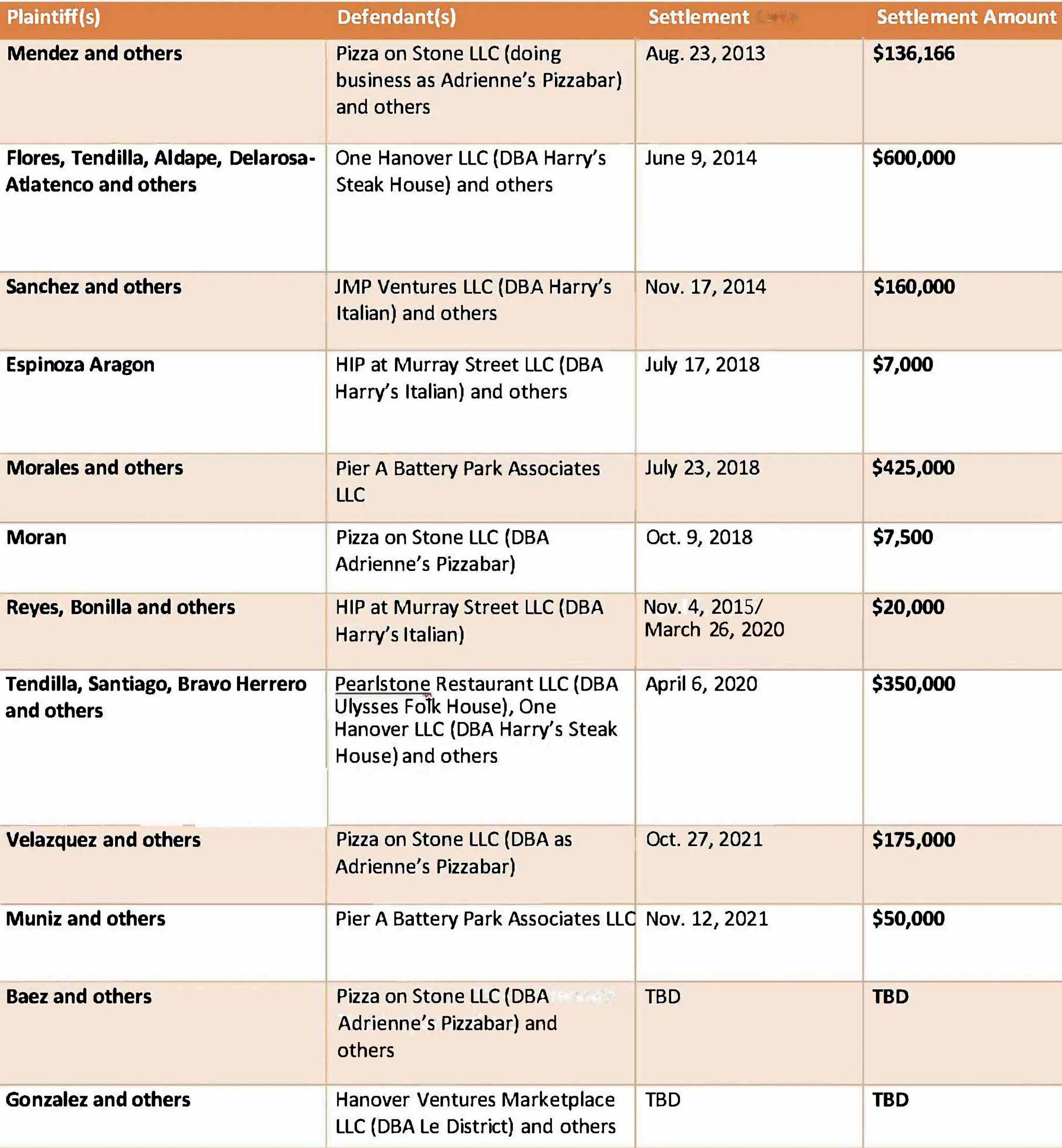 A widespread issue
The allegations against the Poulakakoses, Angelis and others are common.
In the 10 most populous states in the country, including New York, each year an estimated 2.4 million workers "report being paid less than the applicable minimum wage in their states" — roughly 17 percent of the low-wage workforce, according to a 2017 study by the Economic Policy Institute, a Washington, D.C.-based nonpartisan, nonprofit think tank. That's about 1 in 6 low-income employees.
This "wage theft," as the study refers to it, costs workers in these states $8 billion annually — or an average of $3,300 per worker, per year — nearly a quarter of their pay. "Young workers, women, people of color and immigrant workers are more likely" to report being paid less than the minimum wage.
The EPI study further noted, "Few workers who experience wage and hour violations are able to pursue a private lawsuit against their employer, and even fewer employers end up paying any significant restitution. Employers found to have illegally underpaid an employee are usually required only to pay back a portion of the stolen wages — not even the full amount owed, much less a penalty for violating the law."
In one of the cases against Pier A Battery Park Associates, a limited liability company formed by Peter and Harry Poulakakos and others to develop Pier A Harbor House on the southern tip of Manhattan over a decade ago, workers who alleged wage violations settled in 2018 for $425,000. According to court records, however, the employees' attorneys estimated that the defendants' potential "exposure" with penalties and liquidated damages could have been as high as $653,000, a figure that the lawyers for the Poulakakoses and their partners disputed.
Attorneys refer to such a reduction as a "discount."
State reaction
The New York State Department of Labor issued the following statement to WABC "Eyewitness News" for this story: "We encourage any New Yorker who believes they are a victim of wage theft to file a complaint by calling our hotline at (833) 910-4378 or submitting a Labor Standards Complaint Form. The Division of Labor Standards will investigate and aggressively pursues bad actors taking advantage of hard-working New Yorkers."
Workers who believe they have been paid less than minimum wage may pursue either a civil lawsuit or a complaint with the DOL, but not both. From the DOL: If workers "file a complaint with the New York State Department of Labor, the matter falls under our jurisdiction, and we begin our thorough investigation. However, if they choose to pursue private litigation, our involvement ends, and the case becomes a matter for the courts to decide."
Part two of this story, publishing Feb. 11, will examine Pier A Harbor House, a "megavenue" developed by Peter and Harry Poulakakos and others that went under in 2020 amid the coronavirus pandemic. Two wage-violation lawsuits were filed against the business, in 2017 and 2019. The collapse of this multi-million-dollar project put the future of Pier A, a national historic landmark, in question.
Scott Brinton is assistant professor of journalism at Hofstra University and faculty editor of The Long Island Advocate.