By Scott Brinton
Julio Contreras, of Freeport, arrived in the U.S. in 2001 as an undocumented immigrant from Honduras, 17 years old, without family and friends here, and hungry to work. Soon, he was employed as a dishwasher at Nick's Pizza on Sunrise Highway in Rockville Centre, working 12-hour days, six days a week, for less than the state-required minimum wage, court and state filings show.
Now Contreras, 39, is one of eight former Nick's Pizza workers who will share in a $375,000 settlement that the New York State Department of Labor reached recently with the eatery's one-time owner, Nicholas J. Angelis, 62, of Rockville Centre.
The settlement represents a little more than half of the roughly $733,000 that Angelis had owed in back wages to the workers, interest payments and state penalties. Under terms of the agreement, the penalties and part of the interest payments have been waived, with all monies from the settlement going to the workers, according to a DOL release. It was unclear when Angelis relinquished ownership of Nick's Pizza.
Contreras, who appeared at a news conference on Monday in front of Nick's Pizza to announce the settlement, is owed $41,319.59 in back wages, according to a DOL order first issued to Angelis in August 2011 and obtained by The Long Island Advocate. In total, Angelis owed the workers a little more than $400,000 in wages and interest charges.
Smiling, Contreras said he plans to celebrate with a good meal surrounded by his friends and supporters when he receives his first payment. "I'm celebrating. I'm feeling great," Contreras said in Spanish. "I thought that money was lost."
The DOL announced the settlement on its website on Monday. "In New York State, we believe that every worker deserves fair pay for a fair day's work," DOL Commissioner Roberta Reardon said in the state's release. "Wage theft remains a top priority to Governor Hochul, and we will do anything in our power to help victims. We will not rest until justice is served."
Despite two state orders to comply, the first in 2011 and the second in 2015, and then two court judgments, in 2021 and 2022, Angelis had repeatedly ignored the DOL's demands seeking payment, court documents show.
Following a three-month probe with WABC "Eyewitness News" last summer, The Long Island Advocate published the first in a series of investigative stories examining alleged wage violations by Angelis, not only at Nick's Pizza but also at another restaurant in New York City in which he is a leader, Adrienne's Pizzabar in the downtown Financial District.
Only after the DOL sent notices to Angelis' banks in March this year did he engage in settlement discussions. He agreed to settle the case on April 10, according to the DOL. This was 10 years and eight months from the time the first of two orders to comply were sent to Angelis.
"Thank you for your article[s]," Contreras said, "and to all the organizations that worked for this and made it possible."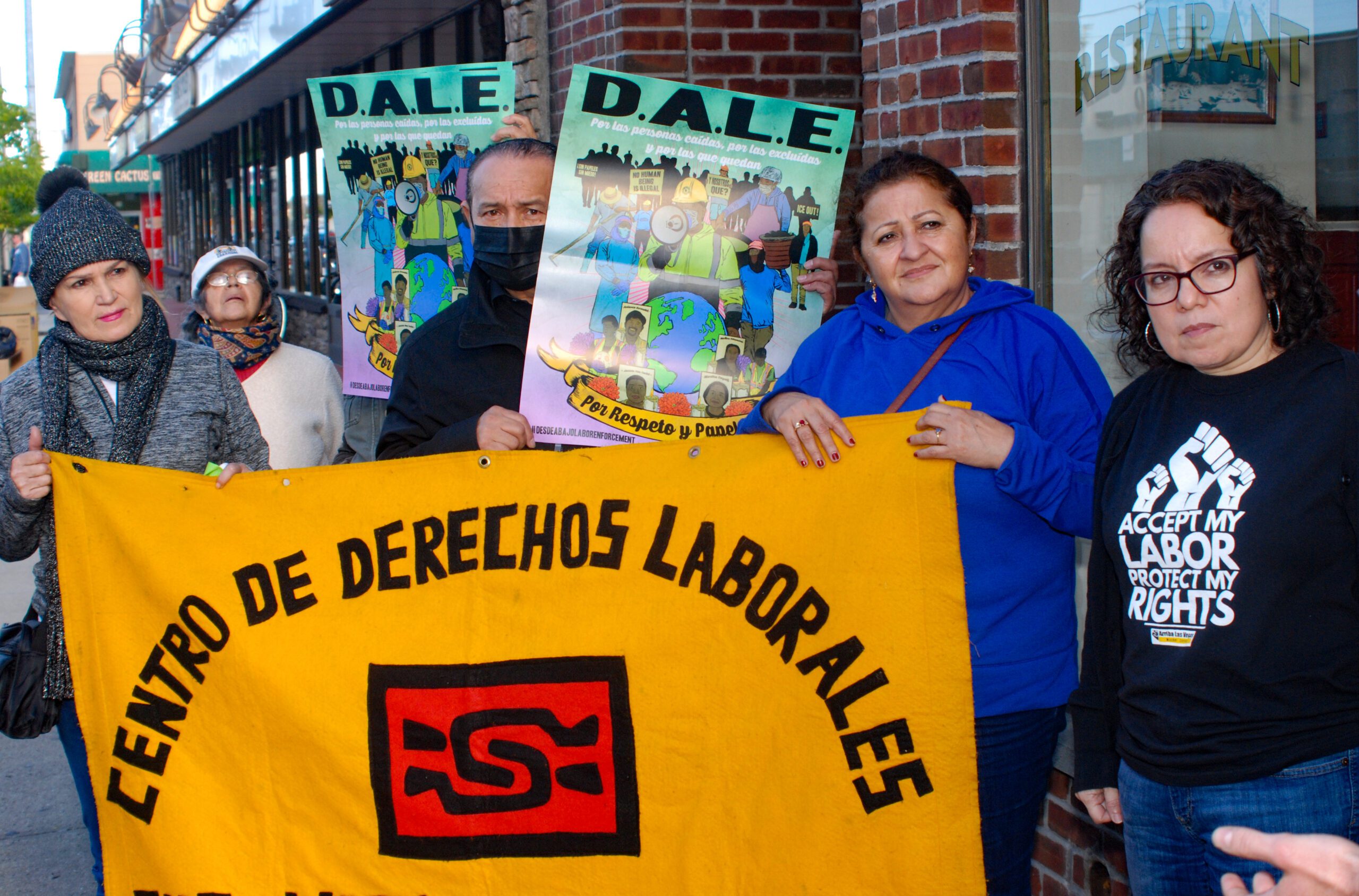 In February, more than a dozen protesters, including a number of the eight workers, demonstrated in front of Nick's Pizza, at 272 Sunrise Highway, calling on Angelis to pay the money that he owed. Among the groups organizing the protest were the Hempstead-based Workplace Project, which seeks to protect immigrant workers' rights, and the National Day Laborer Organizing Network.
Miguel Alas Sevillano is assistant director at the Workplace Project, and Nadia Marin-Molina is NDLON's co-executive director. They were both in an April 25 Zoom meeting with representatives from the DOL and the State Attorney General's Office, who laid out the terms of the agreement.
According to Alas Sevillano and Marin-Molina, Angelis has already paid $200,000 to the DOL, and he has until November 2024 to pay the remaining $175,000 balance. Marin-Molina said she has not yet seen the written agreement, but she expects the workers should receive the first installment of their money in the near future, as it's already in state hands.
Alas Sevillano said the workers and their advocates will remain vigilant to ensure that the eight are paid the full amount that they are owed. If Angelis were not to make his second-half payment, the workers could sue, he and Marin-Molina said. At the news conference, held on May 1, International Workers' Day, roughly a dozen supporters of the workers chanted in Spanish, "We won, but we won't stop!"
Angelis' Manhattan-based attorney, Wayne Kreger, could not be reached. A woman, who did not identify herself, answered Angelis' phone when called by The Advocate. When asked about the settlement agreement, she said, "Yeah, that's been paid up."
When asked for a statement from Angelis on the settlement, she said, "He's not going to comment on that."
"What's unusual in this context is the length of time and the perseverance of the workers in fighting, because a lot of people would have given up," Marin-Molina said. "These workers were their own advocates for years and years."
"With some additional pressure, some public pressure, they were able to have the DOL reach this settlement," she added. "I hope it's a lesson for Nick's Pizza that they will not be allowed to engage in this blatant violation of the law. The workers are elated, and for good reason."